May 26, 2016
Cauliflower Pizza Crust Recipe
Cauliflower Pizza Crust Recipe – keto, gluten-free, grain free, and vegetarian! It's foolproof and made with just 5 ingredients!
This recipe is so easy and foolproof
A lot of times cauliflower crust recipes require a cheese cloth. Or other time-consuming techniques to get the crust to stay together. The cheese and egg help hold the whole thing together perfectly.
But not this recipe. It's made with riced cauliflower. And it's ready to be put in the oven in a matter of minutes.
Cauliflower pizza crust recipe toppings
I love a veggie pizza. So that's what I did in the photos.
I used can of Grecian styled Eggplant from Trader Joes as the pizza sauce base. Then I topped it with, pre-roasted zucchini + roasted red and yellow peppers. I drizzled basil pesto over top when it came out of the oven. And finished it with crushed red pepper and fresh basil. This pizza had so much flavor. It was incredible.
But you can add any toppings you want. Roma tomatoes, onion, and broccoli are some of my other favorite toppings!
You could also go the meat route. My favorite meat combo ever is pepperoni, crumbled sausage, and ricotta. Don't knock it til you try it.
What serve with this
This pizza would be amazing with a simple house salad. Or this apple bacon balsamic salad.
Cauliflower Pizza Crust Recipe
Keto, gluten-free, grain free, and vegetarian! It's foolproof and made with just 5 ingredients!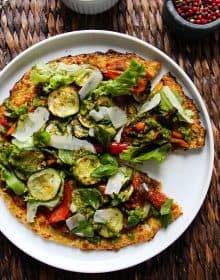 Ingredients:
2 cups cauliflower, grated (about 1/2 a large head or you can used riced cauliflower)
1 large egg, lightly beaten
2 tablespoons Parmesan cheese, grated
1 cup shredded mozzarella
2 cloves garlic, chopped
Pizza toppings of choice
Directions:
Preheat oven to 425 degrees.
Place chopped cauliflower in a large bowl and microwave for 4-5 minutes (the cauliflower should be soft). If using frozen cauliflower, heat up according to package instructions. Remove and let cool.
Mix the egg, Parmesan cheese, mozzarella, garlic and the salt and pepper. Once those ingredients are combined, pat mixture into a 10-inch round on a pizza stone or parchment lined baking sheet. Spray the crust lightly with non-stick spray and bake for 10-15 minutes, until golden in color.
Top the pizza with desired toppings. Return to oven for approximately 10 minutes.
Let stand for 5 minutes.
[this isn't a sponsored post, there are a few affiliate links above based on things I purchase on my own and love]