May 26, 2016
Cauliflower Crust Pizza
Calling all pizza lovers – our delicious, healthy, gluten-free, low-carb, vegetarian pizza needs to make it to your kitchen today.  Our surprise crust ingredient along with the addition of basil pesto will WOW you.
We have had several of you email us and ask us for a low-carb, gluten-free, vegetarian cauliflower pizza……well, we listened to you…..so, here you go.  I was excited to develop this recipe but I didn't quite know that it would turn out this good.  It is literally one of my very, very, very favorite recipes to-date.
A lot of times cauliflower crust will require a cheese cloth and other time-consuming techniques to get the moisture out of the crust……..not this recipe.  It is so super easy you can make it in a matter of a few minutes.
Especially if you use pre-chopped cauliflower – you can buy a bag of pre-chopped cauliflower near the lettuce at some grocery stores.  I got mine from Trader Joes (yes – I love that place).  They have it near the lettuce in the produce section and they also have it frozen near the frozen spinach.  Their cauliflower rice is one of their most popular items – it's the same price as a head of cauliflower and you don't have to take the time to chop it – Winning!
I want to stress that you don't have to be vegetarian or gluten-free to find this recipe amazing………heck you don't even have to like cauliflower to love this recipe!  You really can't tell it's cauliflower crust.  I have tried many different cauliflower crusted pizzas and usually you can't pick them up and eat them like a regular slice of pizza because they aren't sturdy enough……..well, not this one.  It literally is perfect in every way.
What makes the crust so good you ask?  CHEESE….. I must warn you though – it's so good that you will want to eat the whole thing in one sitting.
I had bought a can of Grecian styled Eggplant from Trader Joes and have been thinking about what recipe I would add it to as a special ingredient.  I know what you are thinking – canned food isn't really that appealing.  I feel the same way – but this is a-m-a-z-i-n-g.  If you don't have a Trader Joes you can broil and make your own no problem – this just makes it easier and quicker.
You can also add any additional toppings that you want.  Maybe Roma tomatoes, onion, broccoli…..you get the drift?
I promise you that you will LOVE this recipe.  I will be making this recipe for years and years to come……..enjoy <3
Vegetarian Cauliflower Crust Pizza
Calling all pizza lovers – our delicious, healthy, gluten-free, vegetarian pizza needs to make it to your kitchen today.  Our surprise crust ingredient along with the addition of basil pesto will WOW you.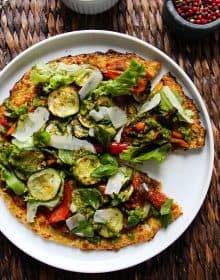 Ingredients:
Crust
2 cups cauliflower, grated (about 1/2 a large head if you are chopping it yourself)
1 large egg, lightly beaten
2 tablespoons Parmesan cheese, grated
1 1/2 cup part skim mozzarella, shredded and divided
2 cloves garlic, chopped
Toppings
1/4 cup pizza (tomato) sauce, homemade or store bought (I use bought because it is easy)
roasted zucchini
roasted red and yellow peppers
roasted eggplant with onions (I used the canned eggplant from Trader Joes and it was delicious)
basil pesto (I used store bought because it's easy)
1/4 teaspoon crushed red pepper flakes
1/4 cup fresh basil leaves, for garnish
Directions:
Preheat oven to a broil.
Thinly cut your vegetables and place them on a parchment lined cookie sheet (allow for space in between the vegetables)
Broil for 10-15 minutes, until golden brown.  Remove from oven and set aside.
Place oven on 425 Bake.
Place chopped cauliflower in a large bowl and microwave for 7-8 minutes (the cauliflower should be soft). Remove and let cool.
Mix the egg, Parmesan cheese, 1 cup of the mozzarella, garlic and the salt and pepper. Once those ingredients are combined, pat mixture into a 10-inch round on a pizza stone or parchment lined cookie sheet. Spray the crust lightly with non-stick spray and bake for 10-15 minutes, until golden in color.
Top the pizza with the tomato or pizza sauce, roasted eggplant, roasted peppers, roasted zucchini, and remaining mozzarella.  Drizzle basil pesto on top and bake in the oven until melted and bubbly, approximately 10 minutes.  Garnish with basil, arugula, freshly shaved parmesan and crushed red pepper flakes as you wish to your liking.
Let stand for 5 minutes – grab some your favorite wine and enjoy.