November 30, 2014
Quinoa-Stuffed Acorn Squash Rings
These acorn squash rings are roasted, topped with a pat of butter, a drizzle of maple syrup, and filled with a hearty stuffing of quinoa, kale, dried cherries, apples, onions, walnuts, and sage, it's the perfect comforting vegetarian meal in itself.
How was your Thanksgiving?! Ours was full of good times and good food. Over the past couple of years since starting our blog, I have noticed our Thanksgiving table slowly transform from a carb-lover's dream to a veggie-lover's dream. And you know what, every year we feel like our food just keeps getting better and better, so I guess that says something about our tastebuds now vs. then!
It's amazing how my eyes light up at the sight of kale salad, roasted vegetables with cranberry sauce, quinoa stuffing, maple cinnamon sweet potatoes with oat crumble (<– recipe coming soon!), and sweet potato soufflés just how they used to light up over green bean casserole, mashed potatoes, rolls, and gravy. That's the power of fueling your body with right food. Your body naturally craves food that will make your bones and body stronger.
Of course we still had turkey, mashed potatoes, and pies because well, not everyone want to eliminate of those foods, but we still had tons of healthy food to fill our plates with, as well!
What did you have for Thanksgiving? Did you try anything new? I want to know in the comments below!!
We recently subscribed to a "farm to table" produce delivery and I am already in love. (We use Dominion Harvest!!) <— We're not sponsored but I wish we were. 🙂
Sometimes I feel like the recipes we post can get repetitive, using the same ingredients because those are the ingredients that we like. But the weekly delivery of fresh, organic produce helps get our creative juices flowing and incorporate some variety into LOH's feed. Last week's box was full of produce; including the acorn squash, apples, and kale that helped to inspire this recipe. I am so excited to see what other produce I am going to get to experiment with in the weeks to come.
Did I mention that every week the produce is delivered to our door? 21st century at its finest, people. 😉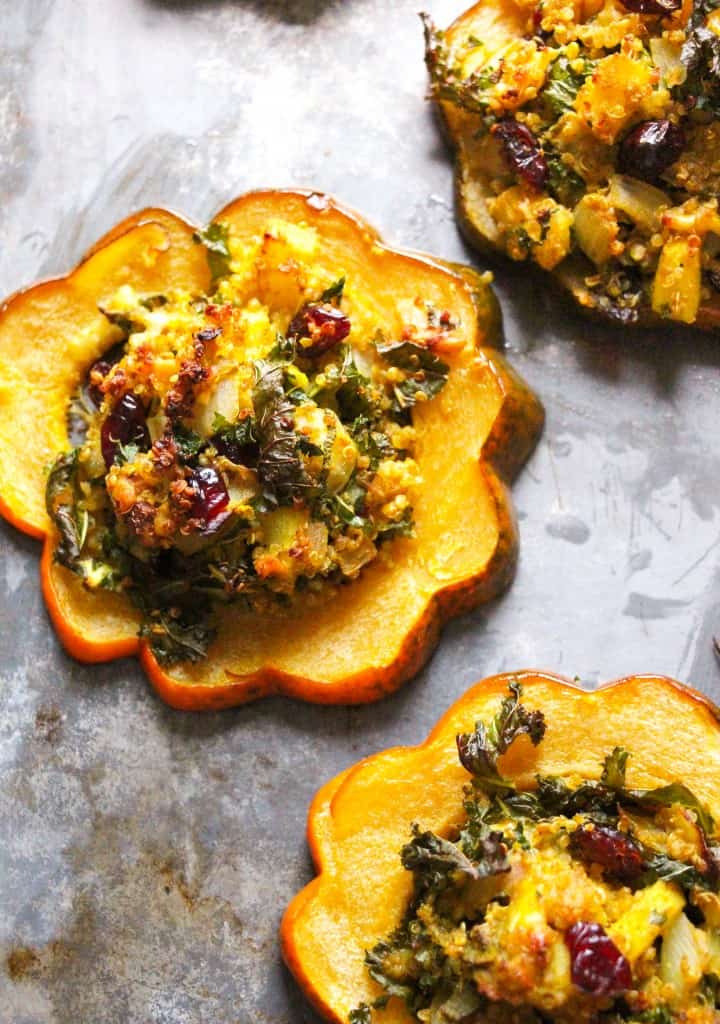 To make these acorn squash rings, I cut an acorn squash into 1/2-inch thick slices, de-seeded it, placed them on a baking sheet, coated them with butter, drizzled with maple syrup, stuffed them, and put them in the oven for good. That is one of my favorite things about this recipe. There isn't any pre-roasting/steaming/bake steps required. ANNNNDD… by letting the quinoa cook for that same amount of time that squash does, the quinoa gets a crispy on the outside and stays soft on the inside. PERFECTION.
The flavors in the quinoa scream fall comfort food. It's loaded with kale, sage, dried cherries, apples, onion, walnuts, maple syrup, cinnamon, turmeric, cumin, and white wine. This makes the perfect vegetarian meal.
Since the acorn squash are rings and not halves to make them more manageable and easier to eat, I added some egg to the stuffing mixture to keep it together and make sure it doesn't fall out of the bottom when serving.
My mom went crazy over these! And when she gets that excited over a dish I know it's good 🙂
If you wanted to add some meat to the dish, you could add some ground pork to the stuffing mixture.
Enjoy!
Quinoa-Stuffed Acorn Squash Rings
These acorn squash rings are roasted, topped with a pat of butter, a drizzle of maple syrup, and filled with a hearty stuffing of quinoa, kale, dried cherries, apples, onions, walnuts, and sage, it's the perfect comforting vegetarian meal in itself.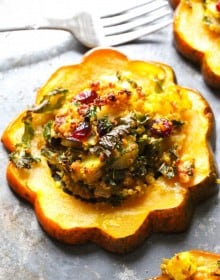 Ingredients:
For the acorn squash:
2 Tablespoons, olive oil
3 small acorn, cut into 1/2-inch slices (remove seeds & guts)
1 Tablespoon butter, melted
2 Tablespoons maple syrup
For the stuffing:
1 Tablespoon olive oil
1 medium onion, diced
1 apple, cored and diced
1/4 cup white wine (or vegetable broth)
1 1/2 cups cooked quinoa
1 cup kale, shredded
1/4 cup dried cranberries
2 Tablespoons walnuts, chopped
2 Tablespoon.fresh sage, chopped
1 1/2 teaspoons dried oregano
1 teaspoon cumin
1/2 teaspoon cinnamon
1/2 teaspoon turmeric
Salt and pepper, to taste
1/2 cup shredded smoked gouda
1 egg, whisked
Directions:
Preheat oven to 375 degrees. Drizzle two rimmed baking sheets with olive and place squash rings on sheets. Pat the squash with melted butter, drizzle with maple syrup and set aside.
For the stuffing:
In a large saute pan over medium heat, add the olive oil and saute the onion, and apple until they begin to soften, approximately 7 to 10 minutes. Add white wine and whisk around to get the flavor particles off the bottom of the pan.
Add the cooked quinoa, kale, cranberries, walnuts, sage, oregano, cumin, cinnamon, turmeric, and salt and pepper, to taste. Stirring constantly, heat mixture thoroughly, approximately 2 to 3 minutes. Remove from the heat. Let cool for 5 minutes. Stir in cheese and beaten egg slowly so the egg doesn't begin to cook.
Divide the mixture evenly among the squash, bake for 30-40 minutes or until the squash is tender. Serve immediately.