November 30, 2014
Veggie Stuffed Acorn Squash
Veggie Stuffed Acorn Squash – with quinoa, kale, dried cherries, apples, onions, walnuts, and sage. The perfect comforting vegetarian meal!
I recently started a farm to table subscription. It has been so fun to experiment with new vegetables. This is one of those creations! I never eat acorn squash. But this is my new favorite fall vegetarian dish.
The flavors in the quinoa scream fall comfort food. It's loaded with kale, sage, dried cherries, apples, onion, walnuts, maple syrup, cinnamon, turmeric, cumin, and white wine. This makes the perfect vegetarian meal.
What goes well with this veggie stuffed acorn squash?
A stuffed acorn squash is like a fall version of a stuffed pepper. It's definitely a complete meal on it's own. But this kale salad would pair really well with all of these flavors!
Honey roasted sweet potatoes would be very delicious with this as well.
You could also add some ground sausage or pork to the quinoa mixture. That would add an extra punch of flavor, protein, and satisfy your meat lovers.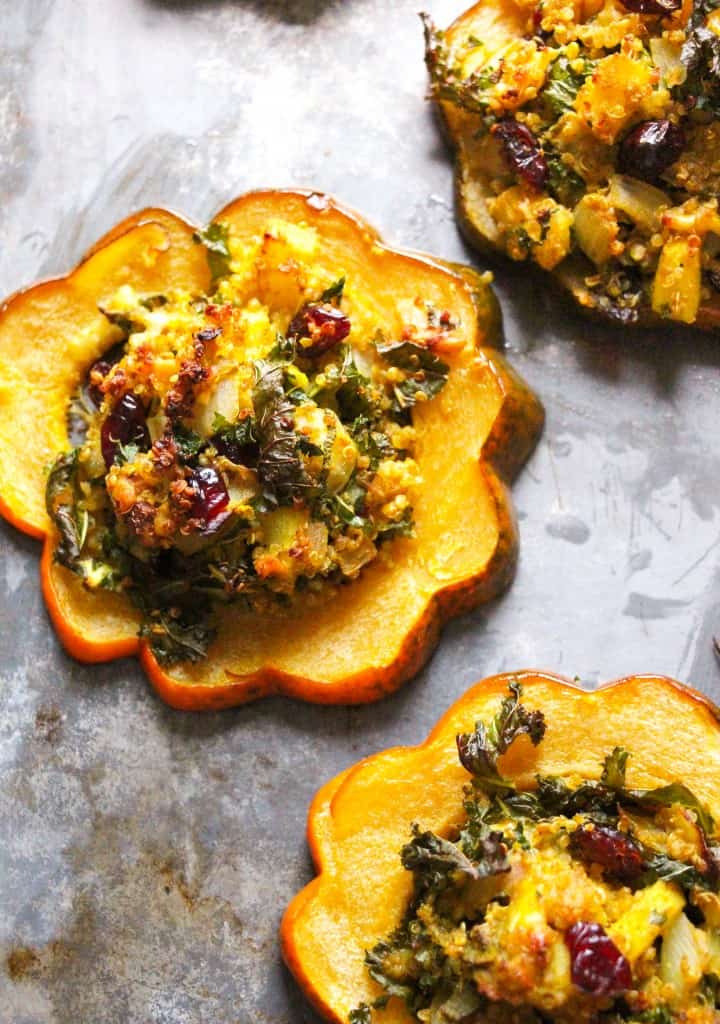 How do you cut an acorn squash?
You can cut the acorn squash in half and stuff them. But I like to cut the acorn squash into 1/2-inch thick slices. This gives you more filling than acorn squash. It also cooks faster this way. It makes it so there isn't any pre-roasting, steaming, or baking steps required.
And by letting the quinoa cook for that same amount of time that squash does, the quinoa gets a crispy on the outside and stays soft on the inside. It's perfection.
P.S. this spoon is great for getting the seeds out of an acorn squash.
Veggie Stuffed Acorn Squash
Made with quinoa, kale, dried cherries, apples, onions, walnuts, and sage. The perfect comforting vegetarian meal!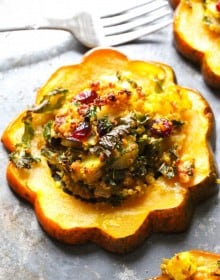 Ingredients:
For the acorn squash:
2 Tablespoons, olive oil
3 small acorn, cut into 1/2-inch slices (remove seeds & guts)
1 Tablespoon butter, melted
2 Tablespoons maple syrup
For the stuffing:
1 Tablespoon olive oil
1 medium onion, diced
1 apple, cored and diced
1/4 cup white wine (or vegetable broth)
1 1/2 cups cooked quinoa
1 cup kale, shredded
1/4 cup dried cranberries
2 Tablespoons walnuts, chopped
2 Tablespoon.fresh sage, chopped
1 1/2 teaspoons dried oregano
1 teaspoon cumin
1/2 teaspoon cinnamon
1/2 teaspoon turmeric
Salt and pepper, to taste
1/2 cup shredded smoked gouda
1 egg, whisked
Directions:
Preheat oven to 375 degrees. Drizzle two rimmed baking sheets with olive and place squash rings on sheets. Pat the squash with melted butter, drizzle with maple syrup and set aside.
For the stuffing:
In a large saute pan over medium heat, add the olive oil and saute the onion, and apple until they begin to soften, approximately 7 to 10 minutes. Add white wine and whisk around to get the flavor particles off the bottom of the pan.
Add the cooked quinoa, kale, cranberries, walnuts, sage, oregano, cumin, cinnamon, turmeric, and salt and pepper, to taste. Stirring constantly, heat mixture thoroughly, approximately 2 to 3 minutes. Remove from the heat. Let cool for 5 minutes. Stir in cheese and beaten egg slowly so the egg doesn't begin to cook.
Divide the mixture evenly among the squash, bake for 30-40 minutes or until the squash is tender. Serve immediately.