November 25, 2014
Best Thanksgiving Recipes Roundup.
I can't believe how fast Thanksgiving snuck up on us!! Before we know it will be Christmas!!! YIPPEE!! P.S. Our Christmas tree is already up, yes, I said it. I thought it would be so fun to have our Christmas tree up for Thanksgiving, and my mom agreed… so last weekend we got decorated for the Holidays 🙂
For this year's Thanksgiving, we are so excited to be inviting some new dishes to make an appearance on our table. For one, my mom has been gluten free for a year and a half and vegetarian for a year…..so we needed some new dishes! It was so hard to narrow down the dishes for Thanksgiving day, but luckily no one said anything about narrowing down the dishes for the blog. Here are some great recipes we have found on the web….without further adieu… our 2014 Thanksgiving Contenders:
P.S. It's not too late to switch up your Thanksgiving menu. 🙂
Appetizers:
1. Pumpkin Cheddar Chive Cheese Ball. HOW CUTE IS THIS?! Recipe here.
2. The Best Baked Brie with Balsamic Cherries. Only 3 ingredients and ready in 15 minutes. Perfect. Recipe here.
3. Holiday Cranberry Salsa. Throw this out and people will try it and then not be able to stop eating it… ready in 10 minutes or less! Recipe here.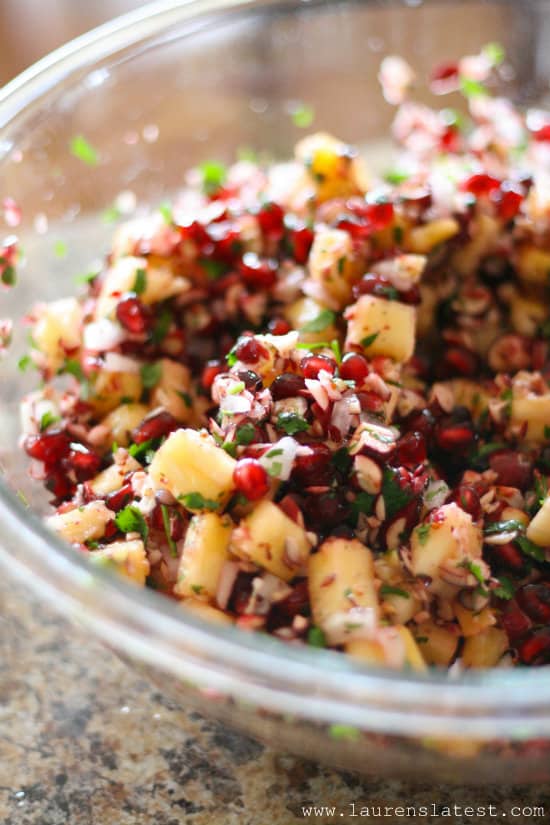 4. Cranberry Walnut Pinwheels. Bite-size perfection. Recipe here.
5. Baked Brie with Apples and Salted Caramel. This is sure to be the hit of the party. Recipe here.
6. Rum Glazed Pecans. Nothing beats serving nuts as an appetizer. Recipe here.
7. Slow Cooker Chex Mix. For the football watchers. Recipe here. Here is my favorite slow cooker.
Main Course:
1. Applewood Smoked Turkey Breast with Cider Bourbon Gravy. Say goodbye to all turkey blandness. Recipe here.
2. Roasted Turkey with Herb Butter & Roasted Shallots. I'm all about turkey flavor. Recipe here.
3. Roasted Turkey with Pears and Sage. Is your mouth watering yet? Recipe here.
4. Homemade Cranberry Sauce. This only have 3 ingredients! Recipe here.
5. Jalapeño Cranberry Sauce. This is such an amazing twist on traditional cranberry sauce. Recipe here.
6. Cheesy Scalloped Potatoes. These could rival your favorite mashed potatoes. Recipe here.
7. Sour Cream Cheddar Baked Mashed Potatoes. Droooool. Recipe here.
8. Creamy Crock Pot Sweet Potatoes. Free up some oven space this way. Recipe here.
9. Slow Cooker Mashed Potatoes. Or this way. Recipe here. Here is my favorite slow cooker.
10. Slow Cooker Cranberry Pecan Stuffing. It looks like I just might need an extra slow cooker. Recipe here. Here is my favorite slow cooker.
11. Candied Bacon Stuffing Muffins. Perfect portion control. Recipe here.
12. Roasted Sweet Potato, Wild Rice, and Arugula Salad. Gotta have some greens. Recipe here.
13. Roasted Sweet Potato Salad with Candied Walnuts. Make that a lot of greens. Recipe here.
14. Kale and Brussels Sprouts Salad with Cranberries & Toasted Almonds. I love me some kale. Recipe here.
15. Twice-Baked Sweet Potatoes with Walnut Streusel. Single-serving of a Thanksgiving goodness. Recipe here.
16. Slow Cooker Corn Pudding. Skip the canned cream corn… this is 100% homemade. Recipe here.
17. The Best Dinner Rolls. Titles never lie. Recipe here.
18. Cheesy Pesto Skillet Pull Apart Bread. "Little puffs of love." Recipe here.
19. Caramelized Cranberry & Brie Pull-Apart Bread. YUM. Recipe here.
Desserts (This was the hardest course to narrow down 😉 )
1. Bourbon Apple Streusel Pie. DUUUHHH!!! This is the one thing that never comes off our menu. Family-favorite for sure. Recipe here.
2. Salted Pecan Pie Bites. The perfect amount of salt to battle the super-sweet filling. Genius. Recipe here.
3. Caramel Apple Upside Down Cake. Perfectly moist and baked with apples with a brown sugar caramel glaze. Recipe here.
4. Pumpkin Cheesecake with Praline Pecan Topping. The cheesecake of your dreams. Recipe here.
5. Double Decker Pecan Brie Pie. Brie cheese lovers unite. Recipe here.
6. Chocolate Bourbon Pecan Pie Cupcake with Butter Pecan Frosting. Holy yum. Recipe here.
7. Pumpkin Whoopie Pie Cupcakes. I think I'm in love. Recipe here.
8. Bourbon Cream Cheese Brownies. Baking with bourbon makes the world go round. Recipe here.
9. 3-Ingredient Salted Caramel Fondue. Skip the pie and bring the family even more together with this family style dessert! Recipe here.
10. Pecan Pie Dip. Or this one. Recipe here.
11. Fried Apples with Caramel Apple Sauce. You need this in your life ASAP. Recipe here.
12. Cranberry Pecan Crumb Bars. A sophisticated twist on the humble crumb bar. Recipe here.
13. Salted Caramel Pie. I you make this, I'm coming over to lick the bowl. Recipe here.
14. Farmhouse Pecan Pie. A 100-year old classic. Recipe here.
Happy Thanksgiving!
To keep up with everything we are loving/pinning, follow us on Pinterest!
Visit Layers of Happiness's profile on Pinterest.
[this isn't a sponsored post, there are a few affiliate links above based on things I purchase on my own and love]