April 7, 2016
Extra Crispy Oven-Roasted Potatoes
There is no need to settle with soggy potatoes. Learn how to make crispy roasted potatoes – it's SO easy! They're irresistibly delicious.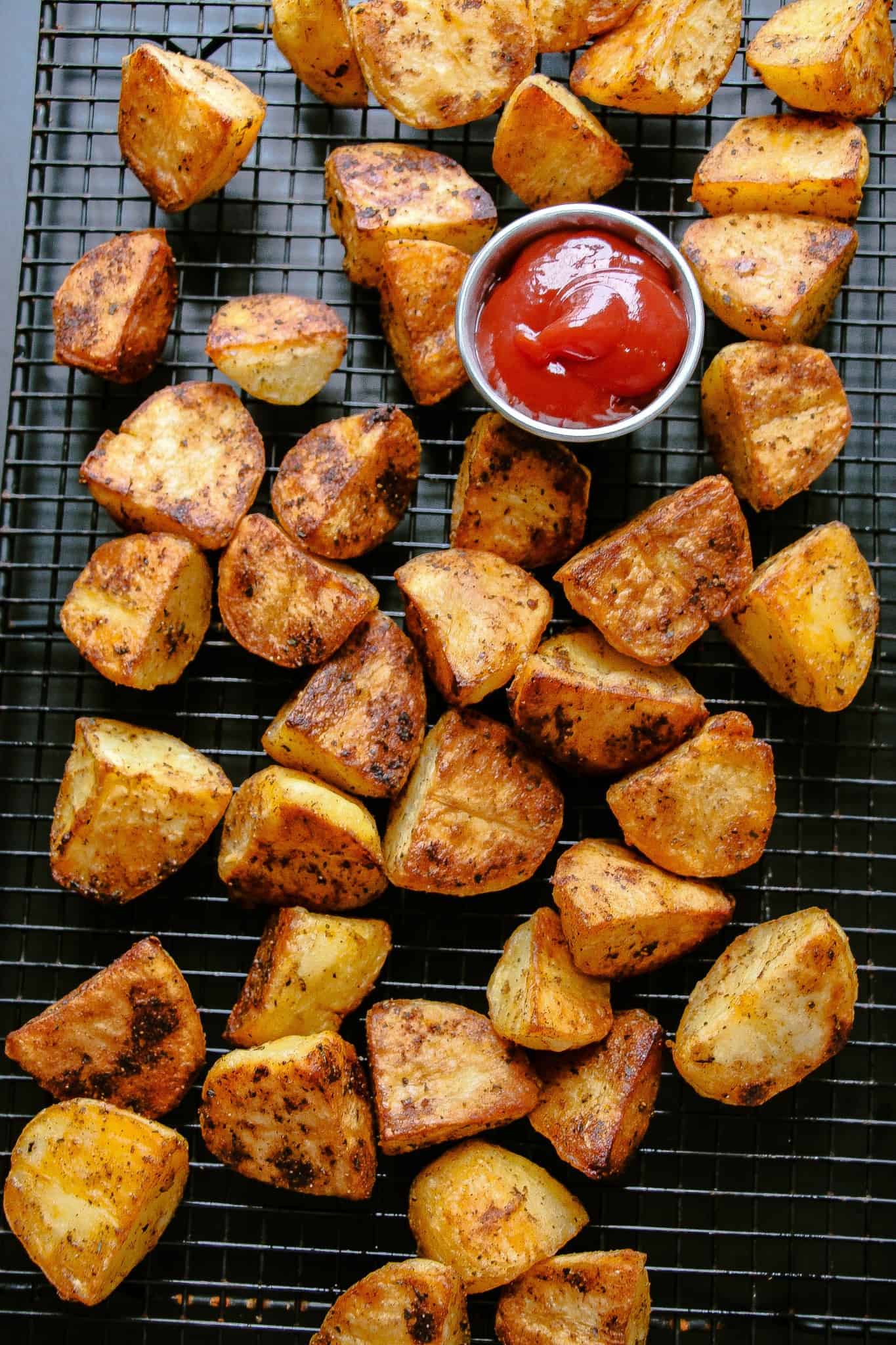 Crispy roasted potatoes vs. soggy roasted potatoes. One is a clear winner and one just isn't worth the calories. It's basically a fight between good and evil. Whenever we make the frozen roasted potatoes, I always leave them in the oven for a litttlleee but extra time so that they get extra crispy. And then I'm that person that always picks out the crispiest ones. That's why it's imperative that maximum crispiness is achieved. This is serious business, folks.
SO we finally decided to try our hand at the crispiest roasted potatoes in all the land. And oh my gosh these are so crispy I debated adding "crunchy" to the title. Yeah, that's right.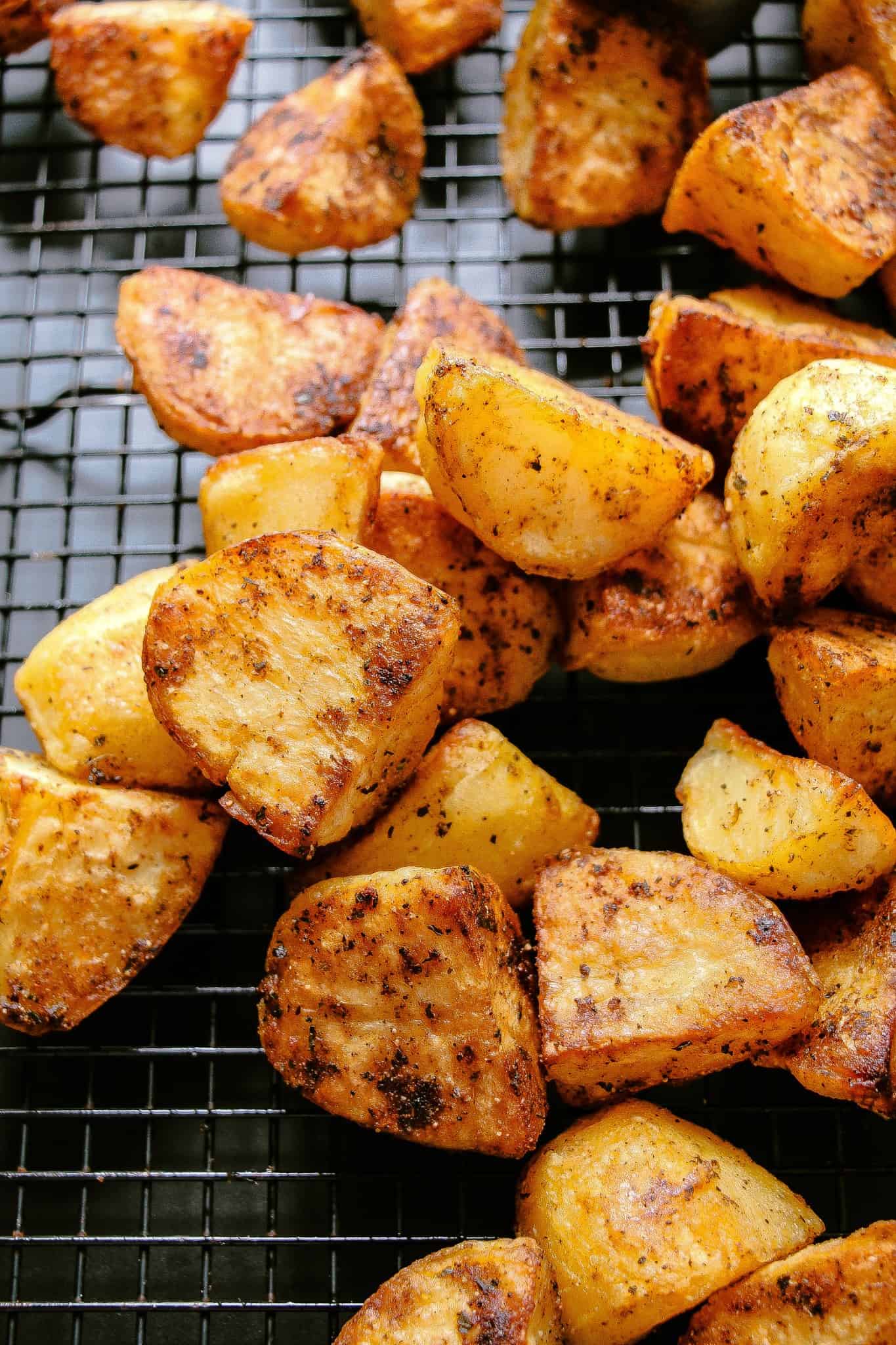 I might even venture to say they are better than fries? Especially with a sprinkle of sea salt and a dunk in ketchup. I could have eaten the entire sheet pan of these in one single sitting.
I have four important tips for achieving crispy roasted potatoes so that there will be no soggy loners left on the pan. And these tips are completely doable…kind of fail-proof, actually.
SOAK your potato chunks in cold water. This removes some of the starch and helps get them super duper crispy.
DRY your potatoes. And then dry them a little more. Water = Steam = Soggy = BAD BAD BAD. I use a kitchen towel – but make sure you use one that doesn't let off any lint.
Preheat the oven with your pan in the oven. That way it's super hot when you add the potatoes and the crisping action starts immediately.
DO NOT OVERCROWD your pan. Just don't do it. DON'T DO IT. If you do, they'll steam instead of getting crispy. How many times have I said "crispy?" Crispy. Crispy. Crispy.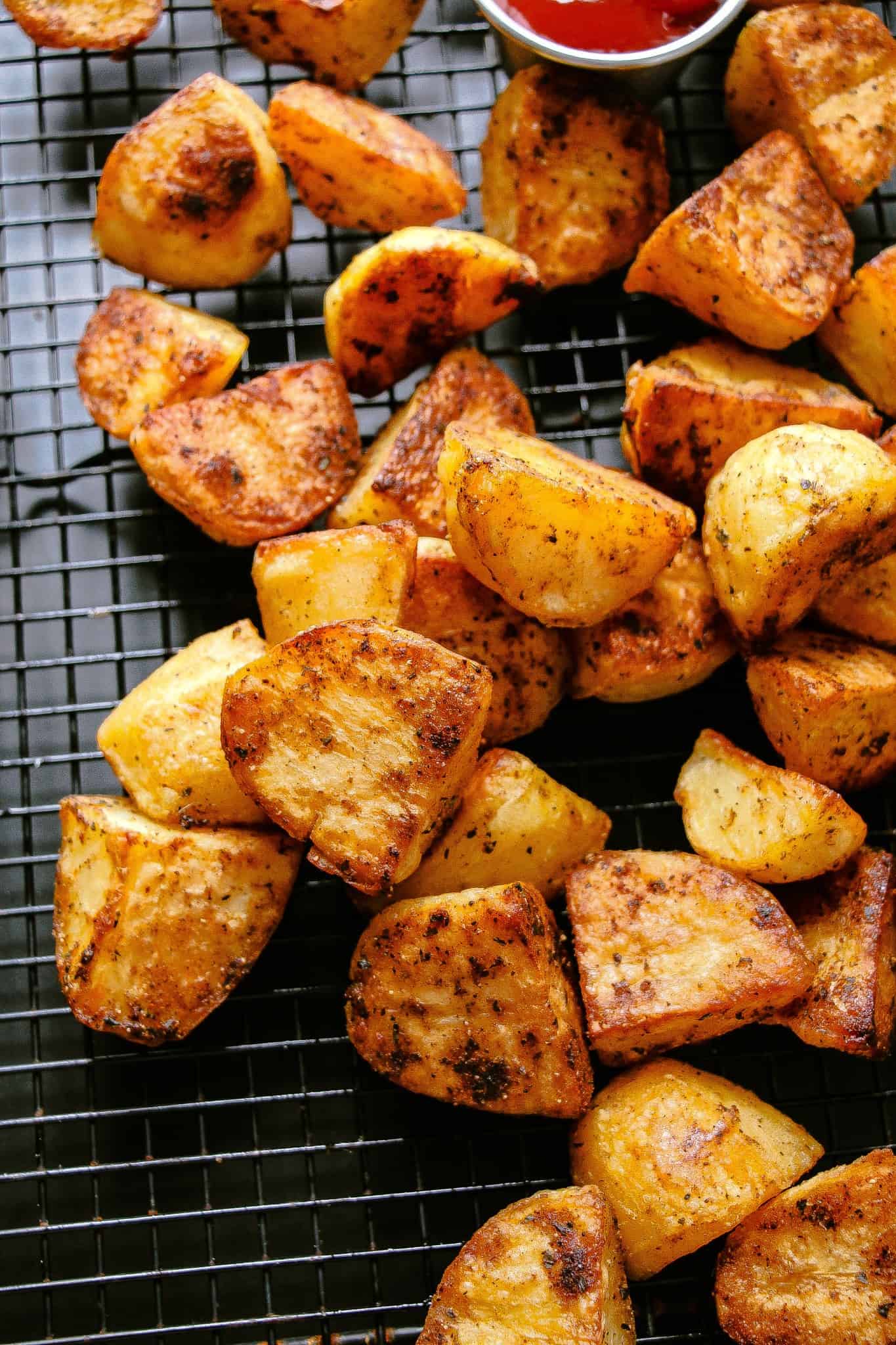 And then on top of that there are a few more secrets – I halfway boil the potatoes before roasting in order to maximize crispiness without burning the potatoes because in order to get a crispy potato the oven needs to be really hot, but potatoes in a really hot oven for too long = burnt potatoes = no fun. AND by boil the potatoes we also cut down on the roasting time because the potatoes are already almost soft before they even go in. Win, win.
My second secret is using Ghee for the fat in this roasting process. It makes the potatoes so much crispier… just do it.
Extra Crispy Oven-Roasted Potatoes
There is no need to settle with soggy potatoes. Learn how to make crispy roasted potatoes – it's SO easy! They're irresistibly delicious.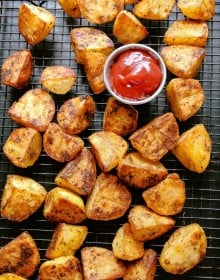 Ingredients:
4 1/2 pounds russet potatoes, rinsed and peeled
1 tablespoon white vinegar
Kosher salt
1/4 cup ghee
2 teaspoons seasoned salt
1/2 teaspoon chile powder
1/2 teaspoon dried basil
1/4 teaspoon ground cumin
1/4 teaspoon black pepper
Directions:
Adjust oven racks to lower and upper position and preheat oven to 500F degrees.
Soak potatoes in cold water for 10-15 minutes.
Place potatoes in a large pot and cover with cold water by 1-inch. Add 2 Tablespoons salt and 2 Tablespoons vinegar. Bring to a boil over high heat, reduce to a simmer, and cook until exteriors are tender, about 10 minutes. Potatoes should show a slight resistance when poked with a paring knife or a cake tester. Drain potatoes, cut into 2-inch chunks, and transfer to a large bowl.
Add ghee to bowl with potatoes. Season with seasoned salt, chili powder, basil, cumin, and black pepper.
Divide potatoes evenly between two heavy rimmed baking sheets. Bake for 20 minutes, or until the bottoms are crisp and golden. Remove from oven and flip potatoes using a rubber spatula (just trust me, it works!). Continue baking for another 20 minutes, until other side is golden brown. Serve immediately with ketchup or dip of choice.