October 6, 2015
Best-Ever Pumpkin Chocolate Chip Muffins (with Browned Butter Glaze)
These muffins are the best pumpkin muffins ever – incredibly moist and packed with sweet cinnamon spice, chocolate chips, and tons of pumpkin flavor. These are sure to become a family favorite.
The excessive amount of pictures in this post can only be justified by my obsession with these muffins. Introducing the most perfect pumpkin muffins yet – super soft, fluffy, and full of pumpkin flavor.
Pumpkin and I are having a thing at the moment.
And by that I simply mean that I am in fully out pumpkin mode. I like to think that it had something to do with the fact that I finally cracked the pumpkin muffin code. Ever since I worked at Great Harvest Bread Company I have been searching out a pumpkin muffin recipe that's equally as soft, moist, and fluffy. Consider it mission accomplished because these muffins are the real deal.
Today we are going back to the basics – a traditional pumpkin muffin. But these aren't just your ordinary mediocre-sized breakfast confection.  They are big, bakery-style muffins full of fluffy soft crumbs and rich buttery bites.  Perfectly domed tops and melty chocolate chips.
Go big or go home.  Super large and in charge.
What makes my pumpkin muffins stand out from the rest is how supremely moist each bite of every muffin is. And it's jam-packed with pumpkin and cinnamon spice flavors. Oh! And this is one of the best parts: there are plenty of mini chocolate chips gracing every bite.
I'm telling you – these are the good stuff.
The key to making these pumpkins so moist (and have such a high dome top) is the large amount of pumpkin in the batter. Not only does the pumpkin give lots of flavor, but it also acts like oil or butter and gives lots of moisture. Pair it with brown sugar and eggs and there won't be a dry crumb in sight.
The only other fat in this muffin recipe is melted coconut oil – in other words, the batter is super thick. It's almost shockingly thick. Trust me, you don't need to worry – it helps keep the batter from sinking in and instead allows it to rise to bakery muffin heights.
It's absolute perfection in these muffins. Whenever I make a batch, if I'm not giving them away, I have to freeze them all but a few or I will seriously eat them all.
Want to know the best thing yet? Just like chili, spaghetti, and indian food – this is another one of those foods that gets better on day 2. These are perfect for sharing with friends and family… they are sure to gobble them right up!
Best-Ever Pumpkin Chocolate Chip Muffins (with Browned Butter Glaze)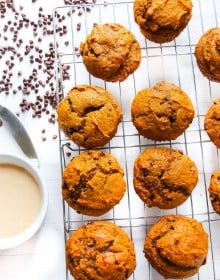 Ingredients:
For the muffins:
1 3/4 cups all purpose flour
1 cup sugar
1/2 cup dark brown sugar
1 teaspoon baking soda
1/2 teaspoon salt
2 teaspoons cinnamon
1/4 teaspoon ground cloves
1/4 teaspoon nutmeg
2 eggs
1 15 ounce can pure pumpkin puree
1/2 cup coconut oil, slightly melted
1 teaspoon vanilla extract
2/3 cup mini semisweet chocolate chips
For the Browned Butter Glaze:
4 tablespoons unsalted butter
1 1/2 cups powdered sugar
1 teaspoon vanilla extract
3 or 4 tablespoons milk
Directions:
Preheat the oven to 375 degrees and place 12 paper liners into each well of your standard size muffin baking pan.
In medium bowl, whisk together flour, sugars, baking soda, salt and spices until evenly combined. Set aside.
In another bowl, whisk together the eggs, pumpkin puree, coconut oil and vanilla extract. Make sure coconut oil is slightly cooled after melting so that the eggs don't cook.
Pour the wet ingredients into the dry ingredients and fold with a rubber spatula. Do not over mix, just stir until everything is incorporated into the batter. Gently fold in chocolate chips just until evenly distributed. The batter will be thick. That is okay.
Evenly distribute batter between prepared muffins cups. I use a cookie scooper to minimize the mess. You want to muffins to be almost full as the muffin will bake up in the oven.
Bake your muffins for 20-22 minutes or until a toothpick inserted into the center of a muffin comes out clean. Set aside to cool.
While muffins are cooling, make the glaze: in a small saucepan, melt the butter over medium-low heat and continue to cook, swirling occasionally, until butter foams first, and then turns golden brown and has a nutty aroma.
Immediately after browning, pour butter into a medium bowl. To the browned butter, add the powdered sugar, vanilla, and 3 tablespoons of milk. If the glaze is too thick, add an additional tablespoon of milk.
PIN THESE MUFFINS >>>