October 6, 2015
Pumpkin Chocolate Chip Muffins
Pumpkin Chocolate Chip Muffins – incredibly moist and packed with cinnamon, chocolate chips, and tons of pumpkin flavor. These are sure to become a family favorite.
Are the pumpkin chocolate chip muffins moist?
Yes! Just look at the picture below.
The key to making these pumpkins so moist (and have such a high dome top) is the large amount of pumpkin in the batter. Not only does the pumpkin give lots of flavor, but it also acts like oil or butter and gives lots of moisture. Pair it with brown sugar and eggs and there won't be a dry crumb in sight.
Can you make these ahead of time?
Yes! You can make these a couple days in advance or you can freeze them if you want to make even farther ahead of time.
To freeze the muffins, cool the muffins completely. Then wrap each in plastic wrap individually. Place in a freezer-safe bag. To reheat the muffins, allow them to thaw at room temperature on the counter. You can microwave them for 10-15 seconds to get them warm and even more fresh tasting.

These muffins get better with time!
Just like chili, spaghetti, and Indian food – this is another one of those foods that gets better on day 2.
Looking for more fall treats to bake?
Make this glazed apple crumb cake or this dutch apple pie. Or these caramel apple soft pretzels. YUM.
Pumpkin Chocolate Chip Muffins
Incredibly moist and packed with cinnamon, chocolate chips, and tons of pumpkin flavor. These are sure to become a family favorite.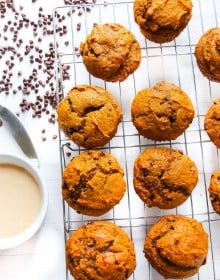 Ingredients:
For the muffins:
1 3/4 cups all purpose flour
1 cup sugar
1/2 cup dark brown sugar
1 teaspoon baking soda
1/2 teaspoon salt
2 teaspoons cinnamon
1/4 teaspoon ground cloves
1/4 teaspoon nutmeg
2 eggs
1 15 ounce can pure pumpkin puree
1/2 cup coconut oil, slightly melted
1 teaspoon vanilla extract
2/3 cup mini semisweet chocolate chips
For the Browned Butter Glaze (optional):
4 tablespoons unsalted butter
1 1/2 cups powdered sugar
1 teaspoon vanilla extract
3 or 4 tablespoons milk
Directions:
Preheat the oven to 375 degrees and place 12 paper liners into each well of your standard size muffin baking pan.
In medium bowl, whisk together flour, sugars, baking soda, salt and spices until evenly combined. Set aside.
In another bowl, whisk together the eggs, pumpkin puree, coconut oil and vanilla extract. Make sure coconut oil is slightly cooled after melting so that the eggs don't cook.
Pour the wet ingredients into the dry ingredients and fold with a rubber spatula. Do not over mix, just stir until everything is incorporated into the batter. Gently fold in chocolate chips just until evenly distributed. The batter will be thick. That is okay.
Evenly distribute batter between prepared muffins cups. I use a cookie scooper to minimize the mess. You want to muffins to be almost full as the muffin will bake up in the oven.
Bake your muffins for 20-22 minutes or until a toothpick inserted into the center of a muffin comes out clean. Set aside to cool.
(Optional) While muffins are cooling, make the glaze: in a small saucepan, melt the butter over medium-low heat and continue to cook, swirling occasionally, until butter foams first, and then turns golden brown and has a nutty aroma.
Immediately after browning, pour butter into a medium bowl. To the browned butter, add the powdered sugar, vanilla, and 3 tablespoons of milk. If the glaze is too thick, add an additional tablespoon of milk.
[this isn't a sponsored post, there are a few affiliate links above based on things I purchase on my own and love]