September 9, 2014
Glazed Apple Crumb Cake
Moist, buttery cinnamon apple crumb cake piled high with a sweet cinnamon crumb topping and a warm vanilla glaze drizzled over top.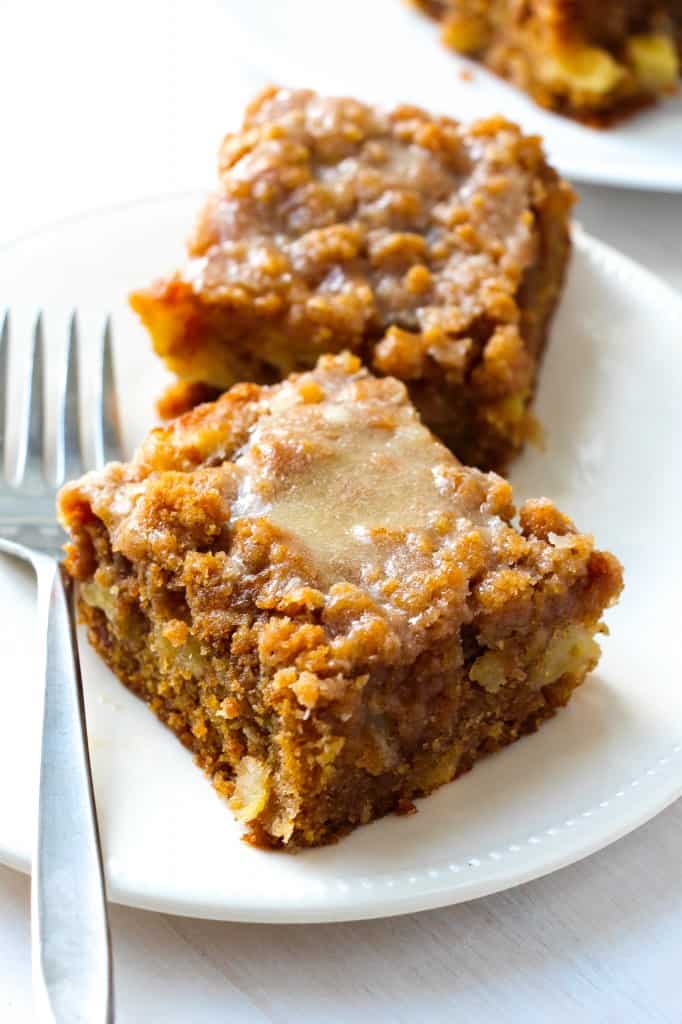 Ohhh my goodness I am so excited to share this incredible recipe with you today. These little sqaures of heaven are some of the best things that have come out of our kitchen! The moist apple cake + the crumb topping + the warm glaze all work together in the most amazing, melt-in-your-mouth kind of way.
The cake is bursting with warm, caramelized apples in every single bite. I always say, go big or go home. 🙂
The cake is made with simple everyday ingredients. I sweetened the cake with mostly granulated sugar, but I also had to add some brown sugar because you can't have apples and not brown sugar. And of course there is a whole lot of cinnamon in the cake and the crumb topping. The batter will be very thick, but don't worry it's supposed to be that way.
Let's talk about the crumb topping…
The crumb topping is made of cold butter, brown sugar, cinnamon, and flour. To make the crumb topping, all the fancy people use a "pastry cutter," but we have two hands for a reason! So why not use them? I just work the mixture with my hands, squeezing it again and again until it all starts to come together.
Normally I would say that the crumb topping is the best part, but with this cake, the GLAZE totally takes center stage. My mom and I both agreed that the glaze gave the cake that extra ummph need to take the cake over the top. It's buttery and vanilla-y and perfectly sweet and WARM. Keyword being WARM because it then seeps into the cracks of the crumbs and gets absorbed by the cake. Perfection.
Go ahead, make this crumb cake next weekend for your family, guests, or even yourself. 🙂 Pair with a cup of coffee and it could be fall's trademark breakfast. It's SO irresistibly delicious!!
Glazed Apple Crumb Cake
Moist, buttery cinnamon apple crumb cake piled high with a sweet cinnamon crumb topping and a warm vanilla glaze drizzled over top.
Ingredients:
For the crumb topping:
1/2 cup all-purpose flour
1/4 cup unsalted butter, cold
1/2 cup light brown sugar
1/4 teaspoon salt
2 teaspoons ground cinnamon
For the cake:
1 1/2 cups flour
1/2 teaspoon baking soda
1 teaspoon cinnamon
1/4 teaspoon nutmeg
1/4 teaspoon salt
2/3 cup vegetable oil
3/4 cups granulated sugar
1/4 cup brown sugar
1 whole egg
1 egg white
1 teaspoon vanilla
1 large apple, peeled and diced into small chunks
1/2 cup chopped walnuts
Warm Vanilla Glaze: (Skip the glaze if you don't like things too sweet!)
1 1/2 Tablespoons butter, melted
1 1/2 Tablespoons brown sugar
1 1/2 Tablespoons granulated sugar
1 1/2 Tablespoons milk
1/4 teaspoon vanilla
1/4 teaspoon salt
3/4 cup powdered sugar
Directions:
Preheat the oven to 350F degrees. Generously spray a 9×9 baking pan with nonstick spray. Set aside.
Make the crumb topping first: In a small bowl, toss the flour, brown sugar, salt, and cinnamon together.Cut in the cold butter using a pastry blender, a fork, or your hands. Mix to create clumps and crumbs. Set aside.
Make the cake: Sift together the flour, baking soda, cinnamon, nutmeg, and salt. Sift two more times and set aside. In a medium bowl, whisk the oil, granulated sugar, brown sugar, egg, egg white, and vanilla together until combined. Pour the wet ingredients into the dry ingredients and stir until almost combined. Try not to overmix the batter. It will be very thick. Fold in apples and walnuts and mix until evenly combined.
Spoon/pour the batter into the prepared baking pan. Spread to make an even surface. Pour the crumb topping evenly on top and gently press them down into the batter.
Bake the cake for 30-35 minutes, or until the cake appears to be crispy around the edges and the batter doesn't jiggle when the pan is shaken. If the cake still looks uncooked after 30 minutes, bake the cake for 5 more minutes.
Make the glaze: In a small bowl, whisk the melted butter, brown sugar, granulated sugar, milk, vanilla, and salt together. Add the powdered sugar and whisk until just combined. Drizzle over cake. Enjoy cake warm or at room temperature. Cover cake tightly and store at room temperature or in the refrigerator for up to 3 days.