September 6, 2014
Pumpkin Chocolate Chip Bars
An incredibly moist and flavorful spiced-pumpkin bars loaded with chocolate chips and topped with a thick shmear of creamy, dreamy cream cheese frosting. A MUST try this fall!
I am 100% in the autumn mode now and there is no turning back. I am truly loving every moment of September. Earlier this week I made a list of everything I wanted to do this fall. I can't wait to carve pumpkins, eat a years worth of candy in one night, warm up with some apple cider, and pick some apples!
However, the very first thing on my list was to perfect a pumpkin bar recipe. I love love love pumpkin baked sweet treats! Pumpkin is a funny ingredient to work with because there is a very fine line between holy moly I can't get enough and ew that gives me the chills/ it tastes like baby food.
Anyone else feel that way?
BUT these pumpkin bars are totally the oh my gosh I can't get enough type of recipe.
It took me a couple tries to get the perfect combination of pumpkin + chocolate + rich frosting. The first time there wasn't enough pumpkin flavor, then the frosting was creamy enough (too much milk and not enough cream cheese), then I got the perfect equation of pumpkin + chocolate + creamy + dreamy. These bars are so addiction and incredibly delicious.
One of my favorite things about these bars is how easy they are to make. Combine simple ingredients in a bowl: flour, cinnamon, pumpkin pie spice, baking powder, baking soda, and salt. Then you add in the wet ingredients, stir to combine, and bake! Easy as that. The batter will be very thick, just make sure to spread it out evenly with a spatula.
For the icing, in order to get the most amazing, luchious, out of this world cream cheese frosting – don't use any milk! Just butter, cream cheese, powdered sugar, and vanilla. Trust me. The cream cheese has a lot more moisture in it than you might think. Just make sure your butter and cream cheese are at room temperature.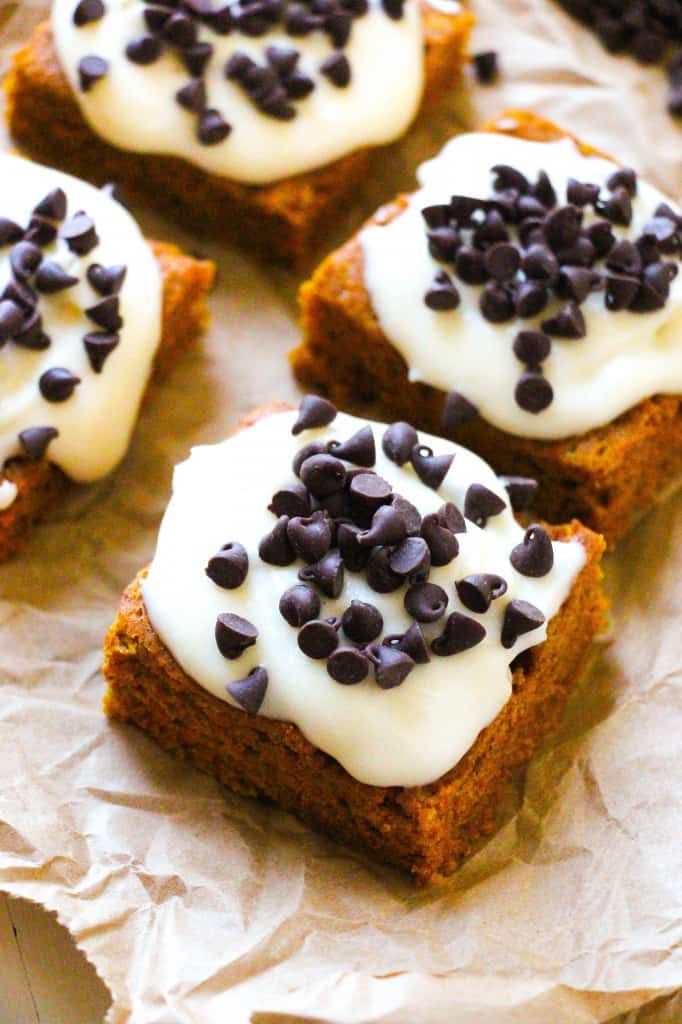 We don't really need an occasion to make these at our house, but when we do have something like a fall party, a fall birthday or anything else you might need to bake for during the fall season, we ALWAYS bring these!
I like to keep the bars in the refrigerator because I think they taste better that way, but that is completely optional!
Best-Ever Pumpkin Chocolate Chip Bars
An incredibly moist and flavorful spiced-pumpkin bars loaded with chocolate chips and topped with a thick shmear of creamy, dreamy cream cheese frosting. A MUST try this fall!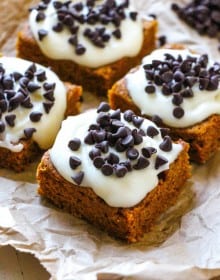 Ingredients:
Dry Ingredients
1 cup all-purpose flour
2 teaspoons cinnamon
1/2 teaspoon pumpkin pie spice
1 teaspoon baking powder
1/2 teaspoon baking soda
1/2 teaspoon salt
Wet Ingredients
2 whole eggs
2/3 cup brown sugar
1 cup canned pumpkin
1/4 cup milk
1/4 cup oil
1 teaspoon vanilla extract
3/4 cup mini chocolate chips
Cream Cheese Frosting:
4 oz cream cheese, softened
2 Tablespoons butter, softened
1 cup powdered sugar
1 teaspoon vanilla extract
Directions:
Preheat oven to 350 degrees and spray a 9×13-inch pan with non-stick spray.
To make bars:
Combine dry ingredients a large bowl, set aside.
In a medium bowl, combine all wet ingredients. Fold wet ingredients into the dry ingredients until just combined. Fold in chooclate chips until evenly distributed. The batter will be very thick. Transfer into prepared baking dish and bake for 14-15 minutes. If you have trouble spreading the bars to cover the pan, spray a spatula and the top of the batter with non-stick spray.
Remove from oven and cool for 10 minutes before cutting into 12 bars.
To make cream cheese dipping sauce:
In a mixing bowl using an electric mixer, beat cream cheese and butter until smooth and fluffy. Stir in powdered sugar and mix until creamy. Add vanilla and stir until evenly distributed. Spread on pumpkin bars and serve immediately.