September 5, 2014
Apple Black Bean Salsa
This chunky, sweet, and spicy apple salsa is crazy delicious and bursting with flavor. It's almost like an apple version of cowboy caviar!
HAPPY FALL Y'ALL.. well technically (according to Siri) fall starts September 22, but with back to school, Pumpkin Spice Lattes avaliable at Starbucks, and candy corn in stores – yeah, it's totally fall. Sooo, with fall comes all the most amazing things in the world: PSL, warm comfort food, fall baking, pumpkin everything, freshly fallen leaves, Thanksgiving AKA the best holiday/food ever, pumpkins, CANDY CORN, caramel apples, apple cider, APPLE CIDER DONUTS, apple-anything no more sweating, chunky sweaters (to hide all the overeating of amazing food 😉 ), dark lipstick, he list goes on and on and on because basically Fall is the best season ever.
Going along with the fall food, apple-anything theme, today we are sharing one very delicious and surprisingly healthy Apple Black Bean Salsa. It's screams fall football – think of a Cowboy Caviar Salsa with diced apples instead of the black eyed peas and that's what it tastes like. It's exploding with flavor!
This salsa's got your regular Cowboy Caviar add-ins – black beans, bell peppers, red onions, cilantro, lime juice, and seasonings, but what really intrigued me about this recipe was the APPLES. This was one of those wing-it-but-it-turns-out-to-be-a-new-favorite-recipe. Apple salsas can be hit or mis, but this was definitely a hit x10. The apples take the Cowboy Caviar flavors to new level. They add an awesome tart flavor to compliment the savory chili powder, zesty lime juice, and spicy jalapenos.
The longer this salsa sits, the more flavorful it gets. I love to prep it on Sundays and use it for salads and quinoa bowls throughout the week. It's so easy and it completely transforms boring salads and quinoa. You could even add plain quinoa to the salsa and turn it into a quinoa salad… I might just have to try that!
Sometimes when I am lazy, I make the food processor/blender do the chopping for me, but it's never as good that way. There's something about the perfect little squares that just make the salsa so perfect.
You're going to love this stuff. Each bite is super chunky and loaded with apples, a little spice, a little sweetness, and lots of flavor.
This salsa will definitely be making a permanent appearance at all our football parties and picnics. As well as in my lunch box mixed in some cooked quinoa for road trips and school days.
Apple Black Bean Salsa
This chunky, sweet, and spicy apple salsa is crazy delicious and bursting with flavor.  It's almost like an apple version of cowboy caviar!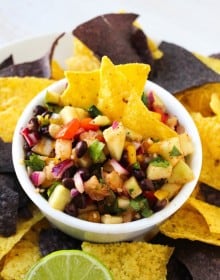 Ingredients:
4 medium tart apples, chopped
1/2 medium red onion, finely chopped
2 limes, juiced
4 cloves garlic, minced
2 jalapeño peppers, divined and seeded, minced
1 yellow bell pepper, diced
1 red pepper, diced
1 (15 oz) can black beans, drained and rinsed
1/2 cup cilantro, chopped
1 (8 oz) can crushed pineapple, drained
1 Tablespoon vegetable oil
2 Tablespoon apple cider vinegar
2 teaspoons ground cumin
2 teaspoons chili powder
1 teaspoon salt
1 teaspoon ground black pepper
Directions:
In a large bowl, add all ingredients and mix together.
Cover and chill before serving or serve immediately. Store in an airtight container for up to 5 days.