September 1, 2014
Cheesy Pizza Crust
A simple recipe for gooey cheese pizza on top of a cheesy pizza crust.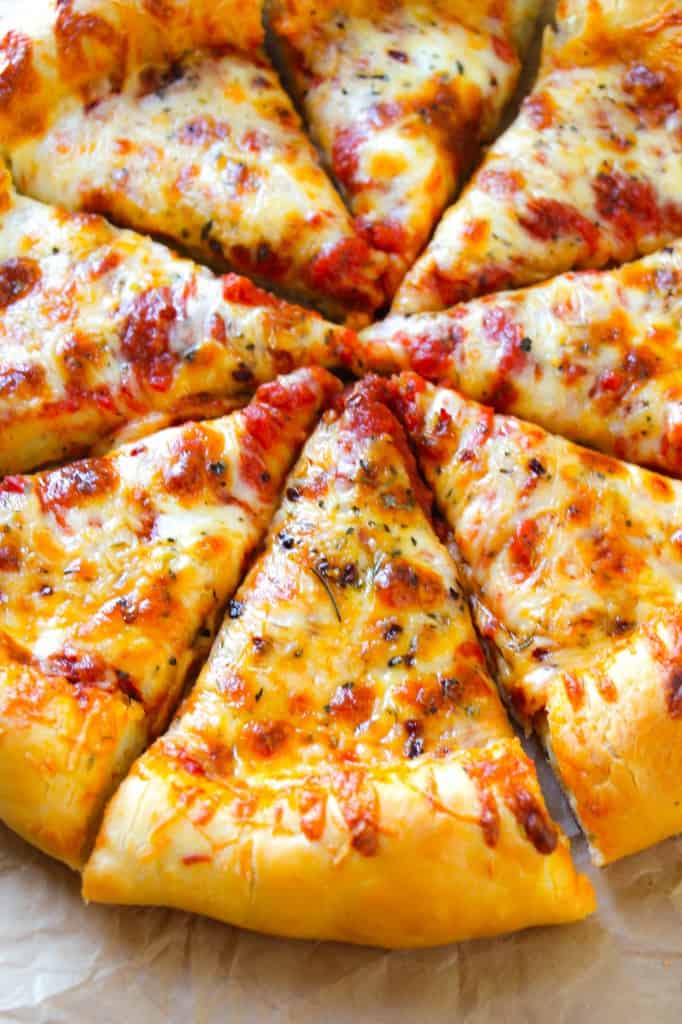 One of our favorite things to make for dinner is pizza.. with an AWESOME crust. The one thing our family really cares about is the crust. Really good crust. Puffy, chewy, and thick crust!
Most of the time we buy a ball of dough already made from our local grocery store, but nothing, and I mean nothing, beats a homemade crust. Today we are so excited to be sharing one of the best crusts we have ever tasted on behalf of Red Star Yeast. This crust is thick and chewy, just how we like it, and what makes it even more amazing is that it has some extra cheese mixed in to the dough!!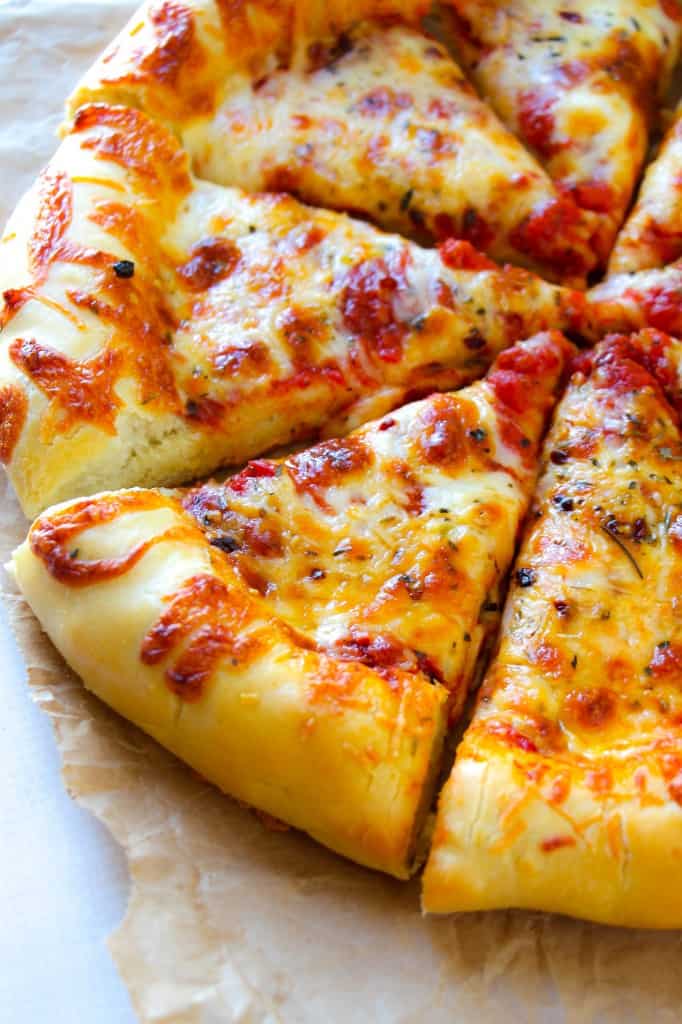 Homemade pizza crust can sound a little intimidating when you can easily buy it from the store, however, homemade pizza crust is unlike anything you could ever buy, have delivered, or order.
Here a few of my tips for making the perfect homemade pizza dough:
1. If you don't have a mixer you could also use the bread blade that came with my food processor!
3. One of the changes I made when I made this crust was that I dusted cornmeal on my pizza pan instead of flour like the recipe suggests. The main reason you sprinkle cornmeal onto the bottom of your pizza pan is so that the pizza won't stick to the bottom of the pan, but it also gives the pizza crust a little flavor and crispy bottom texture as well. You can find cornmeal at almost all grocery stores in the baking aisle. If you are having a hard time finding cornmeal, you could just use flour to dust the pan, but you'll lose the flavor cornmeal provides.
4. If you have had trouble with yeast and getting your dough to rise in the past here are a couple of possible answers to why your dough didn't rise:
When you are working with yeast it is important to make sure you are using good quality yeast. I always use Red Star Yeast because my dough always turn out perfect when I use anything by Red Star, whether it be their regular active dry yeast or their platinum line, their yeast never fails me.
Yeast, just like everything else, has an expiration date and after that date, your yeast won't rise as its supposed to. Check out this page for some more information about yeast shelf life.
Make sure the water is warm when you mix the water and yeast because hot water can kill the yeast and make it not rise properly.
To get the recipe for this pizza crust, head on over to Red Star Yeast. We made the crust as listed with only a few minor changes…
My changes:
1.  I didn't use pork sausage on the topping.
2.  I dusted the pizza pan with cornmeal instead of flour.
3.  We added a about 1/2 cup more cheese than what was listed, naturally. 😉
4.  We only made one pizza, and froze the other one for later. If you only want to make one pizza as well, spray one of the dough balls with nonstick spray and place in a plastic bag after the dough has risen and been divided in half to form the pizza. It will stay good for up to three months. To thaw the dough, Put your frozen pizza dough ball(s) in the fridge overnight or for about 12 hours to thaw. When ready to make the pizza(s), remove the dough from the refrigerator and set out on the counter to rest for 30 minutes and come to room temperature.