August 19, 2014
Cinnamon Sugar Soft Pretzel Bites with Nutella Cream Cheese Dipping Sauce
Chewy, soft pretzel bites coated in cinnamon sugar and dunked in a Nutella cream cheese dip. This is my new favorite way to eat Nutella!

If a bag of pretzels and a jar of Nutella on the couch on a Saturday night catching up on all of your most recent DVR recordings wasn't enough… enter THESE PRETZEL BITES with NUTELLA DIPPING SAUCE on the couch on a Saturday night catching up on all of your most recent DVR recordings. Your self control doesn't stand a chance! Buttery, soft pretzel bites get a thick coating of cinnamon sugar and a dunk in a creamy, dreamy Nutella cream cheese dip.

Did you know how easy soft pretzels are to make? Seriously! They are so much easier than you probably you have probably thought them up in your mind to be, AND they taste so much better straight out of the oven rather than the 4-hour old ones you might end up with if afternoon shopping and Auntie Annie's go hand-in-hand for you.
There are 4 basic steps involved in making soft pretzel bites:  Make the soft pretzel dough, roll and cut, dunk in a baking soda bath, and bake. Don't skip the baking soda bath! I know it might seem intimidating, but a quick dip into boiling water and baking soda is what will give your pretzels that wonderfully authentic golden-brown pretzel color. Not only that, but the baking soda bath is what gives them their chewy exteriors and soft fluffy centers.
These Homemade Cheddar Garlic Soft Pretzels are what I like to call a little more on the bread stick side of the pretzel spectrum. Don't get me wrong, they are awesome and completely irresistible (and just so happen to be our most popular recipe on the blog), BUT for these pretzel bites, I wanted them to have more of the "traditional" texture and flavor of a pretzel. 
Now what would soft pretzel bites be without an iconic Nutella cream cheese dipping sauce to dunk them in?  I love this dip so much paired with the cinnamon-sugar pretzel bites. But honestly, this pretzels are so soft and chewy and melty on their own that they don't even need dip. But let's be serious. Cream cheese anything and I are two peas in a pod. So naturally I have to have it. 😉
BUT if you want to go the other way…. the Nutella cream cheese dip can hold its own and be served with pretzels, apples, bananas, strawberries, bagels, graham crackers, oreos, cupcakes, brownies, cinnamon rolls, or even your finger (<— that's my favorite way 😉 )
Cinnamon Sugar Soft Pretzel Bites with Nutella Cream Cheese Dipping Sauce
Chewy, soft pretzel bites coated in cinnamon sugar and dunked in a Nutella cream cheese dip. This is my new favorite way to eat Nutella!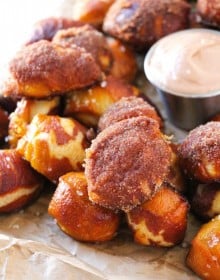 Ingredients:
For the pretzels:
2 cups milk
1 1/2 Tablespoons (2 packets) active dry yeast
6 Tablespoons brown sugar
2 teaspoons fine salt
4 Tablespoons butter, melted
4 1/2 cups flour
For the baking soda bath:
4 1/2 cups water
1/3 cup baking soda
2 large egg whites, beaten
For the cinnamon sugar coating:
1/2 cup butter, melted
1/2 cup granulated sugar
1 Tbsp ground cinnamon
For the Nutella cream cheese dipping sauce:
4 oz cream cheese, softened
2 Tbsp butter, softened
1 cup powdered sugar
2 Tablespoons milk
1 1/2 Tablespoons Nutella
Directions:
To make the pretzels:
Warm up the milk in the microwave for 1 minute. You should be able to comfortably keep your finger in it. If it's too hot it will kill the yeast. Stir in the yeast and let it sit for about 3 minutes. Add salt, sugar, and melted butter; stir until fairly combined. Slowly add 4 cups of flour, 1 cup at a time. Mix with a wooden spoon (or dough hook attached to stand mixer) until dough is thick. Add 1/2 cup more flour until the dough is no longer sticky. If it is still sticky, add up to 3/4 cup more. Poke the dough with your finger – if it bounces back, it is ready to knead.
Kneed for about 5 minutes with a stand mixer, or by hand. Put it in a greased bowl and cover with greased cling wrap. Let rise for 1 hour in a warm place until doubled in size. I heat the oven to 170 degrees, turn off and place dough in oven for an hour.
Preheat the oven to 450 degrees.
With a sharp knife, cut ball of dough into 6 sections. Roll the dough into six 20-inch long ropes. Cut the rope into 1.5 inch pieces to make bites.
Boil 4 1/2 cups of water with 1/3 cup of baking soda in a medium pot. Drop 8-10 pretzel bites into water and let sit for 20 seconds. Remove with a spatula and place onto a baking sheet lined with parchment paper.
Brush beaten egg whites over each pretzel bite. Bake batches for 8-9 minutes each, or until golden brown.
Remove from oven and using a slotted spoon, dip into melted butter, toss to evenly coat then lift and shake off excess. Transfer to a plate and allow to rest 2 minutes.
Meanwhile in a small mixing bowl, whisk together granulated sugar and cinnamon until well blended. Dip butter coated pretzels into cinnamon sugar and toss to evenly coat.
To make cream cheese dipping sauce:
In a mixing bowl using an electric mixer, whip cream cheese and butter until smooth and fluffy. Stir in powdered sugar and Nutella and mix until combined. Add milk and whip until fluffy, about 2 minutes longer. Serve immediately with pretzel bites or store in refrigerator in an airtight container.
Pretzel bites remain fresh for up to 3 days in an airtight container, though they will lose some softness. Pretzel bites freeze well for up to 3 months. Thaw and reheat in the oven at 300F degrees until warm.