January 13, 2014
Easy Slow Cooker Vegetarian Chili
A variety of vegetables, a rich tomato base, and just the right amount of spice make this vegetarian chili especially delicious.
My mom's favorite food is any thing that's packed with vegetables. The more veggies, the better! She loves her pizza piled high with more vegetables than you could even imagine, Pasta e Fagioli Soup, and whenever we go out to breakfast she always gets a omelet stuffed with veggies and cheese. Plain and simple: she LOVES vegetables. Sometimes she will go for a juicy piece of chicken or steak. But most of the time: veggies. Extra veggies, just like today's recipe.
This chili includes kidney beans and black beans for protein, and all kinds of vegetables like yellow squash, diced tomatoes, a yellow onion, and even mushrooms! Don't let the mushrooms scare you away because my family couldn't even tell they were in the mix. But if you really don't like mushrooms, then just leave them out!
During the winter, we use the William-Sonoma Chili Starter to make chili quite often. My dad and my brother both like their chili with meat and I don't really have a preference so she is out voted most of the time. But yesterday, I got to thinking that it was about time I made her a vegetarian chili made 100% from scratch. We watched football, ran errands, I did homework, played hide and go seek with Bailey's toy (Bailey is our dog):
and most importantly I made Veggie Chili in the crockpot for dinner! I encourage you to do the same this week! If you are vowing to make more home-cooked meals this year, this crockpot chili is as easy as can be. The hardest part about it is opening all the cans. 🙂
Now I have a confession to make. This was not the first time I have attempted to make homemade chili. I've had to make a lot of bad vegetarian chili's before I finally added just the right amount of this and just the right amount of that. The problem? My chili was always so spicy! It was an endless cycle… I'd use a little less Chili Pepper, and then a little less, and a little less until I finally figured out that chili tastes so much better with Chili Powder instead of Chipotle Chili Pepper and canned Green Chilies instead of a fresh jalepeño.
But I guess in the end it's all good because I now have an awesome chili recipe to share with you and get this…. my brother – yeah, the one that will only touch vegetables with a 6 foot pole… yeah, he loved the depth of flavor in this chili so much he didn't even mind the vegetables… in fact he said he preferred this chili over the meat chili. And he also had two bowlfuls. I felt pretty proud of myself at that moment.
So if I can get my meat-lovin' little brother to eat all those vegetables, I know you can get your family to eat them as well.
Enjoy!
Easy Slow Cooker Vegetarian Chili
A variety of vegetables, a rich tomato base, and just the right amount of spice make this vegetarian chili especially delicious.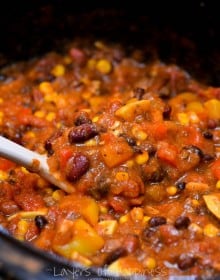 Ingredients:
1 ½ cups chopped yellow onions
1 ½ cups baby bella mushrooms stemmed, wiped clean and cubed
1 red bell pepper, chopped
1 medium yellow squash, stem ends trimmed and cut into small dice
3 (15 oz.) cans diced tomatoes
2 (15 oz.) cans kidney beans, drained and rinsed
1 (15 oz.) can black beans, drained and rinsed
1 (15 oz.) can tomato sauce
1 (15 oz.) can corn kernels, drained
2 (4.5 oz.) cans diced green chiles, drained
1 1/2 cups vegetable stock
2 Tablespoons chili powder
2 tablespoons oregano leaves
1 tablespoon ground cumin
1 ½ teaspoons onion powder
1 ¼ teaspoons seasoned salt (or regular salt)
1 teaspoon ground black pepper
¼ cup chopped fresh cilantro leaves
½ cup water
¼ cup cornmeal
Directions:
Add the onion, mushrooms, peppers, squash, diced tomatoes, tomato sauce, beans, corn, green chilies, vegetable stock, oregano, chili powder, onion powder, and cumin. (all ingredients to the crockpot except cilantro leaves, cornmeal, and water.) Stir and season with salt and pepper.
Cover and cook on High for 4 hours or low for 6 hours.
20-30 minutes before the chili finishes cooking, mix the cornmeal with water to make a paste. Then stir the paste and chopped cilantro to combine and cook for a final 20-30 minutes.
Serve with sour cream, chopped green onions, shredded cheese, or tortilla chips as toppings, if desired.
We use a 6 quart slow cooker.