January 13, 2014
Easy Homemade Crockpot Vegetarian Chili
A recipe for easy homemade crockpot vegetarian chili (or in the slow cooker). This veggie chili recipe is made with black beans, kidney beans, and lots of vegetables. It's thick, easy, homemade, and gluten free. All made in the crockpot! It's a winner!
We use the William-Sonoma Chili Starter quite often. It's incredible. But I got to thinking that it was about time I made her a vegetarian chili made 100% from scratch.
This was not the first time I have attempted to make homemade chili. I've had to make a lot of bad vegetarian chili's. But I finally perfected it. A vegetarian chili crockpot version that's so easy and 100% homemade!
This chili includes kidney beans and black beans for protein. Plus all kinds of vegetables. Like yellow squash, diced tomatoes, yellow onion, and mushrooms. Don't let the mushrooms scare you away. My family couldn't even tell they were in the mix. But you can definitely leave them out!
And I love that it's made in the crockpot. The hardest part is opening all the cans.
Can you freeze this chili?
Yes, chili is the perfect meal to freeze. You can freeze the chili for months. And then pull it out when you want a warm comforting hearty meal.
You should make this ASAP! Because clearly we love this chili:
Enjoy!
Easy Slow Cooker Vegetarian Chili
A recipe for vegetarian chili in the slow cooker (or crockpot).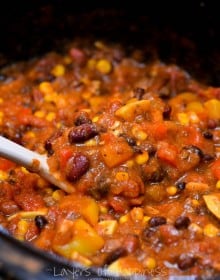 Ingredients:
1 ½ cups chopped yellow onions
1 ½ cups baby bella mushrooms stemmed, wiped clean and cubed
1 red bell pepper, chopped
1 medium yellow squash, stem ends trimmed and cut into small dice
3 (15 oz.) cans diced tomatoes
2 (15 oz.) cans kidney beans, drained and rinsed
1 (15 oz.) can black beans, drained and rinsed
1 (15 oz.) can tomato sauce
1 (15 oz.) can corn kernels, drained
2 (4.5 oz.) cans diced green chiles, drained
1 1/2 cups vegetable stock
2 Tablespoons chili powder
2 tablespoons oregano leaves
1 tablespoon ground cumin
1 ½ teaspoons onion powder
1 ¼ teaspoons seasoned salt (or regular salt)
1 teaspoon ground black pepper
¼ cup chopped fresh cilantro leaves
½ cup water
¼ cup cornmeal
Toppings: sour cream, chopped green onions, shredded cheese, and/or tortilla chips
Directions:
Add all ingredients to a crockpot except cilantro leaves, cornmeal, and water to a crockpot. Stir and season with salt and pepper.
Cover and cook on High for 4 hours or low for 6 hours.
20-30 minutes before the chili finishes cooking, mix the cornmeal with water to make a paste. Then stir the paste into the crockpot. Add the chopped cilantro. Cook for a final 20-30 minutes.
Serve with sour cream, chopped green onions, shredded cheese, or tortilla chips as toppings, if desired.
We use a 6 quart slow cooker.