December 17, 2013
Crockpot Nutella Hot Chocolate
The most perfectly creamy, super sweet hot chocolate you'll ever taste.
All is right in the world when you drink this little concoction of mine.
We've all had powdery hot cocoa—watery, only vaguely chocolaty, and occasionally crunchy with undissolved marshmallow clumps. Still, cocoa was—and is—the best thing to stir into a mug on a winter afternoon.
Today's hot chocolate recipe has come a long way from little packages with gritty marshmallows. It's perfectly sweet with a super creamy base… and if you top it with homemade marshmallows… You'll probably die and go to heaven.
I really wanted to serve Hot Chocolate for both of my Christmas parties this year, so my family and I took an afternoon a couple of weeks ago and experimented with as many hot chocolate recipes as we could find. We tried chocolates in all forms; solid, cocoa and syrup. We tested dark, milk and Dutch process. We used powdered milk, real milk, cream, powdered coffee creamer and water. Whipped cream? We used real, canned and frozen. We had great big marshmallows and tiny little ones.
What we finally settled on as the best hot chocolate ever and guess what the secret ingredients is?! Well, I guess if you read the title you already know…. but it's NUTELLA!!
My jeans are already getting too tight, but that has not stopped me from drinking more Hot Chocolate with homemade whipped cream than I probably have in my entire life all together… leading up to my party and since the party, my family and I have made this every night after dinner… and sometimes for an after-school snack:
I just love the Holidays. I hope you enjoy this heavenly beverage!
Crockpot Nutella Hot Chocolate
The most perfectly creamy, super sweet hot chocolate you'll ever taste.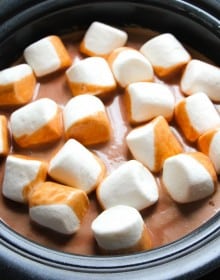 Ingredients:
6 cups milk
1 1/2 cups heavy whipping cream (or 1 1/2 cups milk)
1 can 14 oz sweetened condensed milk
1 1/2 tsp vanilla extract
1 1/4 cups nutella
Directions:
Add milk, sweetened condensed milk, whipping cream and vanilla extract to crock pot and quickly stir. Add nutella to crock pot and mix in, so nutella isn't piled in one place.
Cover and heat on low setting for 2 hours. Stir occasionally.
Serve and top with whipping cream or marshmallows.