December 11, 2013
Christmas Sugar Cookie Bars
Christmas Sugar Cookie Bars – Super soft and fluffy sugar cookies made into bars and topped with my Grandma's irresistible icing!
My Grandma's sugar cookie recipe is seriously the bes, but I don't make them very often because it takes so much time to cut out the individual shapes, bake a million batches of them, and then decorate each cookie. It is seriously an all-day project!
Today's cookie recipe may just solve all of those problems. It is basically one HUGE sugar cookie baked on one cookie sheet . . . the prep time and bake time is so short . . . and you only have to frost one LARGE cookie and cut them into bars.
I can honestly say that this is my family's all-time favorite Christmas cookie. Every time I make them, no matter what I do, I CANNOT keep my family from hawking around the kitchen, waiting around to see if I'll drop anything.  I left the kitchen for 1 second to come back and find my little  brother with his head literally inside the icing bowl!!
And when I was trying to take pictures this crazy Dad wouldn't leave the kitchen until I gave him another one…
And for my mom… she claimed these to be the best cookies she has ever tasted. Coming from a chocolate-lovin' cookie snob and very tough cookie critic, that says a lot. I guess you can say my family likes these cookie bars?
For the texture, the dough will be heavy and sticky. The best method for making an even layer of cookies is to lightly spray the top of the dough with non-stick spray. Be careful not to use too much, though, or the cookie will be very doughy after 12 minutes. However, the spray also works in your favor because the non-stick spray creates the most amazing soft-baked, chewiness that everyone loves about there sugar cookie bars.
… and if these haven't lured you in yet, they are topped with my Grandma's famous icing. She's probably going to disapprove of me giving this secret of her's out, but oh well; it's for a good cause. 😉
This is very important to read: Because the cookie pan is so large, make sure you rotate the cookies 180 degrees halfway through the cooking process in order to make sure the cookies are evenly baked.
Enjoy!
Christmas Sugar Cookie Bars
Super soft and fluffy sugar cookies made into bars and topped with my Grandma's irresistible icing. My family's holiday favorite!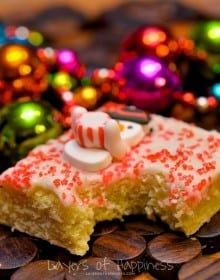 Ingredients:
For the cookies:
1 cup unsalted butter, at room temperature
2 cups granulated sugar
4 large eggs
2 tsp vanilla extract
5 cups all-purpose flour
1 tsp salt
1/2 tsp baking soda
Non-stick baking spray
For the Icing:
4 ½ cups powdered sugar
1 ½ Tbsp. of butter
1 ½ tsp. vanilla extract
1 ½ tsp. butter extract
1 ½ tsp. almond extract
5 Tbsp. milk
Directions:
Preheat oven to 375 degrees and line a , rimmed baking sheet (use a 13x18x1″ pan/cookie sheet) with parchment paper.
In a large bowl with an electric mixer, cream butter and sugar until completely combined, about 3-5 minutes.
Add eggs, one at a time, mixing after each egg. Mix in vanilla.
In a separate bowl whisk together flour, salt and baking soda.
Add the flour mixture to the wet mixture and incorporate just until combined.
Pour the dough onto the baking sheet lined with parchment paper. The dough will be heavy and sticky. Break the dough up so there are little clumps of dough all over the pan. This will make it easier when making an even layer of dough.
Lightly spray the top of the dough with non-stick spray so that the dough doesn't stick to your hands. Be careful not to spray too much or you will end up with dough cookies. With your fingers, press the dough into an even layer.
Bake 10-15 min, until a toothpick comes out clean in all four quadrants. Rotate the baking sheet 180 degrees halfway through (after 6 minutes) so that they dough cooks evenly.
While the bars are in the oven make the icing by combining all ingredients until well blended. The icing should more on the thin side than thick, almost a pourable consistency. I used anywhere from 5-8 tablespoons of milk, so just watch it while it mixes.
Spread the icing in an even layer on top of the bars as soon at they come out of the oven. Top with holiday sprinkles if you want!