December 10, 2014
No Spread Sugar Cookies
This is the BEST cut out no spread sugar cookies recipe! Chills for 5 minutes, cookies hold their shape, soft and flavorful, perfect for decorating.
This is the ultimate sugar cookie recipe. They chill for 5 minutes and the cookies hold their shape. They're soft and flavorful. And they are perfect for decorating!
What is the trick to no spread sugar cookies?
Thick cookies! If you don't have a rolling pin that measures the height for you, the key is to use light pressure on the rolling pin. This allows for a thicker, more even dough.
A well floured surface – the key to perfect shapes with hard edges!! Make sure to flour the counter, top of the sugar cookie dough, and rolling pin.
Chill the sugar cookie dough for 5ish minutes before baking. This helps the cookies hold their shape super well in the oven. Other than that, these cookies are pretty much fool proof.
Under bake them! Trust me. The best sugar cookies are under done. Take them out of the oven when they are still pale, not golden brown!
Royal icing is about trial and error. Depending different factors (temperature, altitude, etc.) sometimes I need more or less water. It should be the consistency of cake batter!
If you make the royal icing recipe too early it will harden! So make it right after the cookies come out of the oven.
How thick should cut out sugar cookies be?
I like a thicker sugar cookie, so I roll mine to 3/8-inch thick. I use this rolling pin to get perfect even cookies.
How to make these cookies gluten free?
You can substitute the flour in this recipe for gluten free flour if you want to make them gluten free! I prefer Cup 4 Cup flour.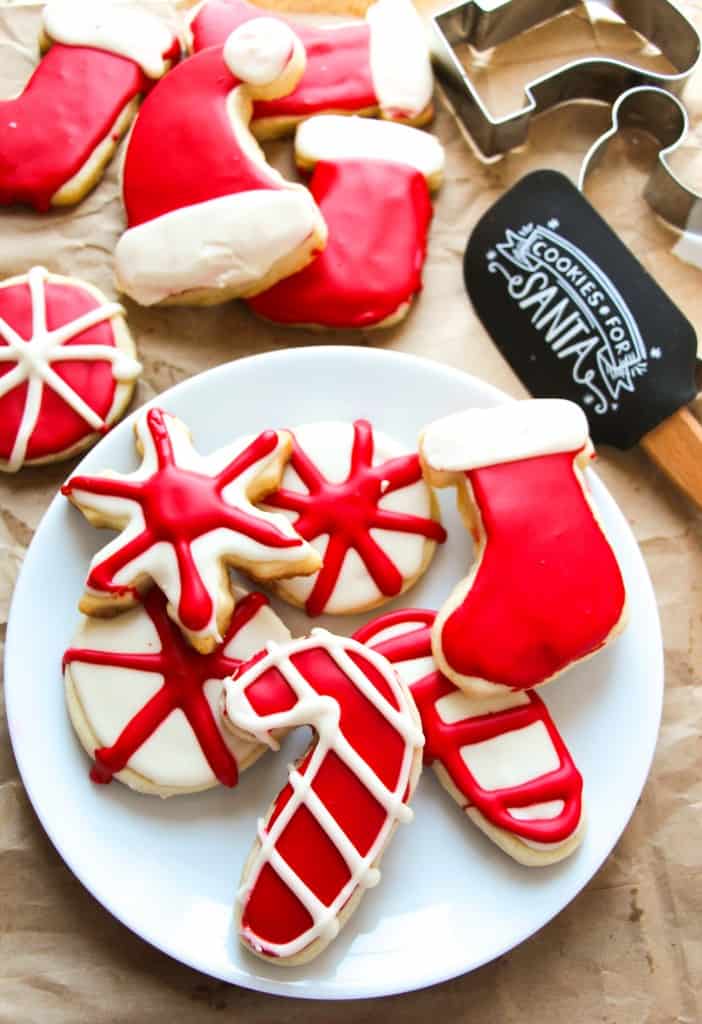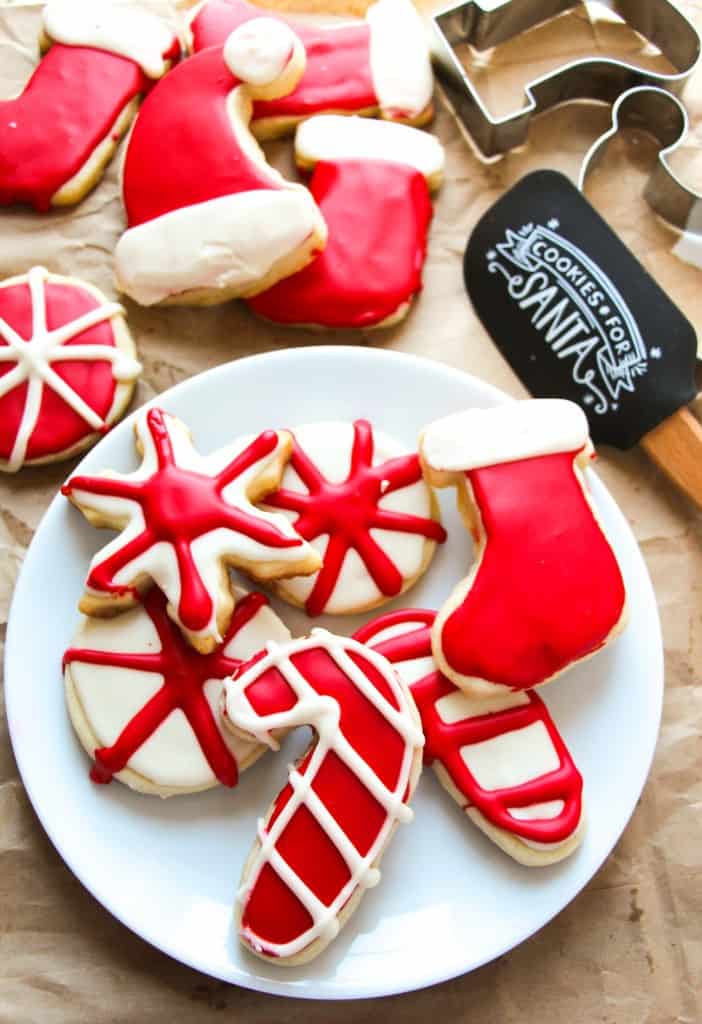 Other Christmas cookies to try…
7 Layer Bar Macaroons! Think 7 layer bar but waaay easier.
Can't go wrong with classic chocolate chip cookies.
Peppermint bark pretzels would be a great option if you want something no-bake.
Watch the recipe video here:
No Spread Sugar Cookies
This is the BEST cut out no spread sugar cookies recipe! Chills for 5 minutes, cookies hold their shape, soft and flavorful, perfect for decorating.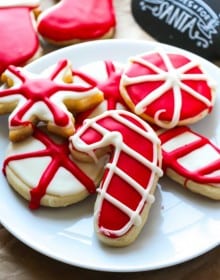 Ingredients:
COOKIES
1 cups (2 sticks) unsalted butter, cold and cut in pieces
1 cup sugar
1 egg
2 teaspoons vanilla extract
1/2 teaspoon almond extract
3 cups flour (to make these gluten free: my favorite flour is Cup 4 Cup. I use about 1-2 Tablespoons less than 3 cups of flour for gluten free so they aren't dry!)
1 1/2 teaspoons baking powder
1/2 teaspoon salt
ICING
2 1/2 – 3 cups powdered sugar
2 1/2 Tablespoons meringue powder
1/2 teaspoon almond extract
1/2 teaspoon butter flavoring
1/2 teaspoon vanilla
1/4 teaspoon salt
4-6 Tablespoons hot water
Red and green food coloring
Directions:
COOKIES:
In a stand mixer fitted with the paddle attachment, combine butter and sugar until smooth, about 2 minutes.
Add the egg, vanilla, and almond extract.
Add the flour, baking powder, and salt until just barely combined.
Sprinkle some powdered sugar on your workspace, the dough, and the rolling pin. Roll out dough to 1/2-inch thickness. You want your cookies thick!!! Use a cookie cutter to cut out cookies.
Transfer cookies to a plate and refrigerate for 10 minutes before baking.
Preheat the oven to 350 degrees. Line a baking sheet with parchment paper. Transfer cold cookies to a parchment paper lined baking sheet. Bake for 10 minutes. Don't overbake! Cookies won't look done but they are.
Let cookies cool completely before icing.
ICING: (If you make the icing too early and it hardens)
Whisk together icing ingredients until smooth. Should be the consistency of cake batter.
Divide the icing into 3 bowls. Stir in red food coloring to one bowl and green food coloring to another bowl so you have red, green, and white icing. Amount of food coloring to add depends on how concentrated your food coloring is.
Transfer each icing color to a sandwich plastic bag. Cut the tip of the icing bag off. Squeeze two or all of the icing out onto the cookies. Use a toothpick to swirl/spread out the icing. Let set until the glaze has hardened.