October 16, 2015
Buttery Crab Bread Pudding
 This has to be one of the seriously most irresistible dishes ever….We have created a party right here with crab, butter, bread, cream, Parmesan cheese, Italian herbs and fresh parsley to name a few ingredients.  Yumilicious.

Make and share this crab bread pudding at your next get-together and you will have a party 🙂
I love crab, crab cakes, crab dip………..and what better new crab love than buttery crab bread pudding?  Whenever I am at a party the crab dish is always one of the first to go.  It always feels like such a treat because it isn't probably a dish you would make on a daily basis.  So it's special—in other words—party worthy.  I just cut this up and served it as an appetizer this weekend and it was a hit.
It would also make for a great side dish.  Actually….. it could be served as a meal when paired with a salad and vegetable.
The quality of your crab is obviously very important.  I never use imitation crab…. it's just not that appetizing to me.  So, make sure you get some nice lump crab for this dish.  You want it to be all that it can be.
What else do I love about this recipe other than it's creative and super yummy?  It is soooooooo EASY!  You won't believe how quick and easy this dish is to prepare.  It will be in the oven cooking in just a few minutes.  It looks so gourmet and appears as if you have spent a lot of time in the kitchen.  Your guests will love it and feel oh so special.
Buttery Crab Bread Pudding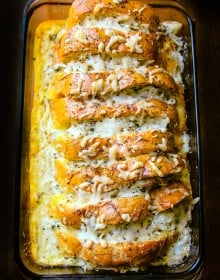 Ingredients:
16 ounces lump crabmeat
2 teaspoons fresh lemon juice
1 teaspoon of cayenne pepper
1 teaspoon of Old Bay seasoning
1 Tablespoon of Italian seasoning
1 Tablespoon finely chopped parsley
1 Tablespoon finely chopped chives
Kosher salt and freshly ground pepper
1 stick unsalted butter, softened, plus more for greasing the dish
One 24-inch day-old baguette— bread cut into 3/4-inch slices
4 large eggs
1 cup milk
1 cup half-and-half
Directions:
Preheat the oven to 350°
Butter a 9-by-13-inch baking dish – or whatever dish you want to use that fits your sliced bread with not too much room left over on the sides.
In a separate bowl mix together lump crabmeat with the Italian seasoning, parsley, chives, lemon juice, Old Bay seasoning and cayenne pepper.
Season with salt and black pepper.
Butter each baguette slice and stand up the slices in the prepared baking dish. Spoon and tuck the crab mixture evenly between the slices of bread.
In a separate bowl, whisk eggs with the milk, half-and-half, 1 teaspoon of salt and 1 teaspoon of black pepper. Pour the mixture evenly over the bread and let stand for 10 minutes.
Bake the bread pudding for 30-35 minutes, until the top is lightly browned. Let stand for 10 minutes before serving.