February 11, 2016
Chocolate Covered Oreo Truffle Hearts
You're new favorite Valentine's Day Treat!

I've been thinking a lot about Valentine's Day. More specifically, I've been thinking a lot about you and all of the lovely and delicious edible things you should make for your valentine this year. And by Valentine, I mean anyone you love. Your kid, your barista, your sister, your husband, yourself – pick one… pick more than one! Then grab your chocolate and peanut butter… because we have candy to make, friends.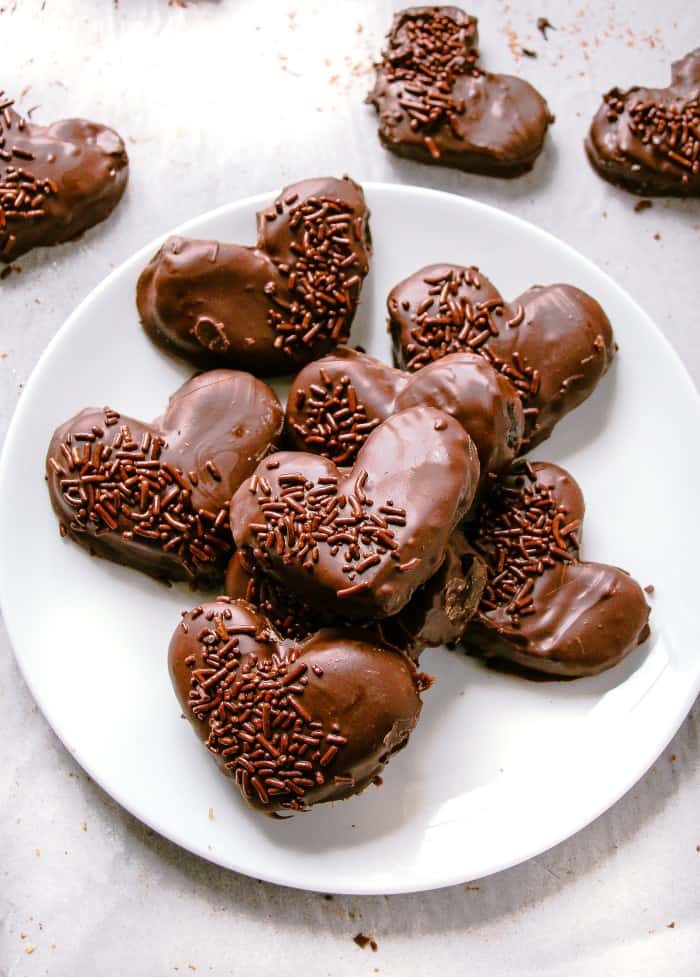 Not only are these one of the most adorable things to come out of our kitchen, but these are also SO yummy! And can we talk about how simple these are?
The truffle mixture consists of crushed oreos and cream cheese – that's it! A little suspicious, but seriously nothing more is needed. The important part here is making sure you've reached the proper consistency before shaping the hearts. You want your dough to be soft and easily pinched together, without being crumbly. I like to think of it as playdoh; if the dough feels too crumbly, simply keep mixing. That is the trick… the more you mix, the more this dough comes together and the more decadent the truffles are.
After that, these truffles get flattened out into an even thickness on a sheet pan and into the refrigerator for some chilling time. This allows the Oreo mixture to get cold enough for us to press some heart shaped cookie cutters into that deliciousness. You could totally use your hands and make heart shapes that way, but either way I would suggest some chilling time or the oreo mixture will be too sticky to work with.
Then the hearts get dipped in melted chocolate and finished with some chocolate sprinkles. Omgsh yes. Give them all to me.

The most important part is just remember not to make them too thin. They should be at least 1/4 of an inch in thickness. This helps them keep their shape during the chocolate dipping process.
Enjoy!
Chocolate Covered Oreo Truffle Hearts
You're new favorite Valentine's Day Treat!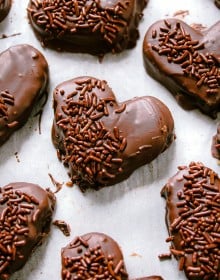 Ingredients:
1 (16 ounce) package Oreos
1 (8 ounce) package cream cheese, softened
16 ounces baker's chocolate
(optional) chocolate sprinkles
Directions:
Crush Oreos to fine crumbs using a rolling pin or a pulse in a blender; transfer to a medium bowl. Add cream cheese; mix until well blended. Spread cookie mixture onto a parchment paper lined baking sheet into an even layer, about 1-inch thick. Refrigerate until firm, about 1 hour.
Once cookie mixture is firm cut out hearts using a heart-shaped cookie cutter. Shape the leftover scraps into a balls, if desired.
Melt chocolate and dip hearts in chocolate; place on a parchment paper covered baking sheet. Sprinkle with chocolate sprinkles. Repeat with remaining hearts.
Refrigerate again until firm, about 20 minutes. Serve. Store leftover truffles in the refrigerator.