February 16, 2016
Easy Blueberry Cinnamon Almond Granola
Sweet, simple, healthy, wholesome, feel-good granola. This crunchy cinnamon blueberry granola is simple to make and packed with so much flavor and texture!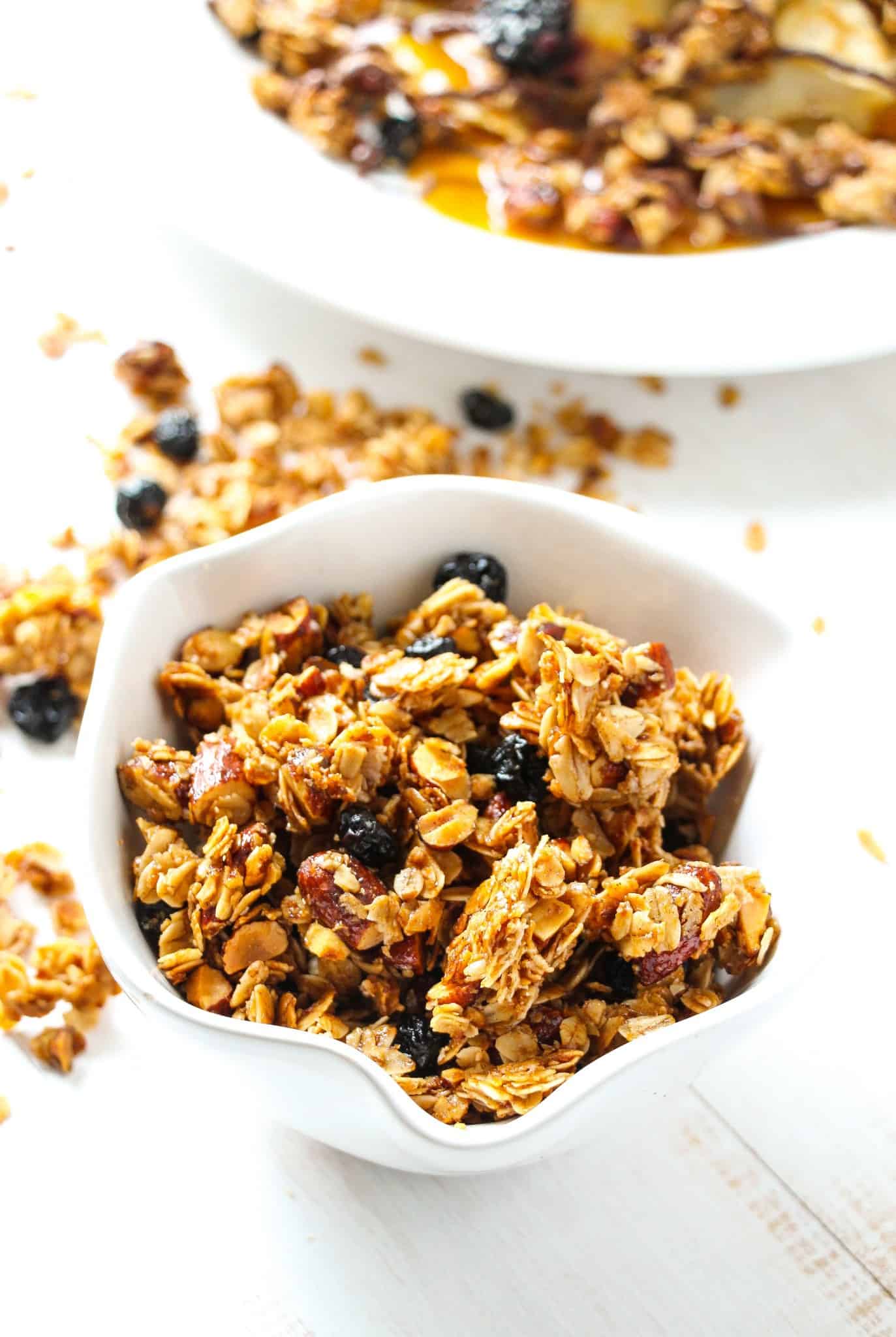 Happy day after Valentine's day!! How was your day? We went out to a fun dinner and ended the night with lots of chocolate and movies. What more could a girl ask for?
This granola is my attempt to get back on track with my healthy eating. If I do say so myself, I think I have done a pretty good job eating healthy since the new year. Go me. 😉
Another week in 2016, another healthy-ish recipe. It's been far too long since I've made granola and I put an end to that this past Friday. Three new granola recipes are coming to you over the next few weeks and I'm sharing my most munchable flavor today.
Three loves of mine: fluffy blankets, granola, and cinnamon. Serioulsy. I put cinnamon in everything. In smoothie, yogurt, oatmeal, on fruit, and everything in between. Cinnamon adds so much flavor and sweetness without any sugar or salt. Let's combine two out of three… actually, if I count all the blueberry cinnamon granola crumbs spilled on my fluffy blanket while watching TV/munching then we have a tasty (and messy) triple threat.
Moving right along…
One of my most popular granola recipes is this Vanilla Almond Granola. And here's why: it's easy, it's crunchy, it's tasty. For today's granola variety, I simply switched up a few ingredients and added all sorts of nutritious things.
Granola is so simple to make at home. I have no idea why I ever bought it from the store. It's overpriced, the ingredient lists are usually odd, and it's likely full of refined sugar and unnecessary fats. Granola is one of the easiest, practically-no-work-involved healthy snacks and you don't need 27 different weird ingredients to throw it together. My basic formula is usually oats, nuts, dried fruit, something sticky (like maple syrup, honey), and a binder (like coconut oil, peanut butter). I customize it based on the flavors I'm craving or the ingredients I have on hand. Like this vanilla almond pretzel granola or my pumpkin spice, pecan pie granola, and chocolate crunch granolas. I get it, I'm a granola girl.
Happy eating!
Easy Blueberry Cinnamon Almond Granola
Sweet, simple, healthy, wholesome, feel-good granola. This crunchy cinnamon blueberry granola is simple to make and packed with so much flavor and texture!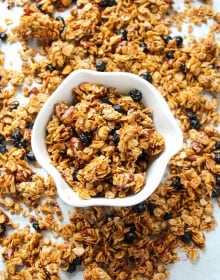 Ingredients:
3 1/2 cups old-fashioned oats
1 cup sliced almonds
1/2 cup dried blueberries
1/2 cup (packed) golden brown sugar
1/2 teaspoon salt
1/4 teaspoon ground cinnamon
1/3 cup coconut oil
1/4 cup honey
2 tablespoons sugar
1 1/2 Tablespoons vanilla extract (Yes, Tablespoon)
Directions:
Line a large baking sheet with parchment paper and preheat oven to 300 degrees.
In a large bowl, toss together oats, almonds, blueberries, brown sugar, salt, and cinnamon. Set aside.
Combine oil, honey, and sugar in small saucepan; bring to simmer over medium heat. Remove from heat and stir in vanilla.
Pour liquid over oat mixture and use to a wooden spoon to evenly coat oat mixture. Make sure all of the oat are moistened – use your hands if necessary.
Spread onto prepared baking sheet and bake for 25-30 minutes, stirring every 10 minutes. Remove from oven and use the back of wooden spatula to press down on granola to form on large granola clump. (This will give you big granola clusters after it cools!!)
Let granola cool completely – the air will help the granola obtain a crunchy texture. After completely cool, break up granola and store in an air-tight container at room temperature for up to 3 weeks.