July 17, 2015
Nutella Crepes
Simple and delicate, but also soft and buttery homemade crepes topped with blackberries, granola, Nutella, and homemade maple butter. This recipe is super fun to make and even more fun to eat!
Ever since graduation, we've had family in town, our trip to Greece, a trip to the river, and multiple trips to the beach. It's been a WHIRL WIND.
Luckily, I think things are kinda sorta calming down and getting back to normal around here.
Well, minus the teeeeenny fact that I go to COLLEGE in less than a month and that have been cooking my bum off trying to prep for the year without a kitchen. (read: HELP. read: NOT READY.)
As I gear up to start this next chapter, I've been doing a lot of thinking. Quite a bit of thinking has been about Layers of Happiness, and how far I've come, and where I hope to go. Both as a cook and as a photographer.
Don't get me wrong, I'm the first to say the lighting/saturation/clarity of a photo isn't good enough or the flavor of a recipe isn't perfect. But, when I compare 2 years ago vs. today I feel like I have a world of a better understanding about the way foods react when cooked together, and the way those food react to create flavors when paired together. Take for example these crepes…. Homemade Crepes +Berries + Granola + Nutella + MAPLE BUTTER = holy flavor/texture explosion.
Let's start with the homemade crepes. When we were in Greece, we ate the most amazing crepes in the entire world. They were simple and delicate, but also soft and buttery. These crepes are just that. They're are almost like a giant pancake, but 10000x times better because it's socially acceptable to go insane with the toppings.
The granola is one of my favorite parts about these crepes. It breaks up the texture and adds the perfect amount of crunchiness and nutty flavor. I used a blueberry almond granola for a little extra berry flavor.
Then we have the berries. I use blackberries, but you can use your favorite summer fruits or whatever fruit you have on hand. Any fruit will work great!
The Nutella compliments the nuttiness of the granola so perfectly it makes me want to happy dance. And because Nutella and crepes just go together.
And as if that's not enough, I topped it all off with my favorite part: the maple butter. You guyyyyssss… this stuff is so much more than just maple syrup + butter. Even though it does have both of those ingredients, that's not all it's made of. Think a much milder maple syrup with a little cinnamon spice. OBSESSED.
And then, yeah, that's kind of it, just don't forget the dusting of powdered sugar at the end. It's absolutely necessary.
Nutella Berry Granola Crepes with Maple Butter
Simple and delicate, but also soft and buttery homemade crepes topped with blackberries, granola, Nutella, and homemade maple butter. This recipe is super fun to make and even more fun to eat!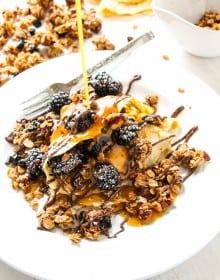 Ingredients:
For the maple butter:
¾ cup butter
1 cup sugar
¼ cup water
3 Tablespoons pumpkin puree
2 Tablespoons maple syrup
1/2 teaspoon cinnamon
a pinch/dash of nutmeg
For the crepes:
1 cup all-purpose flour
Pinch salt
1 egg
1 egg yolk
2 1/2 cups milk (or up to 1/2 cup more)
1 tablespoon melted butter
1/2 teaspoon vanilla extract
!Toppings:
Nutella
Fresh berries (blackberries, blueberries, strawberries)
Granola (We love our Cinnamon Blueberry Almond Granola on these)
Directions:
To make maple butter:
Melt butter in a medium saucepan over low heat.
Stir in sugar, water, pumpkin, maple syrup, cinnamon, and nutmeg, whisking until smooth and sugar dissolves. Set aside.
To make the crepes:
Into a large bowl, sift together flour and salt. In a small bowl or liquid measuring cup, whisk together egg, egg yolk, and 2 cups milk. Pour milk mixture slowly into flour mixture and fold in. Fold in the melted butter and vanilla extract. Stir until smooth and combined.
The batter should be the consistency of heavy cream. If not, add up to 1/2 cup more milk.
Spray a 6-inch skillet with nonstick spray and heat over medium-high heat. When skillet is hot, pour 1/3 cup batter to the center of skillet and tip/swirl skillet in a circular motion to spread batter into an even thin layer. Cook until the edges of the crepe start to peel off the sides of the pan. Flip and cook until the bottom is golden brown. Transfer to a plate and repeat with remaining batter.
Spread a thin layer of Nutella on each crepe and sprinkle with fresh berries and granola. Fold or roll crepe. Drizzle with maple butter and serve immediately.
Store leftover maple butter in an airtight container in the refrigerator for up to 2 weeks and reheat in microwave before using.
PIN THESE CREPES >>>