July 17, 2015
Nutella Crepes
Nutella Crepes – the best and easiest recipe! Top with strawberries and whipped cream or granola and maple butter!
Let's start with the homemade crepes. When we were in Greece, we ate the most amazing crepes in the entire world. They were simple and delicate, but also soft and buttery. These crepes are just that. They're are almost like a giant pancake. But 10000x times better. And it's socially acceptable to go insane with the toppings on crepes.
Is crepe mix the same as pancake mix?
Kind of! They both contain flour, milk, and eggs. But crepe batter doesn't have any baking powder or baking soda. This prevents it from rising like a pancake does.
What is the secret to great crepes?
The main secret is having a great fool proof batter. Because that way you don't need any fancy tools or skillets to make something magical. All I use is a regular skillet I already had for these!
Other than a great batter… great toppings make all the difference!
Topping options…
Strawberries and cream is a very popular topping on Nutella crepes.
You could also keep it simple with a powdered sugar dusting on top.
But I highly recommend granola and maple butter. The granola breaks up the texture and adds the perfect amount of crunchiness and nutty flavor. I used a blueberry almond granola because chocolate + berries is a winning combination.
And then the maple butter… it completely changes the game.
I think we should start a petition to normalize a sauce with crepes. Think about how much better pancakes are when swimming in a delicious sauce. The same goes with crepes! Trust me.
Nutella Crepes
The best and easiest recipe! Top with strawberries and whipped cream or granola and maple butter!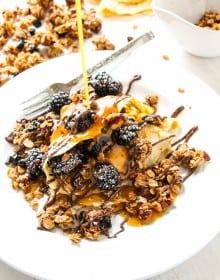 Ingredients:
For the maple butter:
¾ cup butter
1 cup sugar
¼ cup water
3 Tablespoons pumpkin puree
2 Tablespoons maple syrup
1/2 teaspoon cinnamon
a pinch/dash of nutmeg
For the crepes:
1 cup all-purpose flour
Pinch salt
1 egg
1 egg yolk
2 1/2 cups milk (or up to 1/2 cup more)
1 tablespoon melted butter
1/2 teaspoon vanilla extract
Toppings:
Nutella
Fresh berries (blackberries, blueberries, strawberries)
Granola
Directions:
To make maple butter:
Melt butter in a medium saucepan over low heat.
Stir in sugar, water, pumpkin, maple syrup, cinnamon, and nutmeg, whisking until smooth and sugar dissolves. Set aside.
To make the crepes:
Into a large bowl, sift together flour and salt. In a small bowl or liquid measuring cup, whisk together egg, egg yolk, and 2 cups milk. Pour milk mixture slowly into flour mixture and fold in. Fold in the melted butter and vanilla extract. Stir until smooth and combined.
The batter should be the consistency of heavy cream. If not, add up to 1/2 cup more milk.
Spray a 6-inch skillet with nonstick spray and heat over medium-high heat. When skillet is hot, pour 1/3 cup batter to the center of skillet and tip/swirl skillet in a circular motion to spread batter into an even thin layer. Cook until the edges of the crepe start to peel off the sides of the pan. Flip and cook until the bottom is golden brown. Transfer to a plate and repeat with remaining batter.
Spread a thin layer of Nutella on each crepe and sprinkle with fresh berries and granola. Fold or roll crepe. Drizzle with maple butter and serve immediately.
Store leftover maple butter in an airtight container in the refrigerator for up to 2 weeks and reheat in microwave before using.
[this isn't a sponsored post, there are a few affiliate links above based on things I purchase on my own and love]