July 20, 2015
Homemade Ratatouille with Basil Roasted Garlic and Whipped Feta
A light, low-carb, gluten-free summer dinner. Easy and so satisfying!
Happy Monday, everyone! And welcome to a new week!
Confession: I have been holding onto this recipe for SO long and I am so excited to finally share it with you.
When it comes to farmer's markets and all things summer produce, I'm the first to jump on the train and start making all those light and fresh summer meals that summer brings. That being said, I made a version of this when summer first started and I've made it countless times since then, tweaking and perfecting it a little bit more each time.
I mean in all seriousness, isn't this homemade ratatouille with basil roasted garlic and whipped feta kind of awesome? I know there's no meat, BUT with all the flavor from the basil roasted garlic and whipped feta I promise you won't miss it. #meatlessmonday  🙂
It's so simple, light, fresh, and my ultimate summer dinner.
The whole meal comes together pretty quickly. We start off by roasting the garlic in a little olive oil, salt, and pepper. Yes yes yes. Roasted garlic for life. While the garlic is roasting, the veggies get sliced super thin and the ratatouille get prepped for the oven. You could slice the veggies thick if you want, but I think the super thin vegetables add a little extra touch of gourmet with hardly any extra effort.
Right before putting the Ratatouille in the oven, the roasted garlic get mashed with some fresh basil and schmeared all over the top with a drizzle of olive oil.
While the Ratatouille is baking, we make the last part: whipped feta with lots of fresh herbs. This might just be my favorite part, aside from the roasted garlic. It adds so much flavor and creamy deliciousness without being too heavy.
SO…dinner in a little over an hour, full of healthy things, a killer use of summer produce and just all around awesomeness!
Yup, winner, winner (no-chicken) dinner!
Homemade Ratatouille with Basil Roasted Garlic and Whipped Feta
A light, low-carb, gluten-free summer dinner. Easy and so satisfying!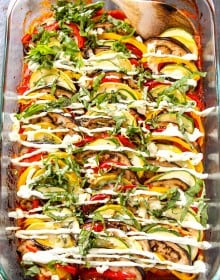 Ingredients:
Basil Roasted Garlic:
3 heads of garlic
4 Tablespoons olive oil, divided
salt
pepper
1/4 cup fresh basil, thinly sliced
1/4 cup parmesan
1/4 teaspoon crushed red pepper
Ratatouille:
1 (6-ounce) can tomato paste
3/4 cup water
4 Tablespoons olive oil, divided
½ onion, finely chopped
1 eggplant
2 zucchini
1 yellow squash
1 red bell pepper
1 yellow bell pepper
1 teaspoon thyme leaves, fresh
Salt and pepper, to taste
Whipped feta:
8 oz feta
8 oz whipped cream cheese
1/4 cup fresh parsley, roughly chopped
1/4 cup sliced green onions
1 lemon, juiced
2 garlic cloves
3 Tablespoons olive oil
1 Tablespoon honey
1 Tablespoon red wine vinegar
2-3 dashes hot sauce (optional)
1/4 cup basil, thinly sliced
Directions:
Roast the garlic:
Preheat oven to 375F degrees.
Using a sharp knife, slice off the top of the garlic heads to expose the cloves inside. Grab a round or square cake pan (I usually use a 9-inch one) and pour 2 Tablespoons of olive oil inside. Swirl it around the bottom of the pan to coat evenly. Place garlic heads inside, exposed side up.
Sprinkle the garlic heads with a little salt and pepper. Drizzle 1 more Tablespoon of olive oil on top. You want them to have a nice coating of oil so they don't burn easily. Cover the pan with aluminum foil and roast in the preheated oven for 40 minutes.
Ratatouille:
Spray a 9×13-inch baking dish with nonstick spray.
Spread the tomato paste in the bottom of the baking dish. Stir in water, olive oil and chopped onion. Season with salt and pepper.
Wash and very thinly slice eggplant, zucchini, squash, yellow bell pepper, and red bell pepper.
Arrange vegetables in rows, make sure each vegetable is overlapping another one. Order doesn't mater.
Once the roasted garlic is done, remove from oven and grab the bottom of the garlic head and gently squeeze until the cloves pop out into the pie dish- they will be mushy. Take a fork and mash with 1/4 cup fresh basil, 1/4 cup parmesan, 1 Tablespoon olive oil, and crushed red pepper flakes. Rub mixture all over the top of the prepared vegetables.
Drizzle 3 Tablespoons over vegetables, sprinkle with fresh thyme leaves, and season with salt and pepper.
Cover with parchment paper or foil and bake in over for 45 minutes.
Whipped feta:
Add feta cheese to a blender or food processor and pulse until feta is broken into small crumbs. Add the cream cheese and blend on low for 3-4 minutes until cheese are very smooth and combined.
Add parsley, green onions, lemon, garlic cloves, olive oil, honey, red wine vinegar, and hot sauce – blend until smooth. It's okay if there are flecks of herbs.
Drizzled whipped feta over ratatouille and top with fresh basil. Serve with quinoa, rice, or bread and enjoy!
PIN THIS RECIPE >>>