June 14, 2016
Basil Lime Grilled Chicken
Fresh flavors and 25 minutes is all it takes to transform chicken into a flavor-packed meal!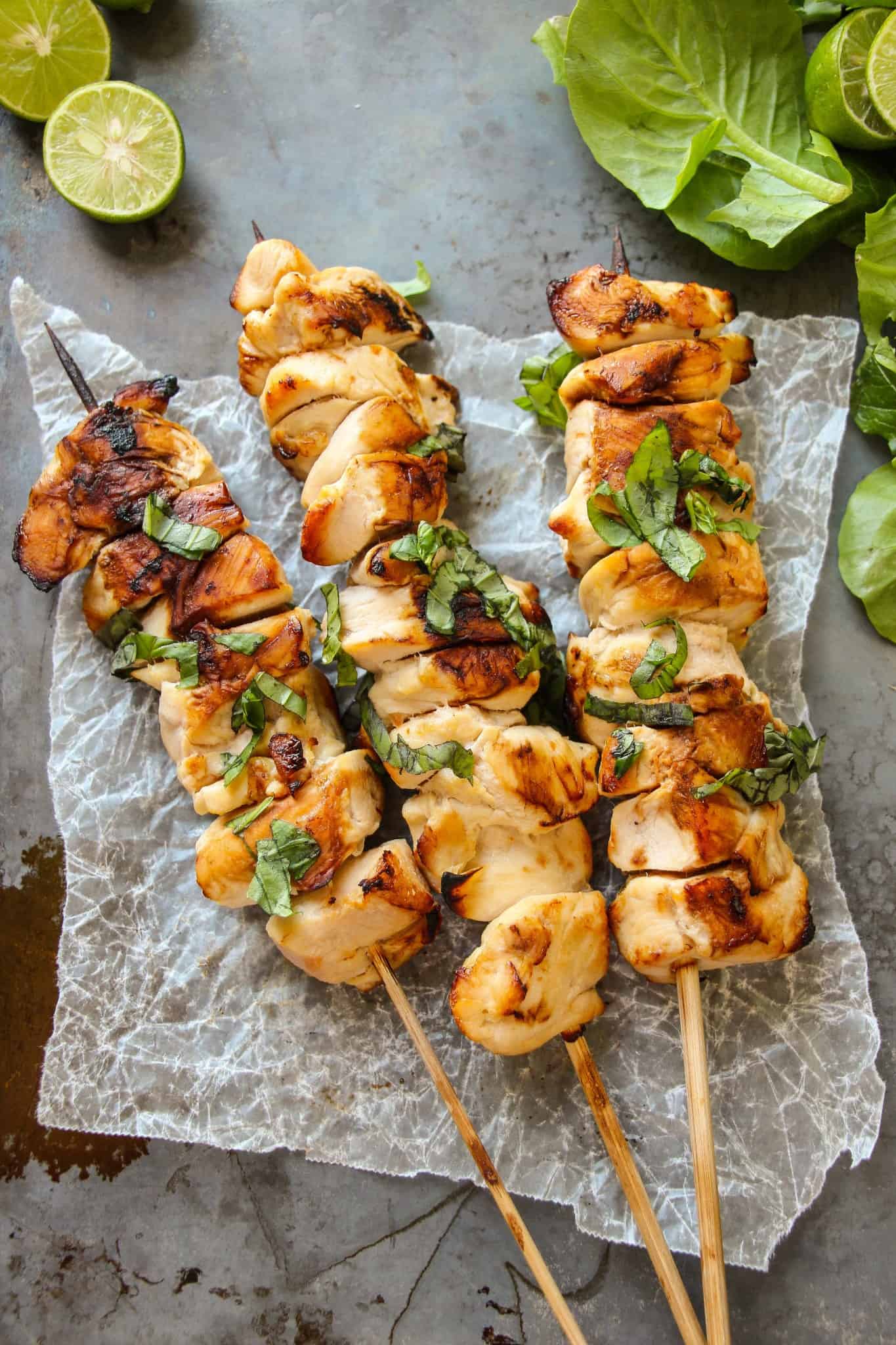 You can't have a summer time feast without something from the grill.
You just can't.
So today I am sharing one of our go to grill recipes.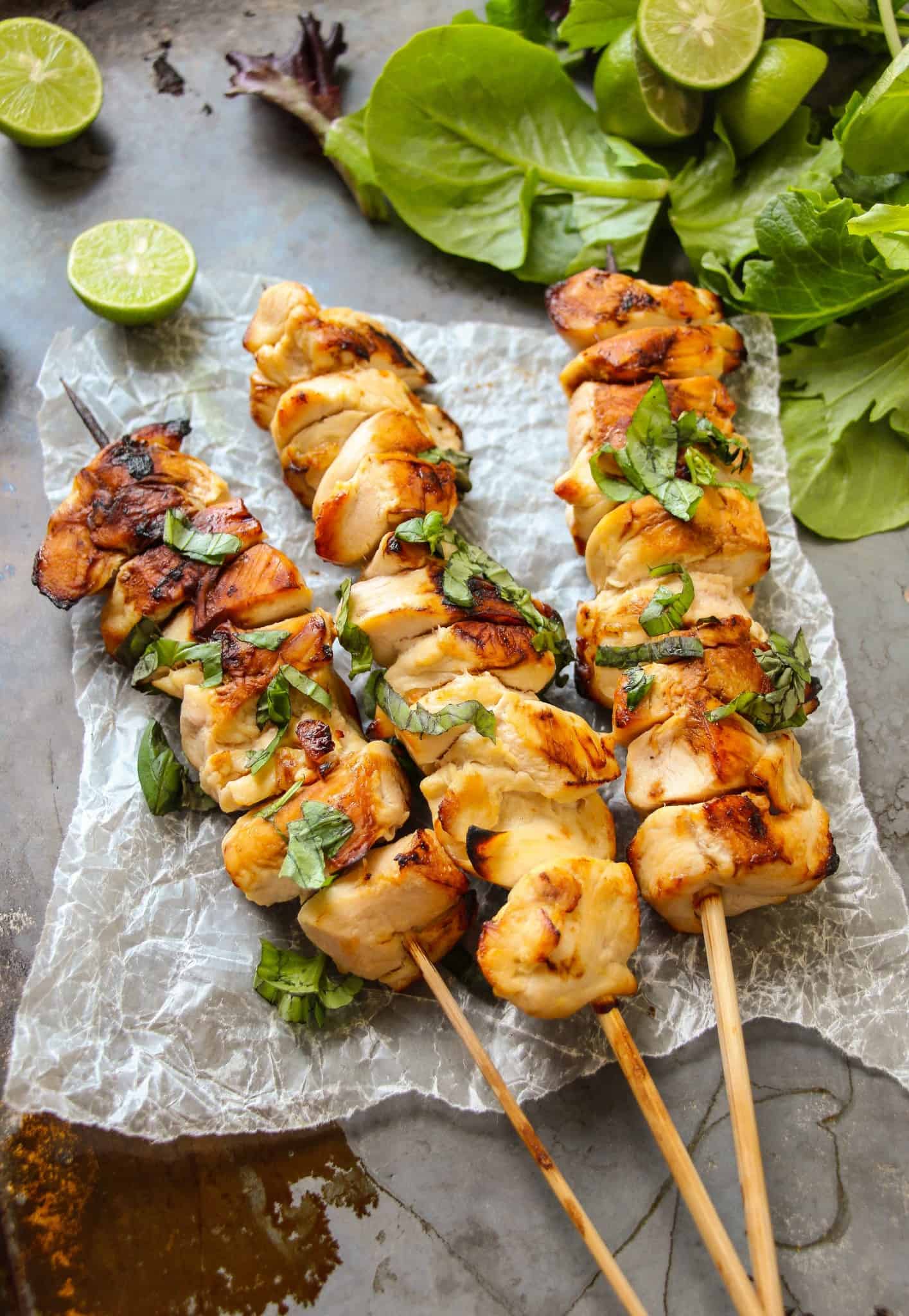 You can however make your summer feast so much better with the addition of fresh summer herbs. If you haven't been taking advantage of all the things summer produce has to offer, let me just tell you that you are missing out… big time.
The key to a super yummy grilled chicken is lots of fresh flavors and a long marinating time.
This chicken gets marinated in a mixture of lime juice, olive oil, dijon mustard, Worcestershire sauce, soy sauce, green onions, and garlic.
The chicken is lightly saucy and sticky on the outside and tender, juicy, and loaded with flavor on the inside, and grilled to golden brown grill perfection on skewers because um it's delishious!
After these babies come off the grill, they get another bath of flavor in a sauce made of lime juice, olive oil, green onions, minced garlic, and fresh basil.
Emphasis on the fresh basil. Lots and lots of fresh basil.
Happy cooking!
Basil Lime Grilled Chicken
Fresh flavors and 25 minutes is all it takes to transform chicken into a flavor-packed meal!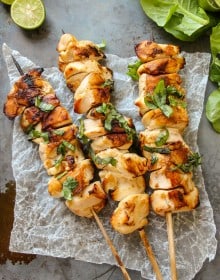 Ingredients:
3 lbs chicken breasts, or chicken tenderloins
For the marinade:
2 limes, juiced and zested
3 Tablespoons olive oil
3 Tablespoons dijon mustard
3 Tablespoons Worcestershire sauce
3 Tablespoons soy sauce
3 green onions, thinly sliced, divided
2 cloves minced garlic
Salt and pepper to taste
For the sauce:
1 lime, juiced and zested
1/4 cup extra virgin olive oil
3 green onions, thinly sliced
2 cloves minced garlic
2 Tablespoons fresh basil, thinly sliced
Directions:
In a small bowl, combine all marinade ingredients. Add chicken and marinade to a large ziploc bag and marinate for at least one hour, and up to 2 days. Chicken is best when marinated for at least 24 hours.
Preheat grill and grill chicken for about 7 minutes on one side, then flip and grill until the internal temperature reaches 165F degrees. Remove and cover with foil for about 10 minutes to let the juices return to the meat.
Slice chicken into bite size pieces if not making skewers.
To make the sauce:
Combine all sauce ingredients in a small bowl and pour over chicken.
Serve immediately.