August 5, 2023
Watermelon Strawberry Caprese Salad
Watermelon Strawberry Caprese Salad – tastes like summer in a bowl… it's a caprese salad with watermelon & strawberries!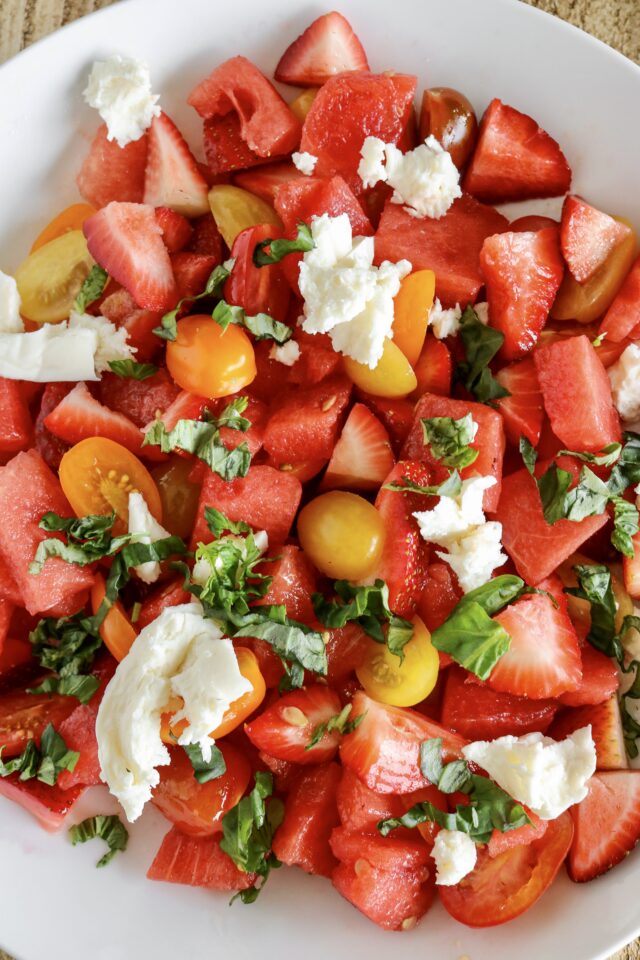 Hear me out: I am not a fan of watermelon salads. Specifically, the ones with feta, balsamic, and mint. I love watermelon in it's natural form. So normally I'm of the opinion: Why ruin an already good thing by adding other stuff that takes over the flavor.
But this salad.
It's light.
It's refreshing.
It's colorful.
And so good!!!!
What more could you ask for from a summer salad?! It tastes and looks like summer in a bowl.
A couple things on this watermelon salad's appearance…
First, I prefer to use tri-colored cherry tomatoes instead of all red
The tri-colored tomatoes are the packages that have yellow, orange, and red cherry tomatoes.
It will still taste the same regardless of the tomato variety you use.
But your bowl will basically be all red if you buy all red cherry tomatoes. So the salad look more visually appealing is you have something other than red. Versus a bowl of red overload.
Second, this recipe uses red wine vinegar…
Most of the watermelon salads I see call for balsamic vinegar.
But balsamic gives the watermelon a gray coloring.
So I love using red wine vinegar because 1) it's red so it won't change the color and 2) it's a lighter vinegar so it's helps keep the salad refreshing.
You want to cut everything into bite size pieces!
You want everything be the same size and bite sized! There is no better bite than being able to get a piece of watermelon, strawberry, tomato, mozzarella, and fresh basil all in one forkful.
This is best when prepped right before serving
This salad best when served immediately. Watermelon releases a lot of water if you get a good one. So that can make the salad become watermelon soup if it sits for too long.
You can prep the ingredients ahead of time though! Cup up the watermelon, strawberries, and cherry tomatoes ahead of time. Store them in separate containers. Then assemble right before serving.
Recipe modifications
As a rule of thumb, I like a lot of watermelon and strawberries and not as many cherry tomatoes. I typically 1 cup watermelon, 1 cup strawberries, and 1/2 cup cherry tomatoes. But you can really eye ball it.
I wouldn't recommend using burrata. It will give it all a bit of a milky unappetizing film.
You can use white wine vinegar or champagne vinegar if you don't have red wine vinegar.
Basil is optional!
If you are going to cut your own watermelon, I highly recommend an 8 inch chef's knife! And you want it really sharp if you want your life to be 100x easier!
What to serve as a main dish with this watermelon strawberry caprese salad?
Steak and asparagus + this watermelon caprese = summer perfection.
This would go great with burgers or pulled pork/chicken too!
Watch the recipe video here:
Watermelon Strawberry Caprese Salad
Tastes like summer in a bowl… it's a caprese salad with watermelon & strawberries!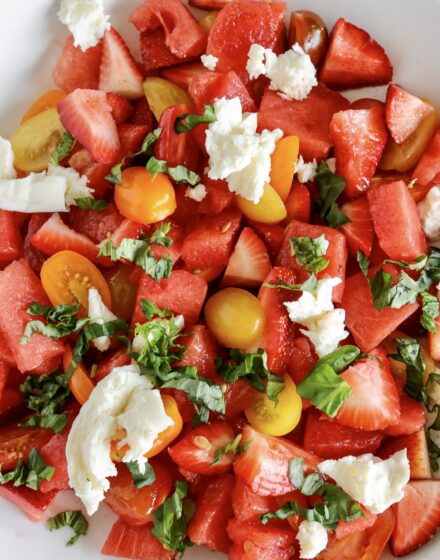 Ingredients:
1 cup watermelon, cut into small cubes
1 cup strawberries, quartered (or cut in sixths if it's a very large strawberry)
1/2 cup cherry tomatoes, halved
2 Tablespoons olive oil
2 Tablespoons red wine vinegar
2 Tablespoons honey
1/2 torn small pieces from a fresh mozzarella ball
1/4 cup chopped fresh basil
Directions:
In a medium bowl, combine the watermelon, strawberries, tomatoes, olive oil, red wine vinegar, and honey. Toss gently to evenly coat.
Top with mozzarella and fresh basil. Serve immediately!