July 30, 2023
Deconstructed Burgers
Deconstructed Burgers – tastes like a burger in a salad form! It's perfect if you want a burger option without the bun!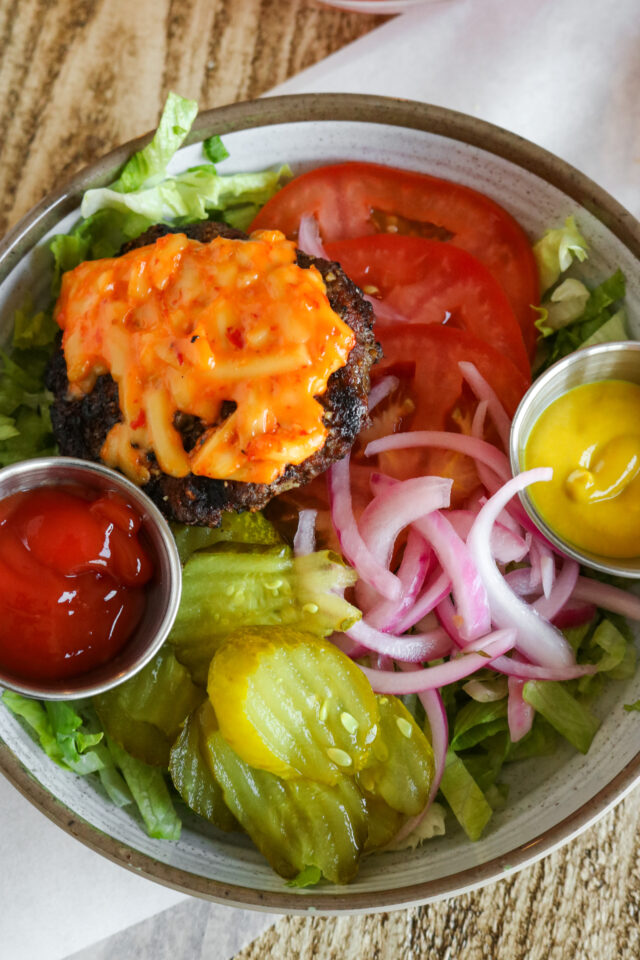 This tastes like a burger so you don't even miss the bun!
You take the burger ingredients, throw them in a bowl, and eat it like a salad. The best part is you can add as many toppings as you want because you aren't limited by it all fitting in your hand.
The deconstructed burgers is 100% customizable
Don't like tomatoes? Leave them out! Want to add bacon? Go for it! You can use whatever toppings you like.
I put pimento cheese on top of my burgers because it adds the best flavor and creaminess.
A turkey burger would also work with this recipe in place of the burger patties!
This salad doesn't need any dressing. The ketchup, mustard, pimento cheese, and pickled red onions is enough to sauce up the salad. But you can add thousand island dressing too.
Iceberg lettuce and thin dill pickle slices are my go-to. It gives it a restaurant-like burger flavor.
When reheating the burger…
If the burger patties are straight off the grill, then you can add it to the salad right away.
But if the burger is leftover, I would crumble it up before microwaving it to prevent over cooking.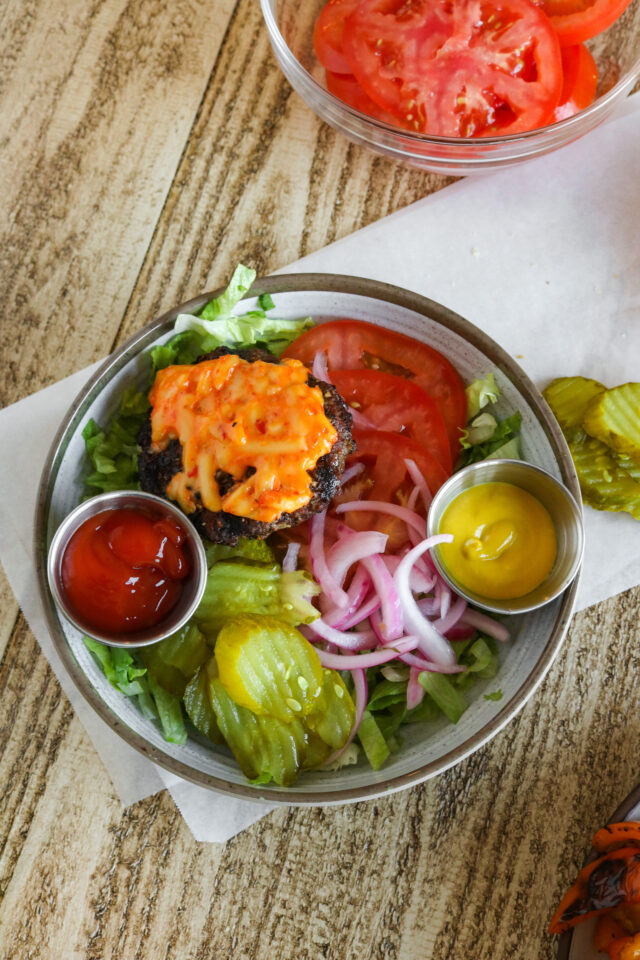 What are good sides for burgers?
Oven baked french fries of course! Or sweet potato fries if that's your thing!
Or some grilled vegetables and baked beans!
Watch the recipe video here:
Deconstructed Burgers
Tastes like a burger in a salad form! Perfect if you want a burger option without the bun!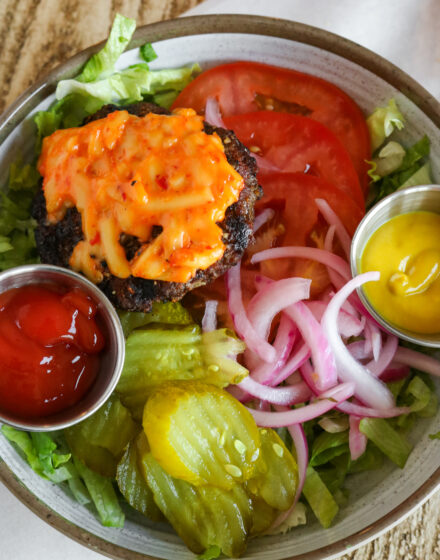 Ingredients:
BURGERS:
1 pound ground beef patties (~4 patties)
Montreal steak seasoning
Smoked paprika
TOPPING:
1/2 cup pimento cheese (store bought or homemade)
1 head iceberg lettuce, finely shredded
1 medium tomato, thinly sliced
1/2 cup pickled onions (or 1/2 red onion, thinly sliced)
Dill pickle chips
Ketchup and mustard
Thousand Island dressing (optional)
Directions:
For the burgers:
Season both sides of the burgers with Montreal Steak Seasoning and smoked paprika.
Prepare the grill for medium direct heat.
Grill or broil the burgers for 7 to 9 minutes for medium rare, turning once.
About 1 to 2 minutes before the burger is finished, spread about 2 tablespoons of pimento cheese on top and cover the grill with the lid. Let the cheese melt until the point when it's about to drip down the burger.
Serve immediately or store for later.
For the deconstructed burger:
Add iceberg lettuce to the bottom of each salad bowl.
If your burger is from the day before, crumble the burger and add to a microwave safe bowl. Place an ice cube in the middle of the meat. Cover the bowl with parchment paper. Microwave for 30 seconds, or until the burger is warmed through. Remove the parchment paper and ice cube.
Add the burger to the lettuce. Top with desired toppings.