September 3, 2023
Dutch Oven Pulled Chicken
Dutch Oven Pulled Chicken – the easiest pulled chicken ever! Piled high on a brioche bun with coleslaw, extra BBQ sauce, and pickles!
If you're craving pulled pork but don't want to spend all day in the kitchen… then this BBQ chicken is the recipe for you!
It's as satisfying as pulled pork. But made in a fraction of the time!
I also love this recipe because it uses a lot of mustard powder. Often recipes with mustard powder only use a tiny bit of it. Then you are left with a whole container and barely any used. But in this recipe you will use a whole tablespoon.
Recipe notes…
I put some of the seasoning on before cooking the chicken. Then I put the rest on after cooking and draining!
I do this because a lot of the seasoning comes off with the juices while cooking the chicken. So the seasoning at the end is to make sure the chicken is extra flavorful.
Can this dutch oven shredded chicken be made in a slow cooker?
Yes! You can make this in a slow cooker.
You would follow the same steps, except put it in a slow cooker instead of a cast iron dutch oven. Cook on high for 3 to 4 hours or on low for 6-7 hours. Then drain the liquid, stir in the extra seasoning + bbq sauce and broil.
Can you use chicken breasts?
I prefer using boneless skinless chicken thighs for this recipe. The chicken thighs stay super moist and flavorful.
But you can use skinless chicken breast if you want! Make sure to watch the chicken more so it doesn't dry out.
How to make this into a pulled chicken burger?
Our favorite way to eat this chicken is on a brioche bun with extra bbq sauce, coleslaw, and pickles. It's a knockout!!
What to serve with this dutch oven pulled chicken?
Potato chips are the obvious answer.
But these would also be great: watermelon strawberry caprese salad, pimento cheese deviled eggs, honey roasted sweet potatoes, and baked beans!
Dutch Oven Pulled Chicken
The easiest pulled chicken ever! Piled high on a brioche bun with coleslaw, extra BBQ sauce, and pickles!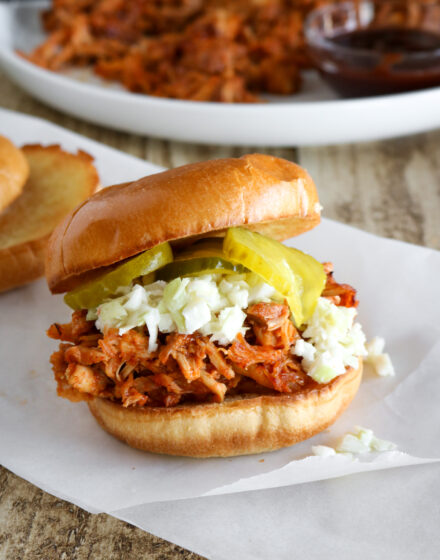 Ingredients:
SEASONING (DIVIDED):
1/2 cup light brown sugar
2 Tablespoons smoked paprika
2 Tablespoons ground mustard powder
1 teaspoon salt
CHICKEN:
3 lbs chicken thighs
1 cup bbq sauce (or more depending on your preference)
PULLED CHICKEN BURGERS:
Brioche buns
Homemade or store bought coleslaw
Extra BBQ sauce
Bread and butter pickles
Directions:
Preheat the oven to 350 degrees.
In a small mixing bowl, combine the brown sugar, smoked paprika, mustard powder, and salt until evenly mixed. Reserve half of the seasoning.
Place the chicken thighs in a dutch oven. Rub the remaining brown sugar all over the chicken thighs. Make sure to get in all the crevices!!
Arrange the chicken thighs in an even layer. Cover the dutch oven with the lid and bake for 40 to 50 minutes, or until the chicken is cooked through.
Remove from the oven and transfer the chicken thighs to a cutting board. Reserve 1/3 cup of the liquid in the pan from the chicken and discard the rest.
Preheat oven to broil.
Shred the chicken and add back into a pot with the liquid. Stir in the reserved seasoning mix and bbq sauce. Mix until well combined.
Transfer the pot back into the oven. Broil for 3-5 minutes to get the chicken a little crispy on top.
Serve on a toasted brioche bun with extra bbq sauce, coleslaw, and pickles!