March 12, 2023
Whipped Ricotta with Honey
Whipped Ricotta with Honey – an easy, 10 minute appetizer with truffle and honey. Serve with toasted bread or crostini.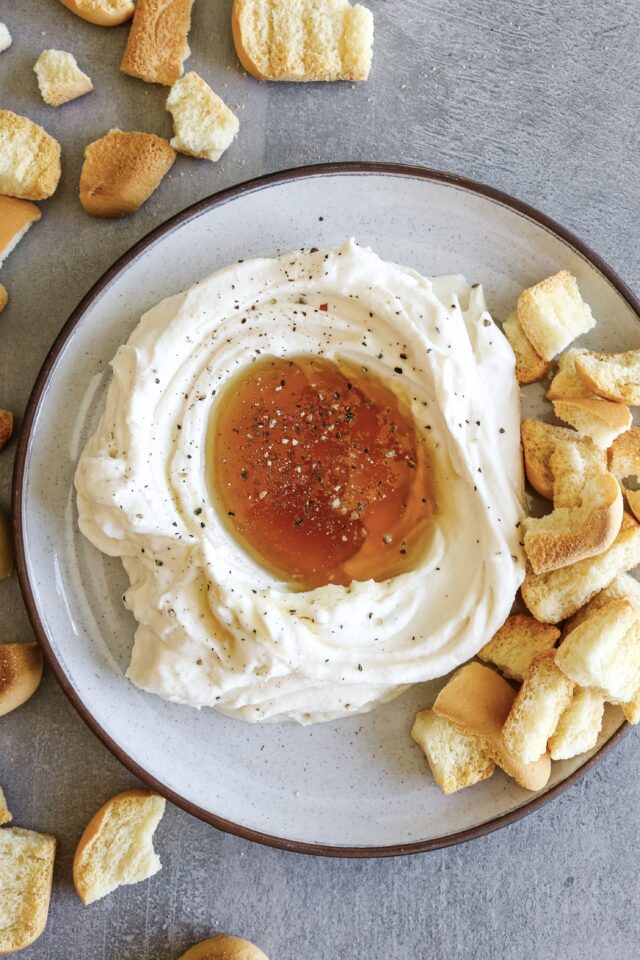 This is one of the simplest appetizers ever.
You don't want to skip the cream cheese. It helps keep the dip thick. But the ratio is pretty flexible. So you can use whatever ratio you prefer.
Speaking of the ratio – I love this recipe for using up leftover ricotta. You can use whatever you have left. I always end up with half a container of ricotta whenever a recipe calls for it. And I never know how to use the rest up so it doesn't go to waste. This is now my answer!
I use truffle salt in this recipe. It gives the dip such amazing flavor. You could also use a little truffle oil if that's what you have.
How long will this whipped ricotta with honey last in the fridge?
You can make the whipped ricotta 1-2 days in advance. Then when you're ready to serve, top it with honey and cracked black pepper.
What do you serve the whipped ricotta dip with?
Toasted bread is my favorite way to serve it. Toast bread with a little butter. Then cut into strips. You could also use a baguette. I don't love when the bread is too crunchy though. So I don't toast for that long. But you can toast to your preference.
What to serve as dinner with this appetizer?
Anything Italian!
Grilled chicken + this rice pilaf.
Or maybe some steak and oven baked french fries!
Watch the recipe video here:
Whipped Ricotta with Honey
An easy, 10 minute appetizer with truffle and honey. Serve with toasted bread or crostini.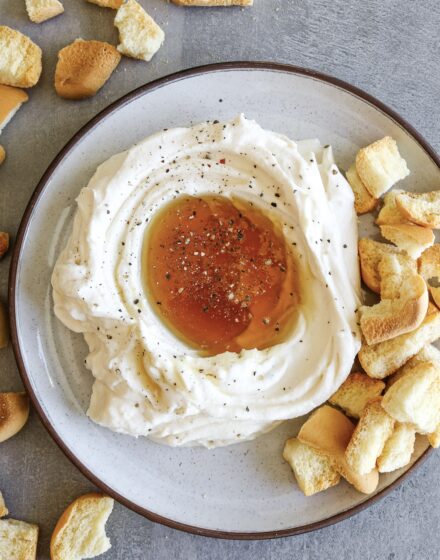 Ingredients:
1 (15 oz) container ricotta (you can use less ricotta depending on what you have, just don't go below 8 oz)
4 oz cream cheese
3 Tablespoons honey
1 tablespoon olive oil
1/2 teaspoon truffle salt
Extra honey, for topping
Fresh cracked black pepper, for garnish
Toasted bread (cut into strips) or a baguette, for serving
Directions:
In a food processor or blender, combine ricotta, cream cheese honey, olive oil, and truffle salt until the cheese is well combined and smooth. Taste and add more truffle salt or honey if desired. Add another tablespoon of olive oil if you want it thinner.
Scoop cheese out and transfer to a small plate or into a shallow bowl. Use a large spoon to create a well in the center of the cheese.
Fill the well with honey. I like to do a few tablespoons. Be careful not to do too much!
Garnish with black pepper and serve with toasted bread.
[this isn't a sponsored post, there are a few affiliate links above based on things I purchase on my own and love]