September 25, 2022
Zucchini Lasagna
A recipe for zucchini lasagna – this is the best baked zucchini lasagna recipe with meat and ricotta. This lasagna with zucchini is easy, healthy, low carb, and keto friendly!
This recipe uses 8 zucchinis & no noodles!
This recipe uses a boat load of zucchini (8 zucchinis to be exact) – so this recipe for no noodle zucchini lasagna is perfect if you have lots of zucchini to use up.
But I don't grow zucchini or ever have "excess zucchini" and I still make this every summer.
How do you keep zucchini lasagna from getting watery?
Salting the zucchini will pull a lot of water out of it. I let the zucchini rest with salt on it while making the sauce. You will see a ton of water in the bottom of the bowl after sitting for 30 minutes. Then paper towels can be used to get the rest of the water off the surface.
This step helps make sure you end up with zucchini lasagna that's not watery.
How thick should zucchini be for lasagna?
The zucchini be very thin! I use this mandolin to cut the zucchini super quickly.
Why use burrata instead of mozzarella?
I use burrata instead of mozzarella. Burrata melts way better than mozzarella does.
Burrata cheese has a thin outer shell of mozzarella. The center is stracciatella, which is a soft and creamy cheese. So that means the burrata is creamier than mozzarella. It doesn't stay as firm when it melts as compared to mozzarella.
Burrata spreads over the whole top instead of staying in clumps. This makes sure every bite has cheese.
Alterations to the recipe
This recipe uses a basic marinara. You could definitely make a fancier sauce. Like my mom's slow cooker spaghetti sauce. But any spaghetti sauce you have works great. Even that leftover spaghetti sauce you have in your freezer.
Serve with…
I love serving this with a caesar salad or garlic bread.
Watch the recipe video here:
Zucchini Lasagna
Serve with a caesar salad and garlic bread!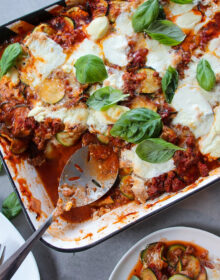 Ingredients:
ZUCCHINI:
7-8 medium zucchini, thinly sliced (don't use more than 8 zucchinis or your baking dish will be too full)
2 Tablespoons salt
SAUCE:
1 Tablespoon olive oil
1 medium yellow onion, diced
1 lb ground chicken, turkey, or beef
1 (18 oz) package mild Italian sausage, casings removed (you can use more or less depending on the package size)
5 garlic cloves, minced
1/2 cup red wine (don't skip!!!)
3 Tablespoons Italian seasoning
3 Tablespoons balsamic vinegar
2 Tablespoons tomato paste
1 Tablespoon sugar
1 (28 oz) can crushed tomatoes
1 (24 oz) jar marinara sauce (I like Rao's or Classico Four Cheese)
ZUCCHINI LASAGNA:
1/2 cup ricotta
1 (8 oz) container burrata
1/2 cup grated Parmesan
Directions:
Preheat the oven to 400 degrees.
ZUCCHINI:
Add sliced zucchini to a strainer. Place the strainer in a large bowl to catch the water. Salt the zucchini and massage with your hands. Let the zucchini sit for 20 minutes while making the sauce.
SAUCE:
In a large pot (you need to be able to add all the zucchini to it), add the oil, onion, garlic, ground meat, and sausage. Cook over medium high heat, breaking up the chicken until cooked through.
Stir in the wine, balsamic vinegar, tomato paste, Italian seasoning, and sugar. Cook for 2 more minutes.
Stir in the crushed tomatoes and marinara sauce.
Reduce heat and cook for 10 to 15 minutes, stirring occasionally.
ZUCCHINI LASAGNA:
Put the sliced zucchini in a dish towel and squeeze out the remaining liquid from the zucchini. Transfer the zucchini to the sauce. Repeat with the remaining zucchini. Stir to combine.
Transfer half the zucchini mixture to a 9×13 inch baking dish. Place 6-10 spoonfuls of ricotta over the top. Sprinkle half of the Parmesan.
Add the rest of the zucchini + sauce. Top with 6-8 more spoonfuls of ricotta and remaining parmesan.
Break apart the balls of burrata over the top.
Bake for 30 minutes.
Let cool for 10 minutes.​​
[this isn't a sponsored post, there are a few affiliate links above based on things I purchase on my own and love]