March 12, 2014
Thin Chewy Chocolate Chip Cookies
Thin Chewy Chocolate Chip Cookies – Buttery, chocolatey, extra-large, extra-chewy, chocolate chip cookies.. just like the kind you see at bakeries!
First and foremost I would like to say that…. These are Fool PROOF
Today I bring you my favorite chocolate chip cookie recipe. For this recipe, brown edges no longer means over cooked and crunchy crunchy cookies… instead, it means they will be extra chewy and amazing. Score!
Bonus: there is no dough chilling required for these cookies and they come together in under 30 minutes. I have proof.. my mom timed me!
The process of making the dough follows the standard cookie-dough making process using a few tricks to make them extra chewy, extra chocolatey, and extra large.
Extra-Chewy
These cookies are the pinnacle of chewy perfection. The secret? First off, the chewiness also comes from the corn starch. I know this may seem like a foreign ingredient when it comes to cookies, but I promise it does wonders for these cookies. There's only one and a fourth teaspoons, but that's just the right amount to work its softening magic.
Secondly, there is a higher ratio of butter to flour than usual. The extra butter is what makes the cookies spread more so you end up with that flat, pancake-like bakery style we all love, but it also keeps the cookies soft and chewy even after they have had a chance to cool.
Thirdly, there is more brown sugar than granulated sugar. Cookies made with more brown than granulated sugar become softer and chewier over time because brown sugar can absorb more atmospheric moisture than granulated sugar, rather than drying out. What does that mean? The cookies are even better on day two because they have had a chance to absorb moisture. Crazy, I know.

The Flavor
These cookies are milder, sweeter, and creamier than any other chocolate chip cookie I've ever had. Three things make this happen.
First, I use Milk chocolate chips instead of semi-sweet or dark. Dark chocolate, to me, is too bitter and over powering in a perfect little, delicate cookies.
Second, the addition of a couple tablespoons of malted milk powder. Malted milk powder has that extra, almost-richer, something —that indescribable afternote that makes you close your eyes and instantly fall in love. If you are unfamiliar with this ingredient, it gives me great pleasure to introduce you. You can find malted milk powder at most grocery stores. It is usually by the instant breakfast  powders and chocolate milk powders.
Third, the Chocolate Swirl. It's not a mandatory step, but it's so easy and it gives a touch of malty-chocolate in every single bite.
To achieve a chocolate swirl: take a spoon, after the cookies have been baking for about 5 minutes, and make circular motions in the top of the cookie to break up the already melted chocolate chips and flatten the cookies.
Basically, these are the best chocolate chip cookies ever. I love making ice cream sandwiches with these cookies because they are so chewy and just the perfect thickness for a refreshing ice cream sandwich on a hot summer day. You could also make a giant chocolate chip cookie sandwich as a spin-off on a oatmeal cream pie. That's what I did in the third photo. Just warning you… that combination is evil.
Enjoy! 🙂
Thin Chewy Chocolate Chip Cookies
Buttery, chocolatey, extra-large, extra-chewy, chocolate chip cookies like the kind you see at bakeries. In other words, the chocolate chip cookie that will change your life.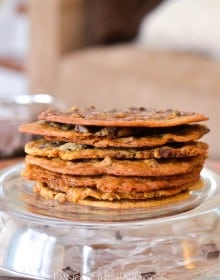 Ingredients:
3/4 cup (1 1/2 sticks) unsalted butter, cold and cut into 1/4 inch slices
3/4 cup light brown sugar, loosely packed
1/2 cup granulated sugar
1 large egg + 1 egg yolk
2 teaspoons vanilla extract
2 Tablespoons Malted Milk Powder
1 and 1/4 cups all-purpose flour
1 teaspoon baking soda
1 and 1/4 teaspoons cornstarch
1/2 teaspoon salt
1 cup milk chocolate chips
Directions:
Preheat the oven to 350 degrees F.
In a large bowl using a hand-held mixer or stand mixer with paddle attachment, cream the butter and sugars together on medium speed until fluffy and light in color. Mix in egg, egg yolk, and vanilla. Scrape down the sides as needed. Add the malted milk powder and beat until combined.
In a separate bowl, combine the flour, cornstarch, baking soda and salt. On low speed, slowly mix it into the wet ingredients.
Stir in chocolate chips. Dough will be thick and sticky.
Drop cookies onto a parchment lined baking sheet using a large cookie scoop (about 3 Tablespoons), leaving plenty of space between the cookies (they spread out quite a bit). slightly flatten cookies with the palm of your hand or do optional step below.
Bake for 12 minutes, or until the edges are golden brown. The cookies will be very flat and very chewy. Allow to cool slightly before transferring to a cooling rack.
Optional: After the cookies have been baking for about 5 minutes, use a spoon and make circular motions in the top of the cookie to break up the already melted chocolate chips and flatten the cookies.
Store in an air tight container for up to 5 days.