August 12, 2015
Greek Chicken Salad
Greek Chicken Salad – grilled chicken, lemon, Greek yogurt, basil, dill, and parsley. Loaded in a pita. Makes for the perfect lunch!
Can you meal prep this Greek chicken salad?
Yes! You can. But the key to this recipe is to make sure that the vegetables are as dry as possible. That way the Greek yogurt dressing mixture doesn't get watery.
Another idea is: keep the yogurt mixture separate until you want to serve it.
Recipe modifications
You could put this over lettuce for a gluten free version.
Or add some olives if that is your thing.
Peppadew peppers would be a great addition too. If you've never had them – I would definitely recommend trying them. Panera puts them on their Mediterranean sandwiches! You can get them in the salad bar/olive bar section of the grocery store. Or in a jar near the pickle aisle.
You could also add some diced bell peppers to the chicken salad.
Other lunch meal prep ideas:
Or these turkey burgers. Make the burgers on a Sunday and then have them to reheat in the fridge all week.
Greek Chicken Salad
Grilled chicken, lemon, Greek yogurt, basil, dill, and parsley. Loaded in a pita. Makes for the perfect lunch!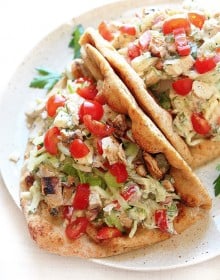 Ingredients:
Chicken Marinade:
1/4 cup lemon juice
1 Tablespoon smoked paprika
2 Tablespoons balsamic vinegar
1 Tablespoon fresh dill
1 Tablespoon fresh oregano
3 cloves garlic, minced
1/2 teaspoon salt
1 teaspoon pepper
1/4 cup olive oil
2 boneless, skinless chicken breasts
Tzatziki Sauce:
1 cup Greek yogurt
2 cloves fresh garlic, minced
2 Tablespoons fresh parsley, finely chopped
2 Tablespoons fresh dill, finely chopped
2 Tablespoons fresh basil, finely chopped
2 Tablespoons fresh lemon juice
1 Tablespoon red wine vinegar
1 Tablespoon olive oil
Salad:
1/2 pint cherry tomatoes cut in quarters, or more if you prefer
1 cucumber, skinned, deseeded and shredded (use the larger side of a cheese grater)
1 green onion bunch (chopped)
1/2 cup feta cheese, crumbles
Directions:
To make the marinade:
Whisk together all marinade ingredients in a small bowl and pour over chicken breast and let marinade for 2 or more hours. The longer the better.
To make the dressing:
Make dressing in a small bowl combining all of the dressing ingredients and mix thoroughly. Transfer to the bottom of a large bowl.
To make the salad:
Grill Chicken and cut into small bite size cubes and transfer to large bowl with the dressing.
Make sure to blot the cucumber dry as much as possible. You do not want the cucumber juicy as it will water down the salad.
Transfer the cucumbers, tomatoes and green onions to the bowl with the chicken and sauce. Fold mixture together until yogurt is evenly distributed. Fold in feta.
Serve immediately with pita bread, crackers, or over greens.
[this isn't a sponsored post, there are a few affiliate links above based on things I purchase on my own and love]