August 15, 2015
40+ Of The BEST Peach Recipes
It's August, which means peaches are in full swing, or more specifically it means that it's now National Peach Month!
There is nothing better than a super fat, juicy, ripe peach to sink my teeth into after a hot summer workout, but sometimes (especially when we go peach picking or every time I go into the grocery store, the soft fuzzy bits of goodness just call to me. And the smell! Don't get me started on how perfect they smell!) our peach supply gets a little bit out of control. Here are some of our favorite peach recipe from around the internet and from Layers of Happiness!
Breakfast…
Healthy Breakfast Banana Splits with Nutella and Fruit  – So easy and SO yummy!
Peach Pull-Apart Bread with Caramel Sauce – It is like one giant stacked cinnamon roll. With caramel sauce and peaches. I mean what's not to love?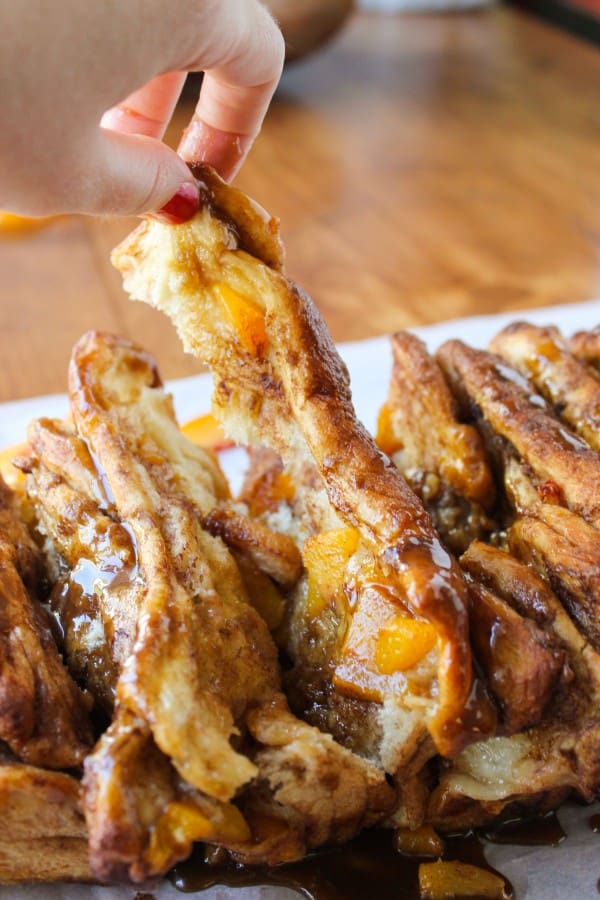 Make Ahead Peaches and Cream Breakfast Bake – The peaches get a little love from some brown sugar, butter and vanilla and then the rest is just a basic pancake mix.
Peach Pie Smoothie Bowl – Pour your smoothie into a bowl and cover it with delicious peach pie inspired toppings.
Peaches N' Cream German Puff Pancakes – If you've never had a puff pancake before, you're in for a real treat.
Vanilla Yeasted Waffles with Roasted Peach Maple Syrup – oh, and cinnamon honey butter. Gimme all the waffles.
Peaches and Cream French Toast Muffins Cups – And there's a brown sugar crumb topping… Obsessed.
"Son of a Peach" Donut-Gourdough's Copycat – I've been wanting to try Gourdough's famous donuts for SO long now… but until then, I'll just be shoving my face with these glorious doughnuts.
Peach Pie Scones with a Vanilla Glaze – these scones taste like peach pie.
Lunch & Snacks…
Caramelized Peach Caprese with Smoked Sea Salt – Jazz up that caprese salad you've been eating all summer long with some caramelized peaches.
Prosciutto Wrapped Peach and Arugula Salad – Want to know how to take your salad to the next level? Prosciutto Wrapped Peaches. End of story.
Chipotle Peach Salsa – This peach salsa get put into a quesadilla and it's amazing.
Dinner…
BLT and Potato Chip Lobster Rolls with Peach Salsa – What's better than bacon and lobster and butter.. maybe some peach salsa to go on top??
Maple Peach Pork Chops – Perfect for an easy weeknight dinner or summer entertaining.
Buttermilk Chicken Biscuit with Habanero Peach Hot Sauce + Honey Butter – Crispy chicken, fluffy biscuits, creamy honey butter, sweet and spicy hot sauce… this is the chicken biscuit of your dreams.
Peach BBQ Chicken Wings – Chicken wings get grilled and then bathed in the most glorious Peach BBQ sauce.
Spicy Cajun Cornmeal Chicken Tenders with Sweet Peach Barbecue Sauce – So. Much. Flavor.
Riesling Peach Glazed Ham – This will fill you house with glorious smells of savory peach deliciousness.
Fried Mozzarella and Caramelized Peach Caprese Burger – Fruit on a burger is totally my jam.
Desserts…
Grilled Peaches with Brown Sugar and Yogurt – Don't put away that grill after dinner… This healthy & easy grilled peaches dessert will blow your mind.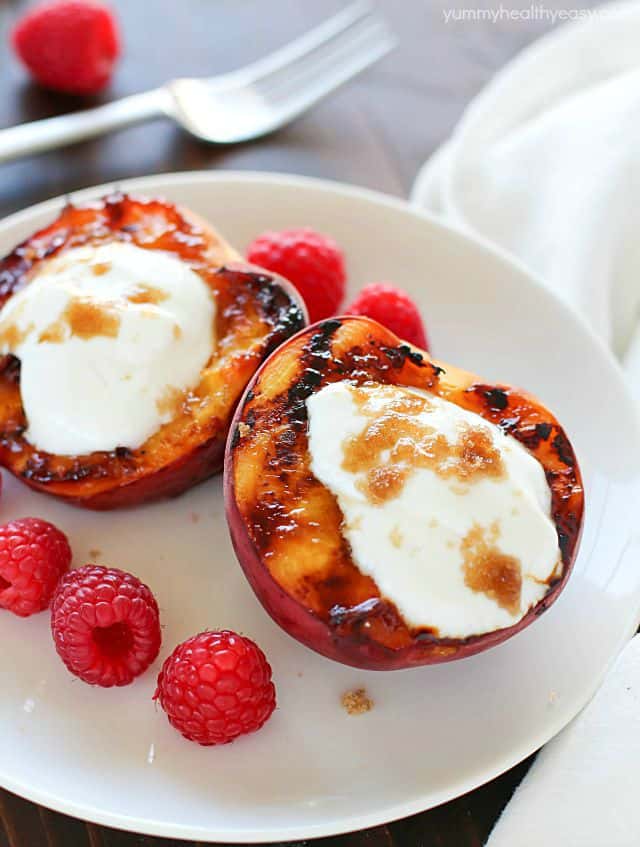 Coconut Almond Oatmeal Cookie Crumble Fruit Crisp – The crumble is made of real cookie dough and it makes this crisp unbelievably comforting and delicious.
Raspberry and Peach Sorbet – only four ingredients to make this beautiful deliciousness.
Easy Blueberry Peach Tart with Vanilla Glaze – A premade puff pastry crust is what makes this sooo easy and the vanilla glaze add the extra wow-factor.
Peach Bread Pudding and Vanilla Ice Cream Sauce – I repeat, Vanilla Ice Cream Sauce (!!!)
Browned Butter Peach Cupcakes – Tender, moist cupcakes taken to the next level with peaches and browned butter.
Peaches n' Cream Cobbler Pie – A cobbler-pie mashup that can't be missed.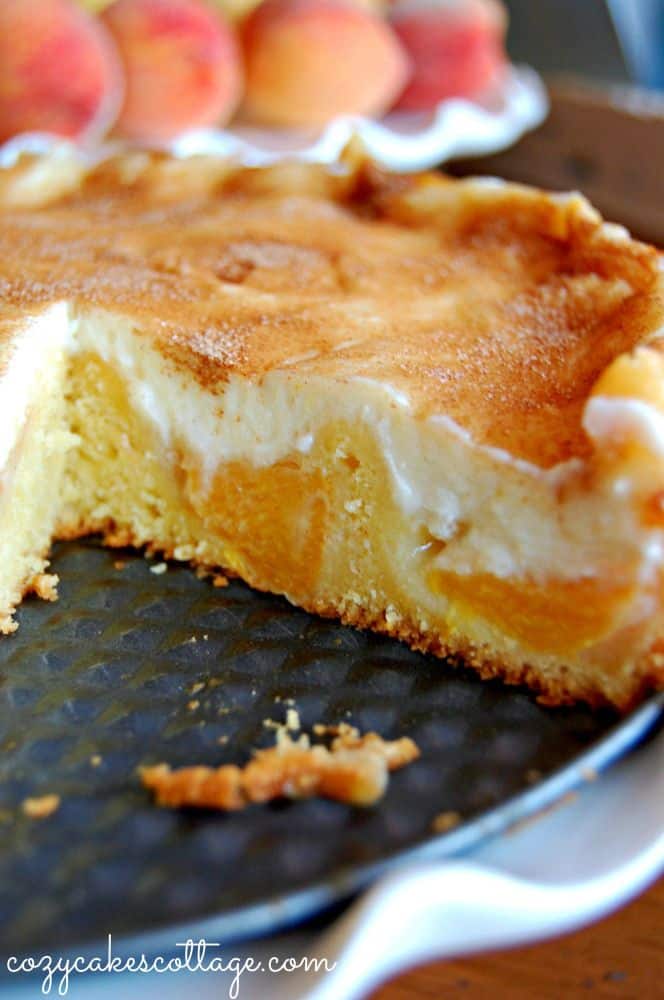 Blueberry Peach Cake – simple ingredients, whole wheat, no refined sugar, and STUNNING presentation. Perfect for summer breakfasts or brunches!
Ginger Peach Crumble – a delicious fresh and sweet peach filling, and topped with a crispy oatmeal-almond "crumble". It is an absolutely delightful summer dessert.
Glazed Peach Pound Cake – perfectly dense, but not too heavy, and the caramelized peaches add just the right amount of sweet-tart topping to take the cake from yummy to amazing.
Peach Upside-Down Cake – switching things up a little bit with peaches instead of pineapples.
Peach Bread Pudding served with a Warm and Buttery Brown Sugar Sauce – This is a bread pudding game changer.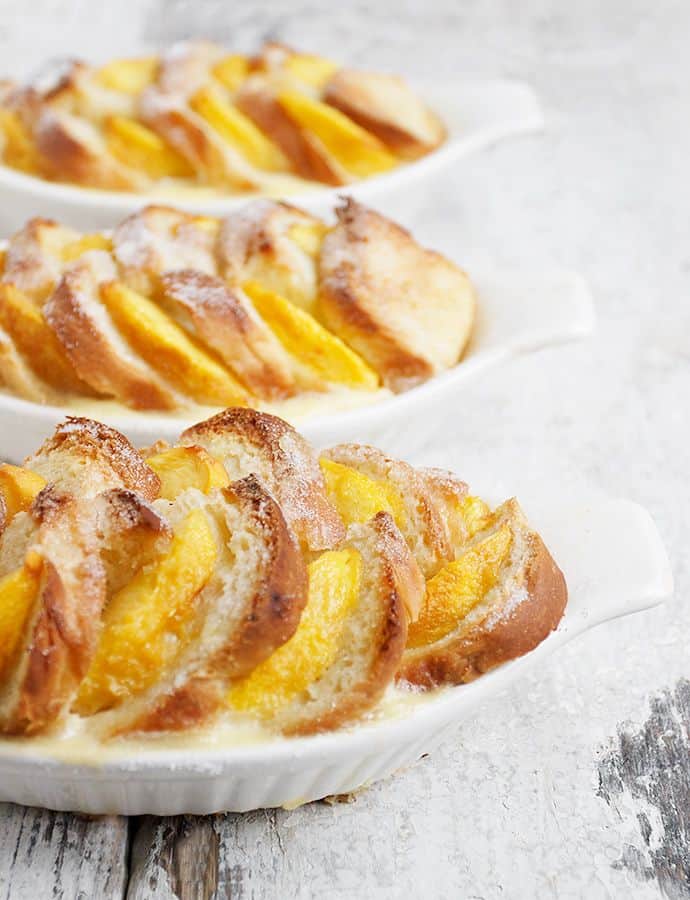 No Bake Dulce de Leche Cheesecake with Caramelized Peaches –  This easy no bake cheesecake is flavored with Dulce de Leche and topped with caramelized peaches.
Peach and Butterscotch Sauce Pie Pops – Perfect for parties or potlucks!
Drinks…
Grilled Peach and Basil Arnold Palmer – with or without bourbon.
Bourbon Peach Smash Cocktails – I'm swooning over this cocktail.
Strawberry and Peach Rosé Sangria – 1- Rosé, I'm obsessed. 2- Basil. Basil in cocktails is totally my jam. 3- Peaches. I literally cannot get enough.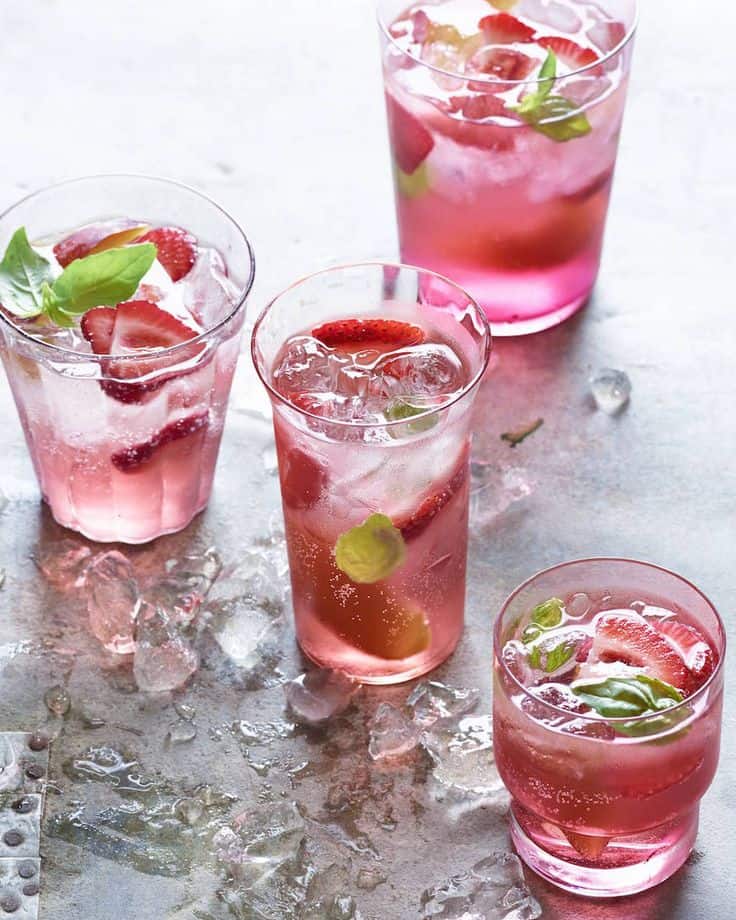 Peach Agua Fresca – A cool and refreshing drink that's refined sugar free and made with peaches, agave, lime juice, and jalapenos.
Peach Prosecco Punch – An incredibly refreshing, bubbly party punch made with Proseco, peach nectar and fresh berries.
Coconut Peach Lemonade Slushies – so refreshing on a hot summer afternoon!
Fresh Peach Margaritas – Fresh peach puree, orange juice, and lime make these fun and fruity Margaritas extra fabulous!