August 17, 2015
Vegetarian Stir Fry
Vegetarian Stir Fry – an easy, 30 minute recipe! It's loaded with tons of colorful vegetables. Serve over rice!
I love this Mongolian beef stir fry. But today we are making a vegetarian stir fry!
What is the secret to a great vegetarian stir-fry?
Avoid overloading your pan! This will make sure your vegetables get nice and crisp rather than steamed.
A wok pan isn't necessary. But it does create more surface area for the vegetables to spread out on!
Don't over-cook the vegetables. I like stir fried vegetables that are slightly crispy still.
A AWESOME sauce packed with flavor. This one is loaded with sesame, ginger, honey, and pineapple juice. It sweet and tangy and sticky. So freaking good.
Does it matter what vegetables I use?
Not really! The vegetables listed in the recipe are more of a suggestion rather than a requirement.
Stir-frys are my favorite way to "clean out the fridge." You can honestly use whatever vegetables you need to get rid of!
I will say, I love zucchini in this stir fry.
The best part of all? It comes together in about 30 minutes. You can cut down on the time even more by chopping the veggies ahead of time.
You could also add some chicken if that's your thing!
Vegetarian Stir Fry
An easy, 30 minute recipe! It's loaded with tons of colorful vegetables. Serve over rice!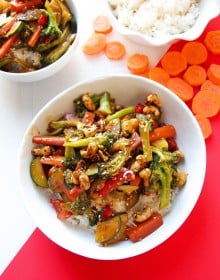 Ingredients:
For the Sauce:
1/2 cup vegetable broth (or water)
1/2 cup pineapple juice
1/4 cup soy sauce
2 Tablespoons cooking sherry
2 Tablespoons honey
1 Tablespoon fresh grated ginger
2 cloves garlic, minced
3 teaspoons corn starch
2 teaspoons sesame oil
For the Stir Fry:
1 Tablespoon sesame oil
2/3 cup roasted, salted cashews
2 cups broccoli florets, chopped
3 medium carrots, peeled, then use the peeler and continue peeling the carrot into long strips
2 red peppers, sliced
1½ teaspoons corn starch
2 zucchini, thinly sliced
4 baby bok choy, chopped
1 cup fresh pineapple, diced
For serving: White Rice, thinly sliced green onions, and toasted sesame seeds
Directions:
Cook rice for serving, if desired.
In a bowl or large glass measuring cup combine the ingredients for the sauce. Whisk together the vegetable broth, pineapple juice, soy sauce, cooking sherry, honey, ginger, garlic, cornstarch, and sesame oil.
Heat a large skillet or wok over high heat. Add 1 tablespoon sesame oil and once hot add the cashews along with 1/4 cup of the sauce. Cook 1-2 minutes or until the cashews are lightly toasted and caramelized. Remove the cashews to a plate.
Add the broccoli, carrots, peppers, and cornstarch to skillet. Stir fry the veggies for 5 minutes. Add the zucchini, bok choy, and pineapple and stir fry for 5-10 more minutes. Add the sauce and cook until the sauce thickens and coats the veggies and the pineapple is beginning to caramelize, about 3 minutes.
Place rice in a bowl and top with veggies. Sprinkle caramelized cashews, green onions, and toasted sesame seeds over top. Serve immediately.
[this isn't a sponsored post, there are a few affiliate links above based on things I purchase on my own and love]