August 19, 2015
Easy Tuscan Herb Artisan Bread
You will be pleasantly surprised by how easy this bread it to make.  It is our number one requested thing to make when we go anywhere.  Not only is it easy but it's also super inexpensive to make – score!
The smell of this Tuscan Herb Artisan Bread baking in the oven is one of life's pleasures.  You will find yourself wanting to cut into it as soon as it comes out of the oven—and go right ahead and do just that if you wish.  Nothing like hot bread with a little melted butter.  Delicious.
The key here is the yeast.  I can't stress enough how important it is to have a fresh yeast packet.  Make sure to check the date on your yeast and if it is close to expiration …..grab a fresher one.
Don't be intimidated by homemade bread!  I promise you this is S-I-M-P-L-E.
Easy Tuscan Herb Artisan Bread
 Artisan Bread is not just for professionals anymore.  This perfectly crusty, bakery worthy bread takes very little time to prepare and is super easy.  The flavors from Tuscany make this show-stopper bread taste amazing.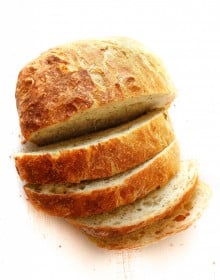 Ingredients:
3 Cups Bread Flour (with a little extra for dusting)
1 1/2 teaspoons instant yeast granules
1 1/2 teaspoons kosher salt
1 1/2 teaspoons sugar
1 1/2 cups warm water
1/2 teaspoon dried oregano
1/2 teaspoon basil
1/2 teaspoon marjoram
1/2 teaspoon thyme
1 1/2 Tablespoons of olive oil
Directions:
In a large bowl fold together flour, yeast, salt sugar, oregano, thyme, marjoram, and thyme with a rubber spatula. Fold in warm water and olive oil and stir until mixed thoroughly (bread will be sticky).
Let dough sit in a covered bowl for 1 1/2 hours at room temperature, or until dough doubles in size.
Once dough has doubled in size, generously flour a clean surface, place dough on surface, and knead dough 4-5 times.
Leave dough on the counter and tent foil over dough and left rise another 1 1/2 hours. At the 1 hour mark, preheat oven to 450 degrees.
Place dough in a covered Dutch oven or on a pizza stone and bake covered for 30 minutes. Then, remove cover and bake for an additional 10 – 15 minutes, until bread is a light golden brown.
Enjoy it hot or save it for dinner, sandwiches or whatever your heart desires.