July 15, 2014
Coconut Almond Oatmeal Cookie Crumble Summer Fruit Crisp
A fruity mixture of sweet blueberries, tart strawberries, and juicy peaches topped with a crumble that tastes like an almond oatmeal cookie!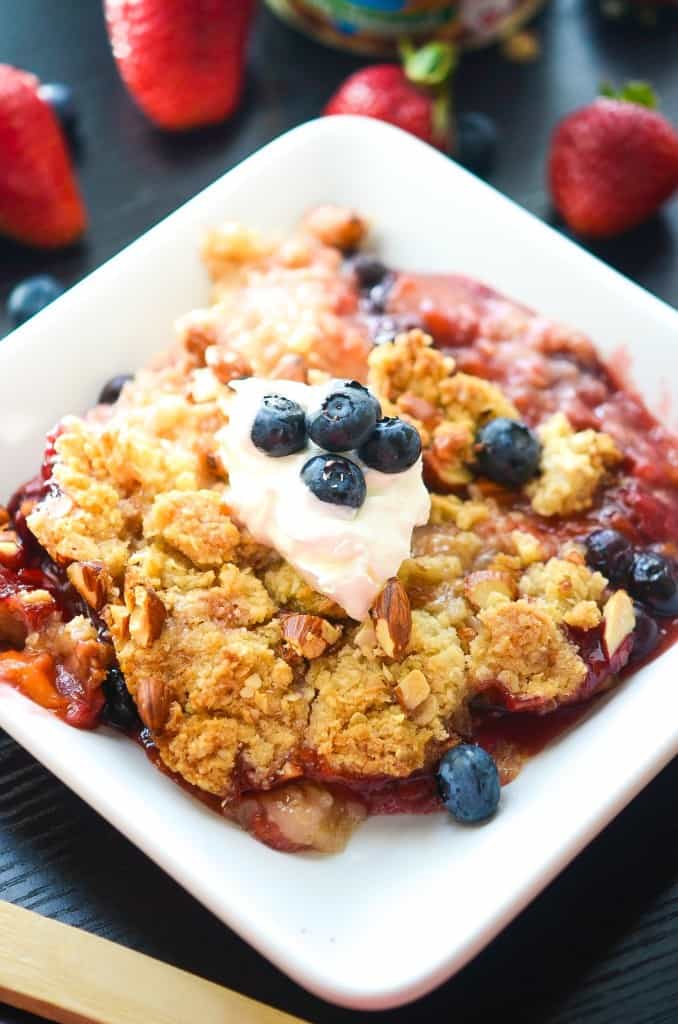 Confession: I am obsessed with this fruit crisp!!
We used blueberries, peaches, and strawberries – all purchased from our local farmer's market. I just love summer and the bountiful sweet and juicy produce.
I used about 2 cups thinly sliced peaches, 2 cups thinly sliced strawberries, and 1 cup blueberries. Feel free to mix up the berries based on your favorites and what's in season, or whatever is on sale that week at the market. You want about

5 cups of fruit total

. You could also use frozen fruit, just make sure you adjust the baking time to compensate for the extra thawing time in the oven. I would add about 10 minutes.
I coated my berries with

orange zest and juice, flour, sugar, salt, and vanilla

. It makes a nice thick juice during baking. That's how I love my pies and crisps.

For this recipe, I super-sized the crumble:fruit ratio in favor of the crumble because single crumble is NEVER enough. Heavy on the crumble, juicy fruit = perfection.
Not only is this crisp heavy on the crumble, but the crumble actually tastes like a cookie! An almond, coconut, oatmeal cookie to be exact. 🙂 My mom may or may not have caught me red-handed picking off the crumble topping before our guests arrived. 😉
When you're making the crumble, you want to start with

cold butter

. It doesn't have to be super cold straight from the refrigerator, but it'll become a gloppy mess if you try to use room temperature butter. I like to dice it into small cubes and add it to my dry ingredients with a pastry cutter or your hands. It takes work and muscles, but it makes a better crumb than using a food processor or mixer would.
Your crumbs shouldn't have any loose cinnamon-sugar surrounding them and it should basically be one big crumb when you are finished. That's how I get the larger crumbs because once it comes together you can break off as big or as little crumbs as you'd like. I prefer the bigger crumbs.
To get your crumbs to come together,
you have to work the butter, flour, cinnamon, sugar mixture for a long time. I'd say this process takes about 3-5 minutes, but trust me, it's worth it. I prefer using my hands to do this, over a pastry cutter, but both will get the job done. With my hands, I squeeze the crumbs together over and over again, almost like play-dough, until they come together to form one big "crumb."

Once it's baked it's a crunchy, sweet oatmeal cookie-like crumble on top of sweet and juicy berries. Heaven.
This crumble is even better topped with a huge scoop of ice cream or some homemade whipped cream. It's the perfect summer potluck dessert, 4th of July dessert, or just because it's hump day and you need it to get you through til Friday. Don't worry, I won't judge.
Coconut Almond Oatmeal Cookie Crumble Summer Fruit Crisp
A fruity mixture of sweet blueberries, tart strawberries, and juicy peaches topped with a crumble that tastes like an almond oatmeal cookie!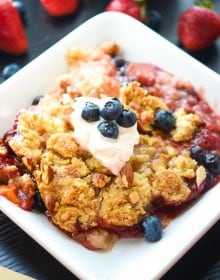 Ingredients:
For the filling:
4 fresh peaches, peeled, thinly sliced
2 pints fresh strawberries, rinsed, thinly sliced
1 pint fresh blueberries, rinsed
1 teaspoon grated orange zest
2 tablespoons freshly squeezed orange juice
3 Tbsp all-purpose flour
¼ cup granulated sugar
1 teaspoon salt
1/2 teaspoon vanilla
For the topping:
2 cups shredded coconut, sweetened
1 1/2 cups all-purpose flour
1 cup quick oats
1 cup Blue Diamond All Natural Almonds, roughly chopped
3/4 cup granulated sugar
3/4 cup light brown sugar, lightly packed
1/2 teaspoon kosher salt
1/2 pound (2 sticks) cold unsalted butter, diced
Directions:
Preheat oven to 350 degrees and spray a 9×13-inch baking dish with non-stick spray.
Make the filling:
Toss strawberries, peaches, and blueberries with orange zest, orange juice, and vanilla. Add flour, sugar, and salt and toss until fruit is evenly coated. Pour into baking dish.
Make the topping:
In a large bowl, whisk together coconut, flour, oatmeal, 1/2 cup almonds, granulated sugar, brown sugar, and salt until combined.
Add the diced cold butter. Use your hands to make large crumbles. This will take about 5 minutes to fully work the butter into the oat flour mixture. Just keep squeezing the mixture in your and and eventually the butter-flour mixture will form one large clump.
Crumble the topping over the fruit and cover evenly, then sprinkle remaining ½ cup of almonds over the top. Bake for 50-60 minutes. The the fruit should be bubbling at the edges and the topping and almonds should be golden brown. Here's the hard part: let the crumble sit for at least 15 minutes before serving (it will thicken slightly as it cools). This will stay warm for a couple hours. It reheats beautifully the next day.