June 3, 2015
Cowboy Caviar
This Post is sponsored by Blue Diamond Almonds. Thank you for continuing to support us over here on LOHThis party appetizer is always a hit! Healthy, loaded with fun flavors, and SO easy!
Summer is right around the corner (literally! Only one week left!) and nothing reminds me more of summer than cowboy caviar. No matter what the occasion, cowboy caviar always made an appearance on our spread. Whether it be a picnic, day at the pool, a packed lunch for my brothers baseball games, a day that the beach, a summer potluck, cookout, party – we always have cowboy caviar.
Why you ask? Partly because it's super easy to make, but mostly because it's soooo yummy and everyone loves it. It's a fun change from the usually chips and salsa.
Cowboy Caviar isn't actual caviar – it's almost like a black bean corn salsa with black eyed peas and other yumminess mixed in. This is honestly what I feel like cowboys imagine caviar to be – so I guess it fits it's name perfectly. Ha!
Up until a few months ago, we have always bought cowboy caviar because as I like to say, "if it ain't broke, don't fix it." Sometimes I feel like today's society is so insistent on making everything homemade when in fact sometimes store-bought is actually better than homemade. This is was the case, or at least what I thought the case was for cowboy caviar because the store-bought version was so yummy, I couldn't imagine a homemade version being better. However, sadly our grocery store stopped selling cowboy caviar…. So we had to get creative and try to come up with an equally as yummy homemade version because like I said, cowboy caviar is a staple in our house!
After dozens of recipe tastings, we have finely mixed and matched our favorites from each to create the perfect homemade cowboy caviar.
Simple.
Easy.
Sweet.
Savory.
Full of texture.
Full of flavor.
Super addicting.
Homemade Cowboy Caviar!
We like to serve our cowboy caviar with Blue Diamond Almond Nut Thins:
If you can't find nut thins, we have also served it with tortilla chips or carrot chips. You could even serve it with all three for extra fun. 🙂
Cowboy Caviar
This party appetizer is always a hit! Healthy, loaded with fun flavors, and SO easy!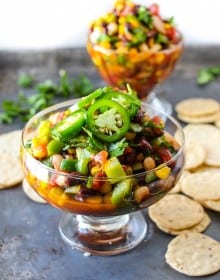 Ingredients:
For the salsa:
1 (15 ounce) can black beans, rinsed and drained
1 (15 ounce) can black-eyed peas, rinsed and drained
1 (15 ounce) can pinto beans, rinsed and drained
1 (11 ounce) can yellow corn, drained
1 cup diced celery
1 small bunch cilantro leaves, chopped (Use 2 bunches if you like cilantro)
1 red bell pepper, small diced
1 medium tomato, diced
1 small onion, small diced
1 (2 ounce) jar chopped pimento peppers
1 jalapeno pepper, seeded and deveined, minced
1 tablespoon minced garlic
2 limes, juiced
1 (24 Fl oz) bottle Italian dressing
For serving:
Chips/crackers (Such as Carrot Chips, Tortilla Chips or Blue Diamond Almond Nut Thins)
Directions:
Combine the black beans, black-eyed peas, corn, celery, cilantro, red bell pepper, tomato, onion, pimento peppers, jalapeno pepper, and garlic in a large bowl.
Pour lime juice and Italian dressing over bean mixture and stir until dressing is evenly distributed. Cover and refrigerate for at least 2 hours or overnight.
Serve with nut thins, tortilla chips, and/or carrot chips.