July 12, 2014
Summer Fruit Chopped Salad
A fresh salad loaded with fresh and whole ingredients like avocado, Gorgonzola cheese, and grilled chicken topped with a tangy dressing.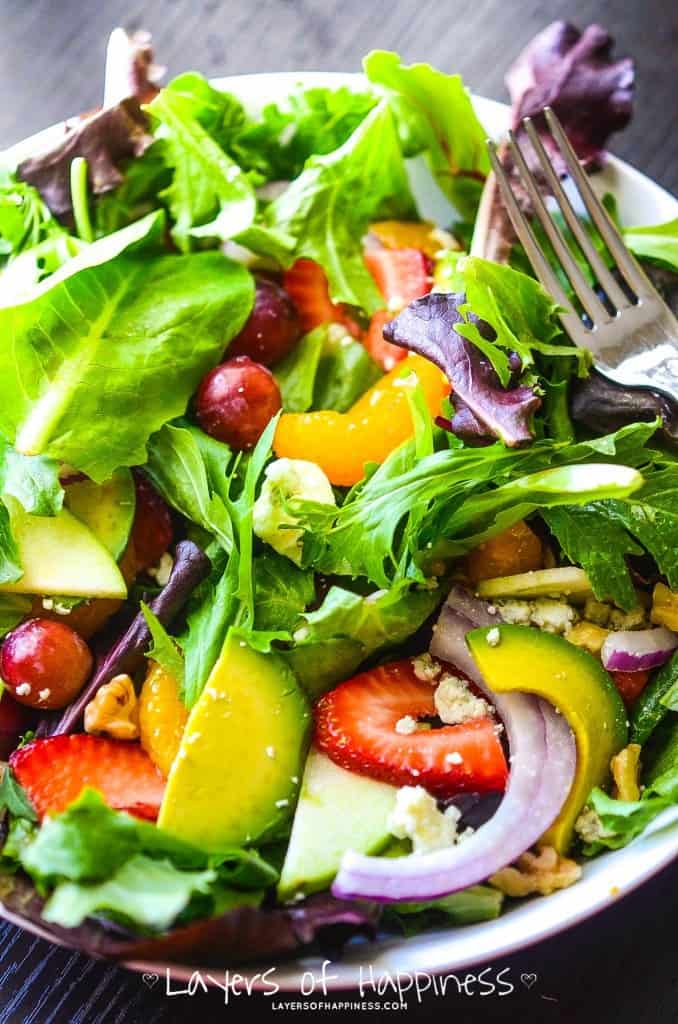 On warm summer days, a chopped salad is our meal of choice. They're light, fresh, and filling! That's pretty much all I need on a hot, summer day like the ones we've been have lately.
The beauty of a chopped salad is that there really aren't any rules. You can pretty much add whatever you want! Hey you could even clean out the fridge with a chopped salad. But, this chopped salad? It's a real winner. I haven't had a salad this good in a long time. Okay so maybe this one is just as delicious but they are definitely tied for all-time favorite salads.
This summer chopped salad is like summer on a fork! and it blows any ol' garden salad totally out of the water.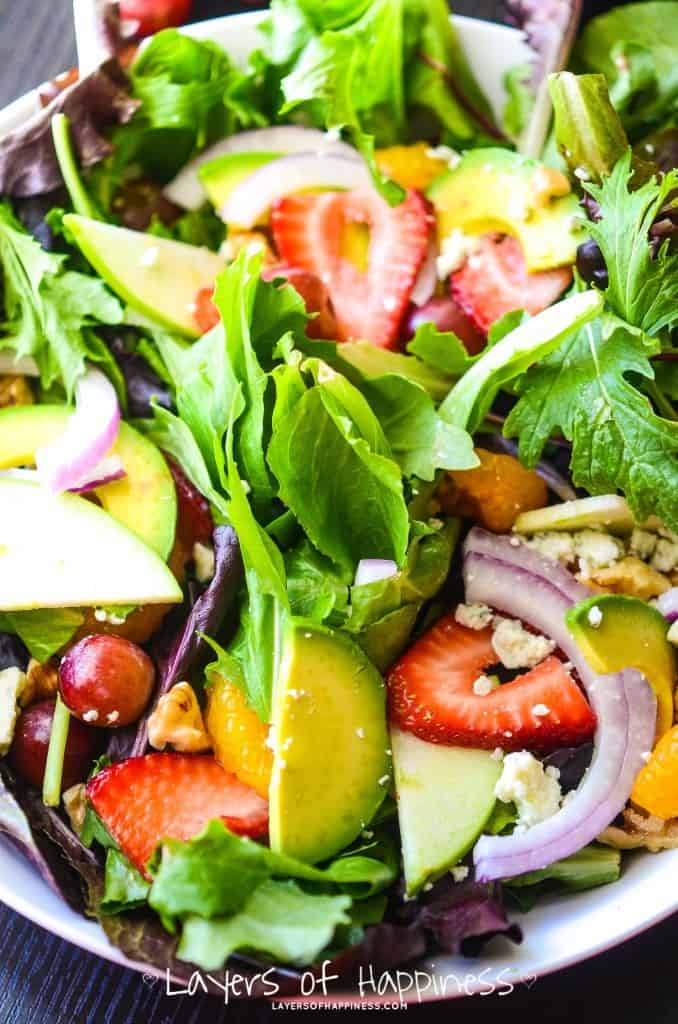 Your tastebuds are going to dance at the taste of this salad! The flavors here are fresh and perfect, and with extras like strawberries, grapes, green apples, Mandarin oranges, and red onions, it is quite possibly the BEST Summer salad I have ever eaten.
The mix of ingredient is really flexible, but you have to have a few toppings no matter what: grilled chicken, bacon, avocado, and Gorgonzola cheese. Oh and the dressing. Those four things can turn any extra add-ins into one extraordinary salad. That's the beauty of this chopped salad – its loaded with fresh, local and seasonal ingredients. If strawberries are no longer present at farmers' markets or grocery stores in your area, substitute blackberries, raspberries, pears, nectarines, plums or figs. The possibilities are endless, and the result is an amazing burst of flavor when paired with the avocado, Gorgonzola, chicken, bacon, and sweet, tangy dressing.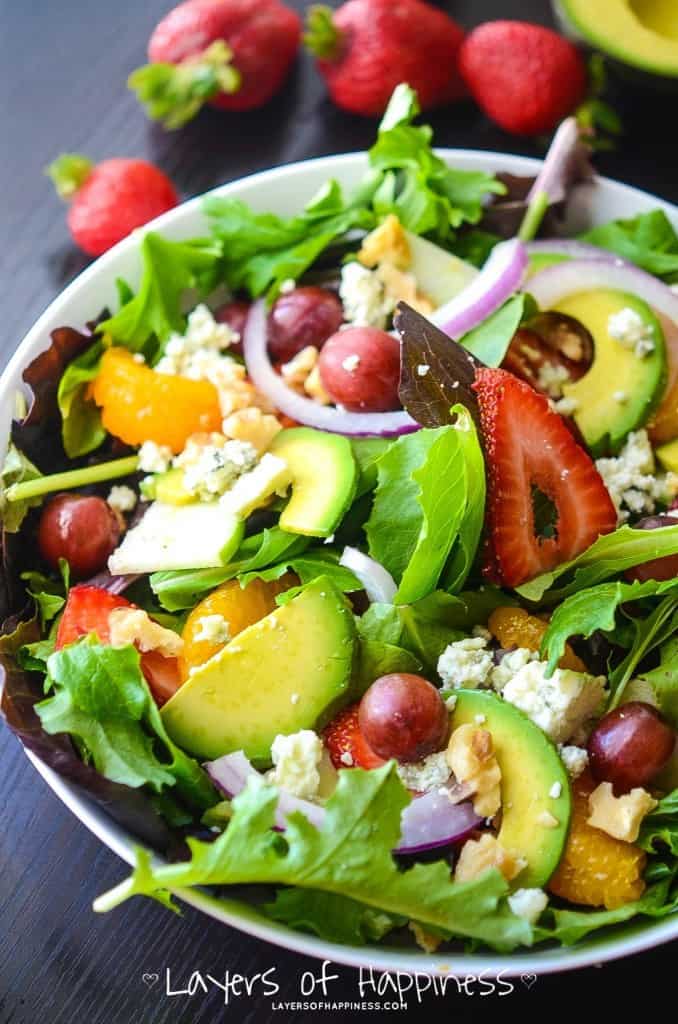 I never realized how much I love Gorgonzola cheese. It's not quite as tangy as blue cheese, and it has more of a goat cheese texture, rather than a feta cheese texture – soft rather than hard. It's definitely one of the most essential components to making this delicious salad.
A side note regarding the bacon…
Have you ever tried baking your bacon?? I use this method of cooking bacon all the time when we are having a big brunch with a million things going on in the kitchen. I love how easy it is, and it leaves your bacon strips longer and crisper than microwaving!
Here's how you do it:
Preheat the oven to 400 degrees. Place a baking rack on a sheet pan and lay the bacon slices on the rack. Roast the bacon for about 20 minutes, until nicely browned. Allow to cool. Then crumble, chopped, or serve in strips!
It's so easy. The baking rack on the sheet pan allows the fat juices to drip down, leaving you with a leaner, crisper piece of bacon.
Since there is no need to heat up the kitchen for this dish, I know we'll be eating it all summer long, even when the temperatures outside soaring and it's hard to find any kind of food appealing…..this salad will fit the bill.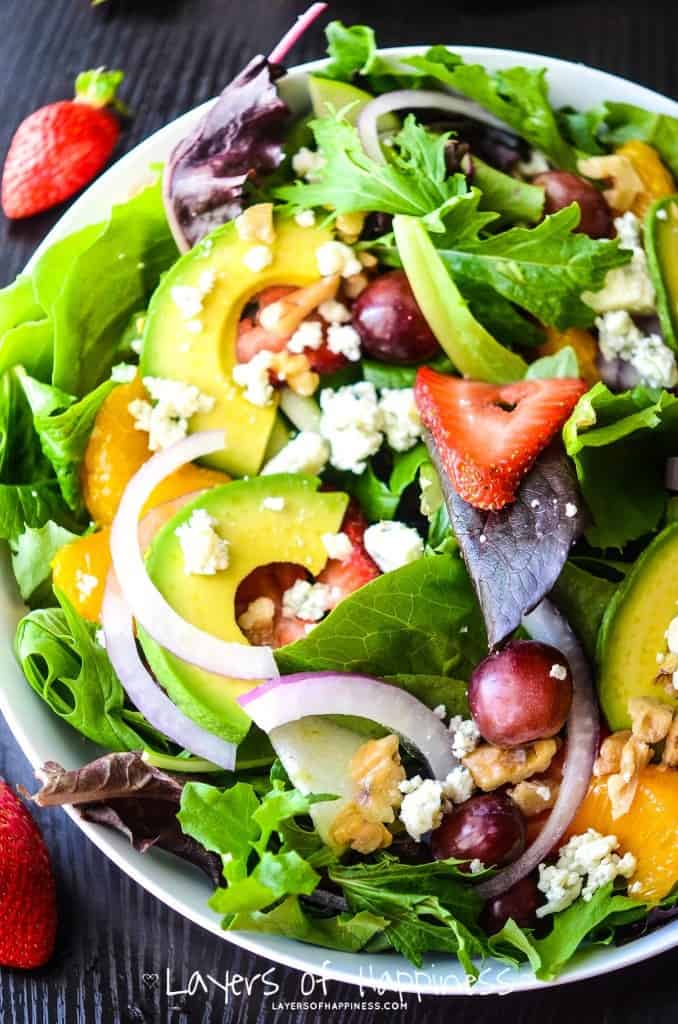 Enjoy!
Summer Fruit Chopped Salad
A fresh salad loaded with fresh and whole ingredients like avocado, Gorgonzola cheese, and grilled chicken topped with a tangy dressing.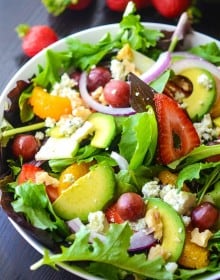 Ingredients:
For the Salad:
1 large head of crunchy romaine lettuce, rinsed and chopped OR 5 cups mixed greens
1 cup cooked chicken, chopped
1 cup cooked bacon, chopped
1 cup granny smith apples, chopped
1 cup red onion, chopped
1 cup grapes
1 cup mandarin oranges
1 cup strawberries, chopped
1 cup walnuts
3/4 cup Gorgonzola cheese, crumbled
2 avocados, chopped
For the Dressing:
3 Tablespoons apple cider vinegar
1 teaspoon grated orange zest
2 Tablespoons freshly squeezed orange juice
2 1/2 teaspoons Dijon mustard
2 Tablespoons pure maple syrup
Kosher salt
1/2 teaspoon freshly ground black pepper
2/3 cup good olive oil
Directions:
In a large bowl, toss together the greens, chicken, bacon, apple, red onion, grapes, oranges, strawberries, walnuts, Gorgonzola cheese, and avocado.
For the dressing, whisk together the vinegar, orange zest, orange juice, mustard, maple syrup, 1 1/2 teaspoons salt, and the pepper in a bowl. Slowly whisk in the olive oil.
Toss the salad with just enough dressing to moisten. Serve immediately.