June 23, 2016
Sheet Pan Chicken Fajitas
Sheet pan chicken fajitas! Chicken, bell peppers, onions, and corn on a sheet pan. Seasoned and drizzled with olive oil. Then baked. Healthy, flavorful, and easy!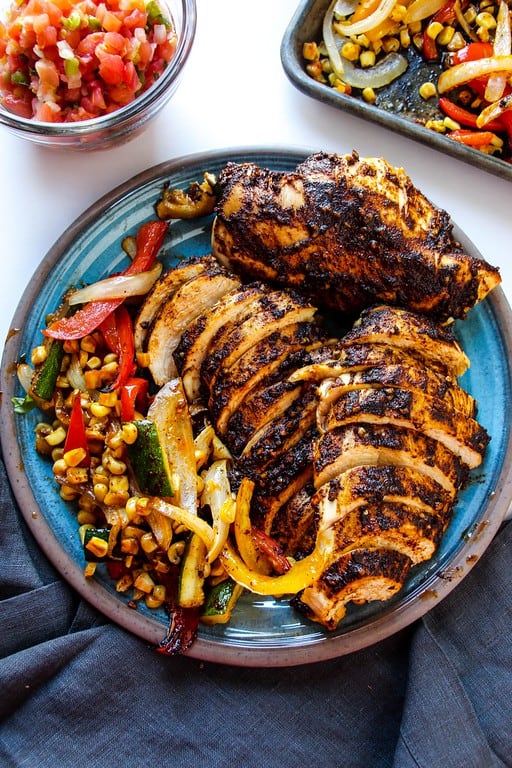 These sheet pan chicken fajitas are so easy and so delicious
The chicken spice rub gives the chicken SO much flavor. And the vegetables get baked with the chicken on the sheet pan. So they soak up all the chicken flavor from the juices it lets off while baking.
The key to spice rub is to a lot of spices a little oil. You want only about 2 Tablespoons olive oil maximum with a whole bunch of spices. It creates a paste to rub on the chicken. So all of it sticks to the chicken instead of falling off and onto the sheet pan.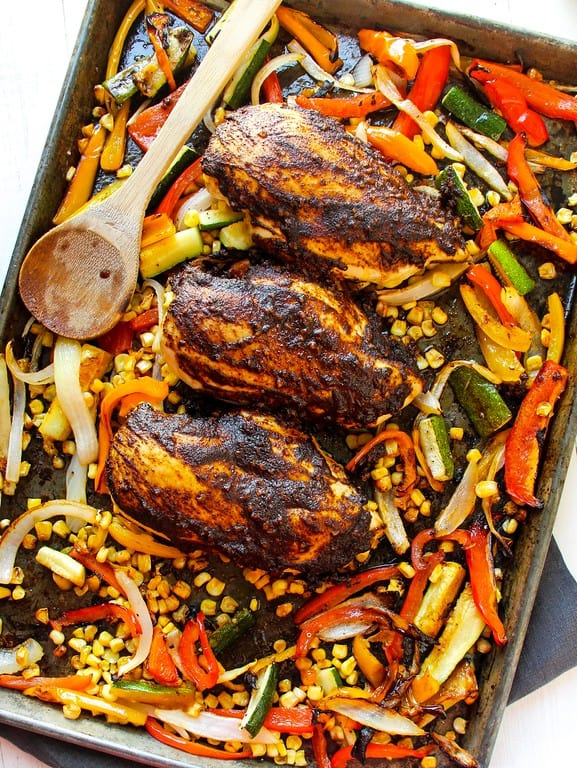 Recipe modifications:
You could use shrimp instead of chicken. Just make sure to pre-bake the vegetables before adding the shrimp. Shrimp only takes ~10 minutes to cook in the oven.
You can use whatever vegetables you like on the sheet pan. That's the beauty of a sheet pan. Use any vegetable you have leftover in your fridge.
There are so many different things you can turn this sheet pan into:
Make tacos! Cut up the chicken. Put the vegetables + chicken in a tortilla. Top with rice, refried beans, guacamole, sour cream, cheese, and pico de gallo.
Or make a burrito! Add the vegetables + chicken in a large tortilla. Top with rice, black beans, guacamole, sour cream, cheese, and pico de gallo. Roll it up. Serve with chips + salsa.
Make a taco salad. Add the chicken and vegetables to a salad bowl with some lettuce. Crush tortilla chips over it. And top with this Copycat Chipotle dressing. You can even make your own tortilla bowl.
You could also do a burrito bowl with extra rice.
Serve the sheet pan with these sweet potatoes. Almost like a Mexican loaded sweet potato?
Or skip the vegetables and make a big batch of the chicken. Freeze the chicken in individual portions. Then make these copycat Chipotle peppers and onions to go with it when ready to eat.
The variations are endless!!
The Best Oven Baked Chicken Fajitas
Chicken and fajita veggies seasoned and drizzles with olive oil and then baked to perfection on a sheet pan. So much flavor and one of the easiest meals!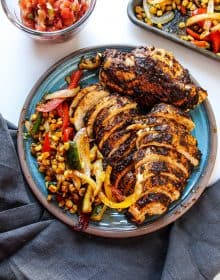 Ingredients:
For the Vegetables:
2 red bell peppers, sliced into strips
1 yellow bell pepper, sliced into strips
1/2 red onion, sliced into strips
1 cup yellow corn
1 1/2 Tablespoons olive oil
kosher salt and freshly ground black pepper
For the Chicken:
1 Tablespoon chili power
4 cloves garlic
2 teaspoon salt
1 teaspoon ground cumin
1 teaspoon dried oregano
1 teaspoon freshly ground black pepper
1/2 teaspoon cayenne pepper
2 Tablespoons vegetable oil
3 boneless, skinless chicken breasts
For serving: tortillas, rice, salsa, sour cream, beans, cheese, guacamole
Directions:
Preheat oven to 425 degrees. Line a large baking sheet with parchment paper.
Place red bell peppers, yellow bell peppers, red onion, and yellow corn on the baking sheet. Drizzle with olive oil and season with salt and pepper. Mix vegetables and oil. Push the vegetables to the sides, clearing out a space in the middle.
Place the chicken into the cleared out areas of the baking sheet.
In a small bowl, whisk together the chili powder, garlic, salt, ground cumin, oregano, black pepper, and cayenne pepper. Then whisk in vegetable oil.
Spoon the marinade evenly over chicken breasts, coating full surface of one side of the chicken.
Bake for 25 minutes or until chicken and vegetables are cooked through. Remove from oven, cover with foil and let rest for 10 minutes. Slice chicken and serve with tortillas, rice, salsa, sour cream, beans, and cheese.
[this isn't a sponsored post, there are a few affiliate links above based on things I purchase on my own and love]