December 20, 2014
White Chocolate Elf Hat Party Mix
The cutest party snack mix there ever was!! Sweet and salty perfection.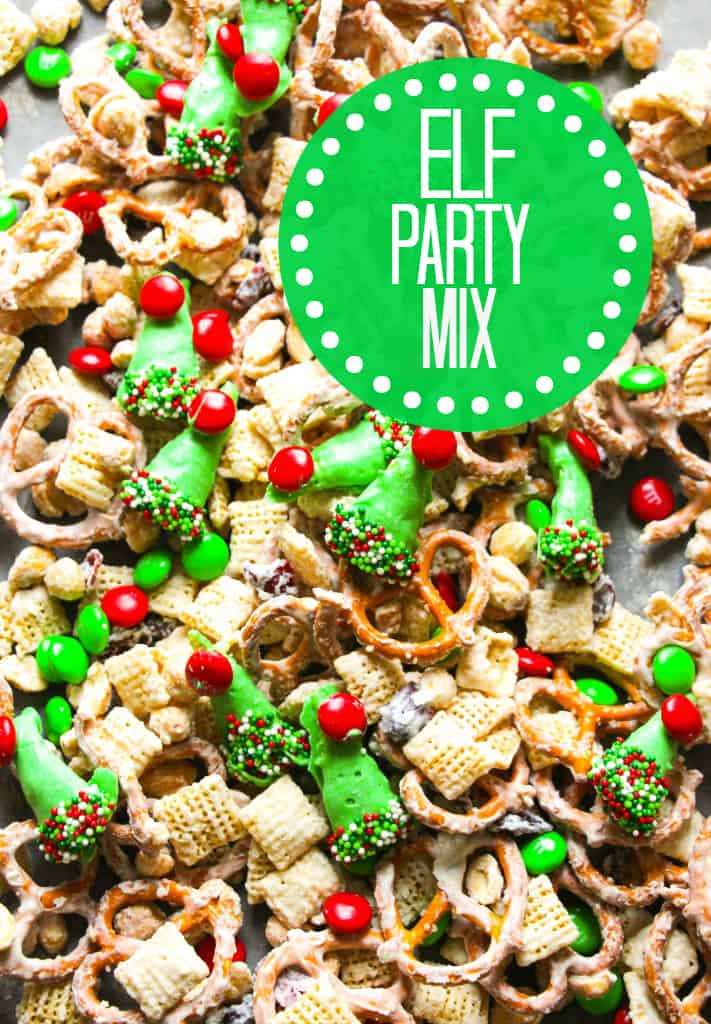 I am sad to announce that this will be our last holiday recipe for this year. 🙁 It feels like the holidays have come at lighting speed this year. One minute it was Thanksgiving and the next my family members are coming through the door with luggage in hand for their Christmas vacation at our house.
Anyways… I say this party mix from Cookies and Cups and I could not get over how cute it was! I started thinking about how I could inspire from that party mix to make it my own and this is what I came up with because I mean, the elves need some love too, right?!
This party mix is perfect for Santa to take back the North Pole as a gift to his elves for all their hard work throughout the year. 😉 Bonus: This recipe comes together without the use of an oven and the elf halts are so fun to put together, but they are still easy enough that kids can join in on the fun.
Tip: I buy my chocolate candy for coating from Micheal's (Wilton brand). The Wilton candy coating makes the chocolate coat much much smoother than the chocolate you can find in grocery stores.
White Chocolate Elf Hat Party Mix
The cutest party snack mix there ever was!! Sweet and salty perfection.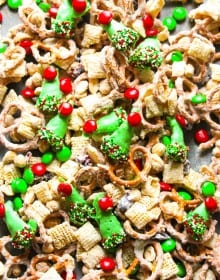 Ingredients:
For the hats:
1 (7.5 ounce) bag of bugles
7 ounces of green candy melts (half of a typical bag)
red m&m's milk chocolate candies
sprinkles/colored sugar
For the party mix:
3 cups mini pretzels
2 cups Rice Chex
1 cup honey roasted peanuts
2 cups holiday colored M&M's
8 oz. white chocolate for melting
Directions:
For the hats:
Place a piece of wax paper on a work surface before you get started. Open the bugles and set aside the amount you will need for your elf hats (I made about 30 hats) on the wax paper. Place some red m&m's in a bowl. Melt the candy melts as the package directs. Use a fork and dip each bugle in the green melted chocolate one at a time, until completely covered. Place a red candy at the tip of the bugle while the green chocolate is still wet. Place on wax paper to dry. Do this for each hat.
Once they are all dry, re-melt the green chocolate, dip the bottom rim of each little hat in it and then dip it directly in the sprinkles, or whatever you are using to decorate the rims. Set on wax paper to dry.
For the party mix:
In a large bowl, mix together pretzels, Rice Chex, and peanuts.
Melt white chocolate according to package instructions and pour over ingredients in the bowl. Stir around to evenly coat party mix and spread out onto a baking sheet lined with parchment paper to dry. Once dry stir in santa hats and M&M's.