December 20, 2014
Christmas Chex Mix Recipe
Christmas Chex Mix Recipe – The cutest party snack mix and easiest holiday treat to gift to friends and family all holiday season!!
Sometimes called "white trash" and sometimes called "Christmas chex mix." But whatever you call it… it's amazing!!! My recipe takes the classic holiday treat up a level with these elf hats. The elf hats are made with bugles and candy melts. And they are so fun and festive. But more importantly, they are freaking delicious.
How do you make white trash Chex Mix?
It's just a bunch of cereals, pretzels, and peanuts tossed together and then coated in white chocolate. This is a recipe for you if you don't love to bake. It couldn't be easier. And it requires minimal baking/cooking skills.
Christmas chex mix recipe modifications:
You can make the elf hats into Santa hats by using red candy melts instead of green candy melts. Or do a combo of both! Then use only white non-pareil sprinkles and mini marshmallows for the top instead of M&M's.
You can also change the chex mix ingredients to what you prefer! Don't like peanuts? Leave them out. Like a different shaped pretzel? Use that instead. Have multiple half used boxes of chex mix? Use a combo to clean out the pantry.

Does the Christmas chex mix need to be refrigerated?
You don't have to refrigerate it! It will last for a week or 2 in an airtight container at room temperature. However, I will say it's delicious when kept in the freezer. And it lasts longer that way too!
Other Christmas treat recipes to try:
The BEST cut out sugar cookies.
7 Layer Bar Macaroons! Think 7 layer bar but waaay easier.
Can't go wrong with a classic chocolate chip cookie.
Peppermint bark pretzels would be a great option if you want something no-bake.
Christmas Chex Mix Recipe
The cutest party snack mix and easiest holiday treat to gift to friends and family all holiday season!!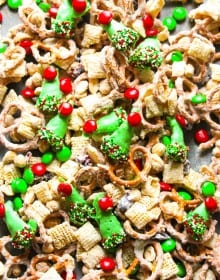 Ingredients:
For the elf hats:
1 (7.5 ounce) bag of bugles
7 ounces of green candy melts (half of a typical bag)
red m&m's milk chocolate candies
sprinkles/colored sugar
For the chex mix:
3 cups mini pretzels
2 cups Rice Chex
1 cup honey roasted peanuts
2 cups holiday colored M&M's
8 oz. white chocolate for melting
Directions:
For the elf hats:
Place a piece of wax paper on a work surface before you get started. Open the bugles and set aside the amount you will need for your elf hats (I made about 30 hats) on the wax paper. Place some red m&m's in a bowl. Melt the candy melts as the package directs. Use a fork and dip each bugle in the green melted chocolate one at a time, until completely covered. Place a red candy at the tip of the bugle while the green chocolate is still wet. Place on wax paper to dry. Do this for each hat.
Once they are all dry, re-melt the green chocolate, dip the bottom rim of each little hat in it and then dip it directly in the sprinkles, or whatever you are using to decorate the rims. Set on wax paper to dry.
For the chex mix:
In a large bowl, mix together pretzels, Rice Chex, and peanuts.
Melt white chocolate according to package instructions and pour over ingredients in the bowl. Stir around to evenly coat party mix and spread out onto a baking sheet lined with parchment paper to dry. Once dry stir in santa hats and M&M's.
[this isn't a sponsored post, there are a few affiliate links above based on things I purchase on my own and love]