March 2, 2014
Puppy Chow Recipe
Puppy Chow Recipe – Honey-flavored Rice Chex mixed with dry roasted pistachios, coated with Nutella, butter, and sea salt for that sweet and salty flavor we all love. A classic treat that everyone can enjoy!
One thing about me you might have not already know: The infamous chocolate-peanut butter combo has never really tempted me like it has the rest of my family. I love them both equally and individually, but not together. And for that, Puppy Chow has never been ranked very high on my list… until now.
Instead of the classic Chocolate-Peanut Butter combination that Puppy Chow is typically made of, I used one of my favorite combinations in life: the sweet and savory pairing of Sea Salt Dark Chocolate and Pistachios.
Salty-Sweet. Hazelnutty. Chocolatey. Irresistible. You are in for a REAL treat today.
And the best part? This childhood classic can pretty much be enjoyed by anyone because it's Gluten and Peanut Free!!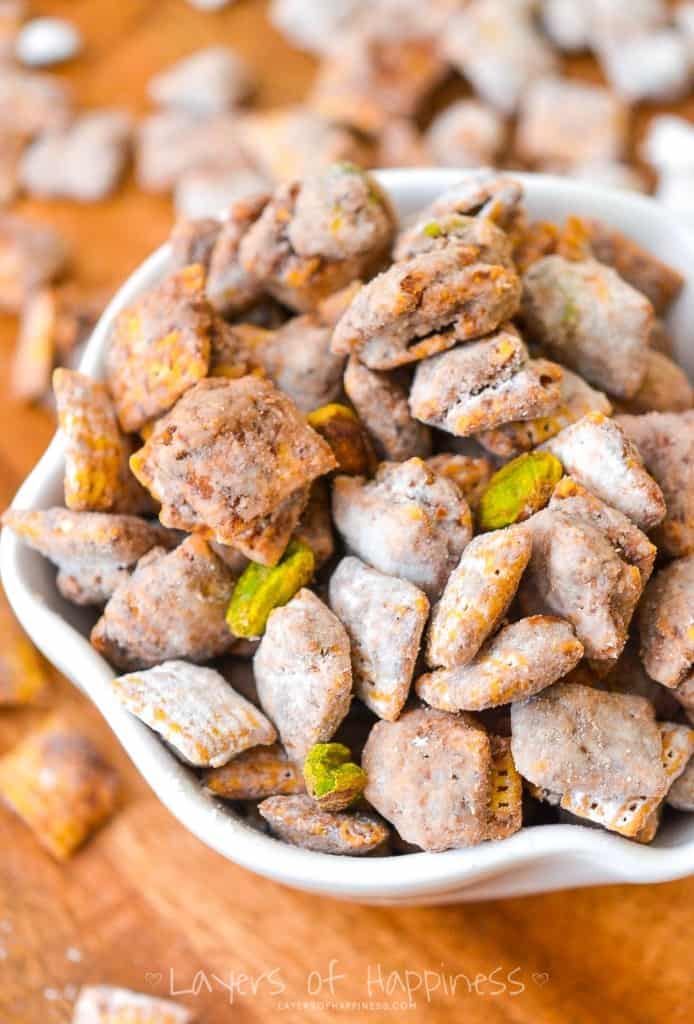 I used Honey-Nut Rice Chex for extra sweetness, pistachios for a change in texture, sea salt for that sweet & salty flavor we all love, and…. I have confession. A huge scoop of it accidentally fell into my puppy chow instead of melted chocolate. Okay, maybe it wasn't an accident. But let me just tell you, I don't regret that "accident" in the slightest. Plus, it's so much easier to use Nutella because there's no melting required.
The word "delicious" won't even do this puppy chow recipe justice. It is, by far, the best Puppy Chow in the entire world. Get your stretchy pants on because once you start, I can guarantee you won't be able to stop.
I don't think there is a parent in the universe that doesn't cringe when they hear their child ask for Puppy Chow, otherwise know as "White Trash." This stuff is so messy.
But fear not, Moms and Dads, because with my method you don't do any of the transferring back and forth that makes this dish so messy. I coat the Rice Chex with the Nutella layer and the powdered sugar layer in the same bowl. No transferring, no sealing, just one bowl and all the ingredients… and it tastes exactly the same, without all the hassle.
A important note:
Be gentle when you are coating the cereal and pistachios with the Nutella mixture because you don't want to crush the cereal. And resist the urge to dig and use your hands to mix it all together. I'm always up for digging in and getting messy, but the Nutella will be very hot. Trust me, I speak from experience.
Something I learned from a cooking class that can be used for this recipe:
Whenever you are dressing anything, like a salad, or in this case puppy chow, pour the dressing just around the outside of the bowl and slowly fold it in. Doing that will slowly incorporate the dressing more evenly and prevent big globs from forming.
Feel free to alter the ingredients based on your preferences. Add a more salt if you like your desserts more on the salty side, add more powdered sugar if you like your Puppy Chow with a thick coat of sugar, or add more pistachios if you're a fan of the crunch and change of texture it brings.
Believe me, I know this Puppy Chow is a little bit evil. Okay, and ridiculously unhealthy. But, you know, it's completely amazing at the same time. Enjoy!
Puppy Chow Recipe
Honey-flavored Rice Chex mixed with dry roasted pistachios, coated with Nutella, butter, and sea salt for that sweet and salty flavor we all love. A classic treat that everyone can enjoy!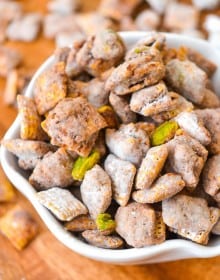 Ingredients:
1/2 cup (1 stick) unsalted butter
1 1/4 cup Nutella
3/4 teaspoon sea salt
1 cup dry roasted & salted pistachios
1 (13.8 oz) box Honey Nut Corn Chex cereal (About 8 cups)
2 1/2 cups powdered sugar, or more depending on preference
Directions:
In a medium sauce pan over medium-low heat, melt the butter and Nutella. Stir constantly until smooth and no clumps remain. Remove from heat and stir in salt.
Pour the pistachios and cereal into a large bowl. Pour warm Nutella mixture just around the outside of the bowl and gently fold until each piece of cereal is coated.
Pouring the Nutella around the outside will prevent the Nutella from clumping together in big globs, and instead evenly coat the cereal and pistachios.
Add the powdered sugar to the bowl and toss to coat. Add more or less powdered sugar depending on your preference.
Pour onto a baking sheet and let sit for about 15 minutes so that chocolate and the powdered sugar have time to set. Enjoy!
Store in an air tight container at room temperature up to 2 weeks.