February 26, 2014
Butter Pecan Crumb Cake
A cinnamon-sugary, buttery-pecan, extra crumb-topped coffee cake. Absolutely delicious and extremely addictive.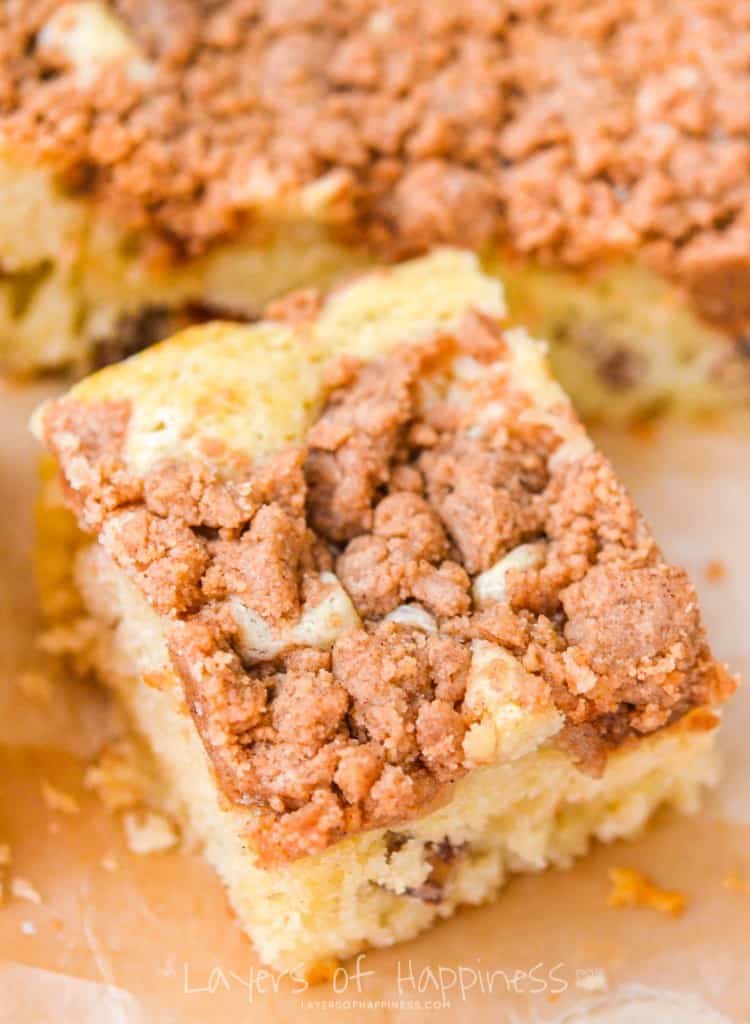 Some things are just not okay to buy from the grocery store, and packaged crumb cake is one of them. I have two reasons: 1. Because a homemade crumb cake is easy-to-make and 2. homemade crumb cake is so much more delicious and satisfying.

This crumb cake recipe is a far cry from any of those overly-sweet, fake-tasting store bought versions you may be used to. I merged the sweet-nutty flavors from my favorite ice cream, Butter Pecan, and the cinnamon-sugar flavors from the traditional crumb cake, and baked them into this crumb cake. Taking the classic crumb cake to a whole new level. It's a complete miracle.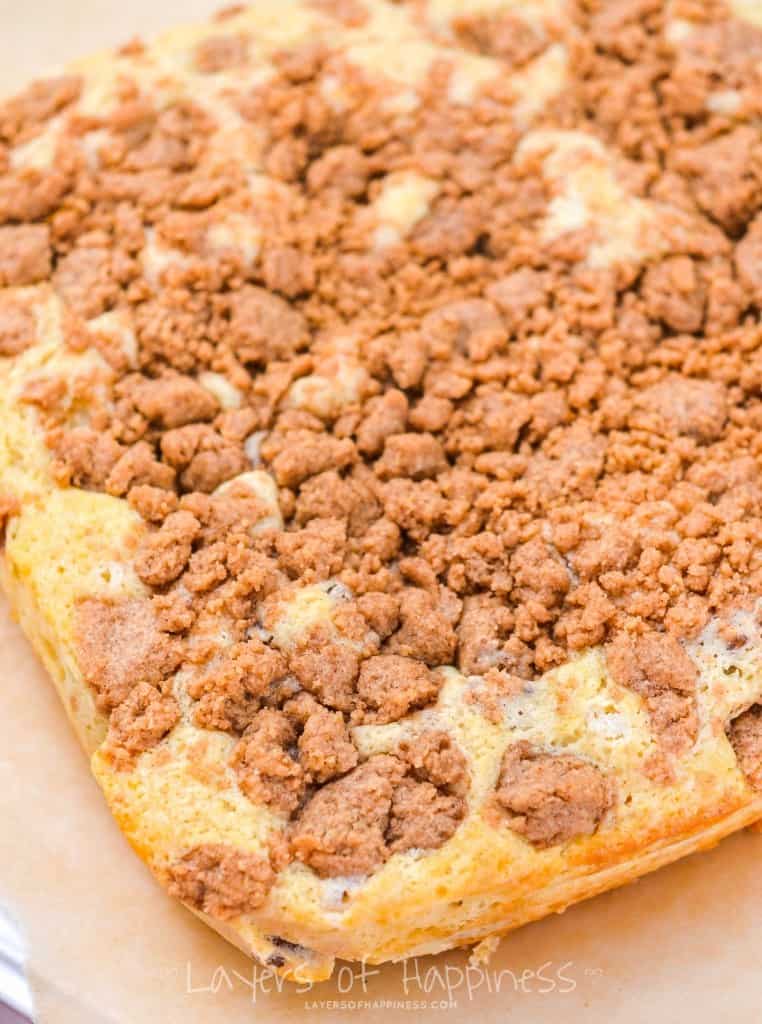 To infuse the heavenly flavors of butter pecan into the crumb cake, enhanced the butter flavor with one-and-a-half teaspoons of butter extract and folded chopped pecans into the batter at the end. The base of the cake is moist and springy, but not too airy, in contrast to the chunky cinnamon sugar topping. A perfect combination if you ask me.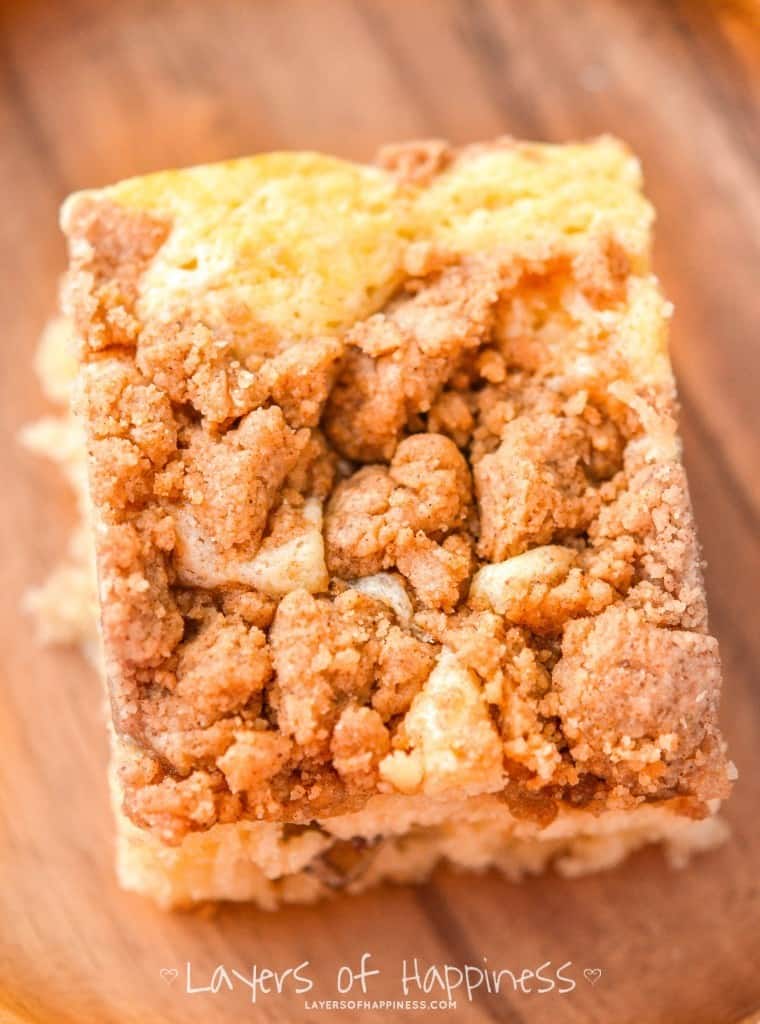 Important note:
The key is to not over-bake the cake because the less you bake the batter, the more moist/dense the cake will be. The cake is done when you insert a toothpick into the cake and a few moist crumbs stick to it.
Another important note is something I accidentally learned while making this cake… For years I have never understood the technique of crumb making. My "crumbs" were basically a bowl of cinnamon and sugar with chunks of butter every now and then.
That is not how crumbs should be. Not even in the slightest. Your crumbs shouldn't have any loose cinnamon-sugar surrounding them and it should basically be one big crumb when you are finished. That's how I get the larger crumbs because once it comes together you can break off as big or as little crumbs as you'd like. I prefer the bigger crumbs.
To get your crumbs to come together, you have to work the butter, flour, cinnamon, sugar mixture for a long time. I'd say this process takes about 3-5 minutes, but trust me, it's worth it. I prefer using my hands to do this, over a pastry cutter, but both will get the job done. With my hands, I squeeze the crumbs together over and over again, almost like playdough, until they come together to form one big "crumb."
So there you have it folks. My absolute favorite crumb cake. It's perfect for a brunch, on Christmas morning, or just because it's a Wednesday. It's okay, I won't judge. 😉
Butter Pecan Crumb Cake
A cinnamon-sugary, buttery-pecan, extra crumb-topped coffee cake. Absolutely delicious and extremely addictive.
Ingredients:
For the Cake:
6 tablespoons (3/4 stick) unsalted butter, room temperature
3/4 cups granulated sugar
1 large egg
1 egg white
1 teaspoons pure vanilla extract
1 1/2 teaspoons butter extract
2/3 cups sour cream
1 1/4 cups cake flour (not self-rising)
1 teaspoons baking powder
1/4 teaspoon baking soda
1/4 teaspoon kosher salt
1 cup pecans, chopped
For the Streusel:
1 cup all-purpose flour
1/2 cup granulated sugar
1/2 teaspoon salt
5 Tablespoons unsalted butter, cold and cut into small cubes
2/3 cup brown sugar
2 teaspoons ground cinnamon
Directions:
Preheat the oven to 350 degrees F. Grease and flour a 9×9 square pan or round pan (pie dish).
For the Cake:
Cream the butter and sugar in the bowl of an electric mixer fitted with the paddle attachment for 4 to 5 minutes, until light. Add the eggs 1 at a time, then add the vanilla, butter, and sour cream.
In a separate bowl, sift together the flour, baking powder, baking soda, and salt.
With the mixer on low, add the flour mixture to the batter until just combined. Finish stirring with a spatula to be sure the batter is completely mixed. Fold in pecans.
For the Streusel:
Whisk the flour, sugar, and salt together in a large mixing bowl until combined. Cut in the butter in very small pieces. If you don't have a pastry cutter (I don't), you can use your hands or mix with a fork until the mixture resembles coarse crumbs.
Work the brown sugar and cinnamon into the flour mixture, or squeeze the mixture with your hands, almost like playdough, for 3-5 minutes. I prefer to use my hands. You want the mixture to look like one big brown sugar clump, thats how you get the larger crumbs. Break the large crumb into chunks and sprinkle over the batter, pressingly lightly so they stick. Bake the cake until the center is firm and a toothpick inserted in the center comes out clean, about 30-35 minutes.
Allow to cool completely before serving, about 2 hours.