February 21, 2014
Sprinkles Vanilla Cupcakes with Vanilla Buttercream Frosting Copycat Recipe
My favorite cupcake recipe ever. Moist and fluffy, these homemade vanilla cupcakes are better than the real thing!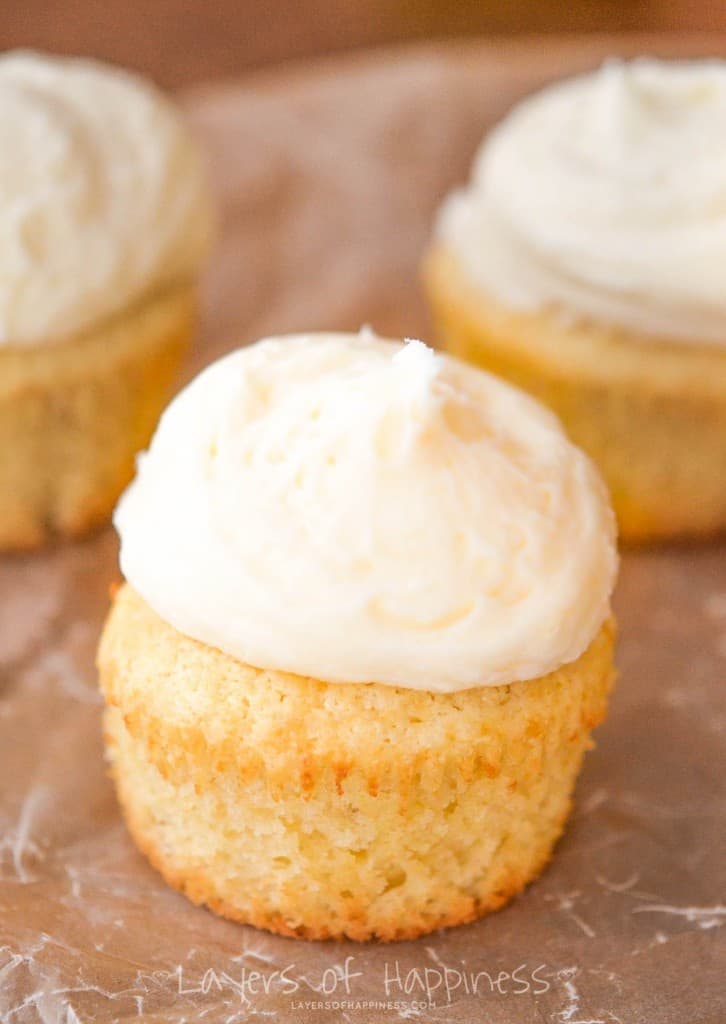 If you've ever tried a Sprinkles Vanilla Cupcake then I have the feeling you will agree with me when I say… they are the best cupcakes ever. We used to get Sprinkles Cupcakes all the time when we lived in Las Vegas because of California being so close. Now that we live on the East Coast, we hardly ever get them anymore. But that doesn't mean I don't remember how incredible they are. So…. I set out to make them from scratch.
Today's cupcakes are flavored with almond extract, sweetened with sugar, and left moist and soft from butter and sour cream. I am infatuated with these cupcakes. I can honestly say that they are the best cupcakes I have ever made, and my family agrees.  The taste comparison to Sprinkles Cupcakes is magical. I seriously can't even tell the difference.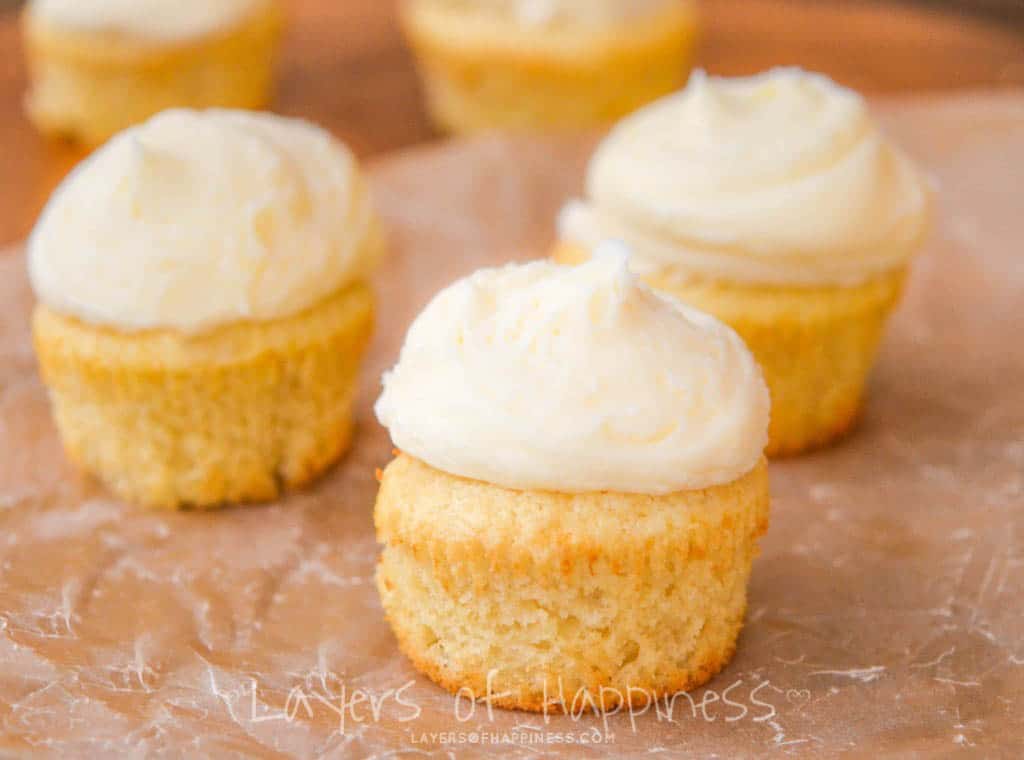 As far as the cupcakes go… They are fluffy, ultra-moist, and perfect just like Sprinkles'. The secret ingredient is definitely the almond extract and the sour cream, of course. The sour cream is what creates that unmistakably moist, yet dense texture that I love about Sprinkles' Cupcakes.
Wait until you smell these cupcakes baking in your kitchen…
The buttercream frosting totally makes the cupcake. Around here, we like a little cupcake with a lot of frosting. So, of course, the frosting has to be amazing. And trust me, it is out of this world.
Start with 2 sticks of softened (room temperature) unsalted butter. Anytime I make buttercream, I take the butter out of the refrigerator before I begin baking. By the time, I'm ready ready to frost, the butter is the correct temperature and consistency. You do NOT want the butter too soft. You should be able to press your finger into the stick of butter and make an indent easily, without your finger sliding anywhere. Firm, but not cold. Lightly softened is what you should go for.
Here's an awesome trick I've learned – beating the butter before adding anything else creates a creamy, thick base for frosting. Once the butter is creamed and smooth, add powdered sugar, milk, vanilla and salt and incorporate until the mixture is thick and creamy.
In one bite, all you'll taste is the most delicious thing in this entire world.  Unbelievable.
This is definitely my favorite go-to homemade vanilla cupcake recipe. I used to never ever make homemade cupcakes because I just never thought they tasted as good. But these babies? I'd take them over a bakery cupcake any day. Enjoy!
Sprinkles Vanilla Cupcakes with Vanilla Buttercream Frosting Copycat Recipe
My favorite cupcake recipe ever. Moist and fluffy, these homemade vanilla cupcakes are better than the real thing!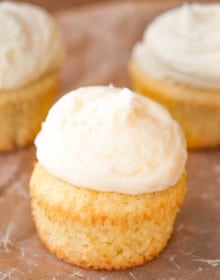 Ingredients:
For the Cupcakes:
3/4 cup (1 1/2 sticks) unsalted butter, room temperature
1 1/2 cups granulated sugar
3 large eggs
1 1/2 teaspoons pure vanilla extract
2 teaspoons almond extract
1 1/4 cups sour cream
2 1/2 cups cake flour
2 teaspoons baking powder
1/2 teaspoon baking soda
1/2 teaspoon kosher salt
For the Icing:
1 cup butter, room temperature
3 1/2 cups confectioners' sugar
1/8 teaspoon salt
2 teaspoon milk
1 1/2 teaspoon vanilla extract
Directions:
Preheat the oven to 350 degrees F. Line 2 muffin tins with 20 cupcake liners. Set aside.
For the Cupcakes:
Cream the butter and sugar in the bowl of an electric mixer fitted with the paddle attachment for 4 to 5 minutes, until light and fluffy. Add the eggs 1 at a time, then add the vanilla, almond extract, and sour cream.
In a separate bowl, sift together the flour, baking powder, baking soda, and salt.
With the mixer on low, add the flour mixture to the batter until just combined. Finish stirring with a spatula to be sure the batter is completely mixed. Make sure no lumps remain in batter.
Divide batter among 20 cupcake liners (or 40 mini) and bake for 20 minutes or until a toothpick inserted in the center comes out clean. Bake for 8-9 minutes if making mini cupcakes. Allow to cool.
For the Buttercream Frosting:
Beat slightly softened butter on medium speed with an electric or stand mixer. Beat for about 3 minutes until smooth and creamy.
Add powdered sugar, milk, vanilla extract, and salt with the mixer running. Increase to high speed and beat for 3 minutes. Add more powdered sugar if frosting is too thin or more milk if mixture is too thick.
Frost cooled cupcakes. There may be leftover frosting depending how much you use on each cupcake.
Store cupcakes in an airtight container at room temperature for up to 3 days and in the refrigerator up to 7.