January 16, 2015
Roasted Cauliflower
Roasted cauliflower with vanilla braised walnuts and fresh thyme. A super easy elegant side dish that will impress everyone!
I am always looking for new side dish ideas. This is a super quick and easy recipe that anyone can make! This recipe is the perfect combination of sweet and salty.
If you don't like walnuts you can substitute them for any kind of nut using the same braise on them.  Almonds or pecans would be a great substitution.
How do you make crispy roasted cauliflower?
The key is to roast the cauliflower at a very high temperature. This recipe calls for roasting at 450 degrees.
This allows you to get browned edges without over baking to the point of mushy cauliflower.
The other key is to not overcrowd the baking sheet. Roasting for too long + overcrowding the pan = mushy cauliflower!
Other delicious side dish recipes…
Oven roasted sweet potatoes with honey!
Rice pilaf with arugula pesto and burrata!
Roasted Cauliflower
Roasted Cauliflower with vanilla braised walnuts and fresh thyme. A super easy elegant side dish that will impress everyone!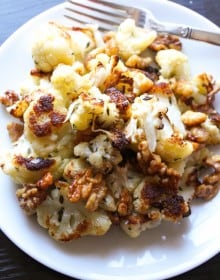 Ingredients:
1 Cup of walnuts
2 Tablespoons of honey
1 teaspoon of pure vanilla extract
1 head of cauliflower
8 fresh sprigs of thyme (finely chop the green sprigs leaving behind the branch)
1/4 teaspoon garlic finely chopped
1/4 teaspoon white pepper
1 teaspoon dried chopped onion
3 Tablespoons of olive oil
1 teaspoon of kosher salt (plus a little extra to top off with at the end)
Directions:
Preheat over to 350
Mix together the walnuts, pure vanilla extract, and honey in a baggie. Seal the baggie and mix together to fully coat the walnuts.
Line a cookie sheet with parchment paper (trust me you need this) and spread the walnuts out so that they are in a single layer.
Cook for 8-10 minutes.
Preheat the over to 450
Wash and remove the leaves from the cauliflower. Cut around the underside of the head removing most of the core. Detach the florets where they join at the center. The inner stem can be removed as the florets slice away.
In a gallon baggie combine olive oil, thyme, pepper, onion, and salt – seal the bag. Thoroughly mix around so that all the spices are combined. Now add the cauliflower to give it the special coating.
Place cauliflower on a cookie sheet lined with foil.
Bake for 15 minutes (remember do not overcook)
Combine with walnuts, sprinkle with additional kosher salt and serve. Enjoy – I know you will!