May 17, 2016
Peach Crisp (with Fresh Peaches!)
Peach crisp with fresh peaches! Sweet peach crisp with a cinnamon buttery oat crumble – topped with salted caramel & vanilla bean ice cream!

Peach Crisp vs. Cobbler?
Cobblers typically have a biscuit dough topping. A crisp uses an oat streusel topping and is typically sweeter! I'm a bigger fan of peach crisps. 🙂
Specifically this one. Because it's made with fresh peaches!!
Can you make it with frozen peaches?
Yes, you can use frozen if you don't have access to ripe fresh peaches. I'd opt for frozen over hard peaches for sure. But nothing beats fresh.
Cast iron vs. baking dish
I love making this in a cast iron skillet. It gives the best caramelization. But you can definitely make it in a 9×13-inch baking dish.
Can this peach crisp with fresh peaches be made ahead of time?
Yes! You can make it ahead of time the day before or the day of. Then heat up the individual portions and top with ice cream when you are ready to serve.
Can you freeze this peach crisp with fresh peaches?
Yes! You can definitely freeze the already baked leftovers. Cover it with foil. Then, thaw overnight in the refrigerator. Warm in a 350 degrees until heated through (about 20 minutes).
I wouldn't freeze it pre-baked though.
What to serve this with peach crisp?
The most perfect summer meal ever would be: this steak marinade, this balsamic watermelon salad, and peach crisp for dessert!
Salted Caramel Peach Crisp
Sweet peach crisp with a cinnamon buttery oat crumble – topped with salted caramel & vanilla bean ice cream!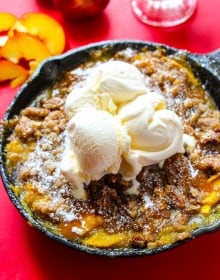 Ingredients:
For the filling:
8-10 large fresh peaches, peeled, thinly sliced
1 teaspoon grated orange zest
2 tablespoons freshly squeezed orange juice
3 Tbsp all-purpose flour
¼ cup granulated sugar
1 teaspoon salt
1/2 teaspoon vanilla
For the topping:
2 cups shredded coconut, sweetened
1 1/2 cups all-purpose flour
1 cup quick oats
1 cup almonds, roughly chopped
3/4 cup granulated sugar
3/4 cup light brown sugar, lightly packed
1/2 teaspoon kosher salt
1/2 pound (2 sticks) cold unsalted butter, diced
For Serving:
salted caramel, for serving
ice cream, for serving
Directions:
Make the filling:
Toss peaches with orange zest, orange juice, and vanilla. Add flour, sugar, and salt and toss until fruit is evenly coated. Pour into baking dish.
Make the topping:
In a large bowl, whisk together coconut, flour, oatmeal, 1/2 cup almonds, granulated sugar, brown sugar, and salt until combined.
Add the diced cold butter. Use your hands to make large crumbles. This will take about 5 minutes to fully work the butter into the oat flour mixture. Just keep squeezing the mixture in your and and eventually the butter-flour mixture will form one large clump.
Crumble the topping over the fruit and cover evenly, then sprinkle remaining ½ cup of almonds over the top. Bake for 50-60 minutes. The the fruit should be bubbling at the edges and the topping and almonds should be golden brown.
Let the crumble sit for at least 15 minutes before serving (it will thicken slightly as it cools). This will stay warm for a couple hours. It reheats beautifully the next day.
Serve with a drizzle of salted caramel and vanilla ice cream on top.
[this isn't a sponsored post, there are a few affiliate links above based on things I purchase on my own and love]