May 17, 2016
Salted Caramel Peach Crisp
Juicy peaches and toasted streusel come together to make one delicious summery peach crisp – all topped of with a drizzle of salted caramel and vanilla bean ice cream!
Pop Quiz: what's super cinnamony-comforting, made with super fresh ingredients, and ultra joy-giving right here on the brink of summer?
(Pop Quiz Part Two: what have I secretly eaten for breakfast every day this week?)
Answers: THIS salted caramel peach crisp.
Sweet and bubbly peach crisp with a cinnamon buttery oat crumble is the biggest test to your self control.
Do you guys remember when we went apple picking last fall? And do you remember how I hoarded the apples in my tiny purse while walking through the rows and rows of apples? And how I used all the apples to make pies like this and soft pretzels like these and bundt cake like this.
I will be the first to admit that I am a die-hard Honeycrisp apple fan. But it just turns out that when it's not apple season it's peach season!! And peach picking is totally a thing.


I am absolutely certain that HUGE juicy peaches may just rival my beloved Honeycrisps. I currently buy a big bag of them every week to keep myself snacking happy. But just in case I can't finish them all.. I sometimes share enough to make a peach crisp like this that wows my family every time.
May is ticking slowly along, and I'm slowly battling my way through finals so I can finally be a free woman for the summer. On a side note – instead of studying, I am having large, warm bowls of salted caramel peach crisp that is held together by that textured, oat-y crumble and sweetened with summer's finest sweet peaches and decorated with a little (okay a lot 😉 ) bit of salted caramel because I can't not drizzle stuff on my food, especially dessert.
No go buy you some gorgeous peaches to make this gorgeous dessert. <3
Salted Caramel Peach Crisp
Juicy peaches and toasted streusel come together to make one delicious summery peach crisp – all topped of with a drizzle of salted caramel and vanilla bean ice cream!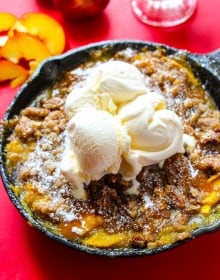 Ingredients:
For the filling:
8-10 large fresh peaches, peeled, thinly sliced
1 teaspoon grated orange zest
2 tablespoons freshly squeezed orange juice
3 Tbsp all-purpose flour
¼ cup granulated sugar
1 teaspoon salt
1/2 teaspoon vanilla
For the topping:
2 cups shredded coconut, sweetened
1 1/2 cups all-purpose flour
1 cup quick oats
1 cup almonds, roughly chopped
3/4 cup granulated sugar
3/4 cup light brown sugar, lightly packed
1/2 teaspoon kosher salt
1/2 pound (2 sticks) cold unsalted butter, diced
salted caramel, for serving
ice cream, for serving
Directions:
Preheat oven to 350 degrees and spray a 9×13-inch baking dish or cast iron skillet with non-stick spray.
Make the filling:
Toss peaches with orange zest, orange juice, and vanilla. Add flour, sugar, and salt and toss until fruit is evenly coated. Pour into baking dish.
Make the topping:
In a large bowl, whisk together coconut, flour, oatmeal, 1/2 cup almonds, granulated sugar, brown sugar, and salt until combined.
Add the diced cold butter. Use your hands to make large crumbles. This will take about 5 minutes to fully work the butter into the oat flour mixture. Just keep squeezing the mixture in your and and eventually the butter-flour mixture will form one large clump.
Crumble the topping over the fruit and cover evenly, then sprinkle remaining ½ cup of almonds over the top. Bake for 50-60 minutes. The the fruit should be bubbling at the edges and the topping and almonds should be golden brown.
Let the crumble sit for at least 15 minutes before serving (it will thicken slightly as it cools). This will stay warm for a couple hours. It reheats beautifully the next day.
Serve with a drizzle of salted caramel and vanilla ice cream on top.