April 13, 2015
Blueberry Muffin Recipe
Blueberry Muffin Recipe – these are absolutely to die for! Buttery soft, moist, tender, and topped with a streusel topping.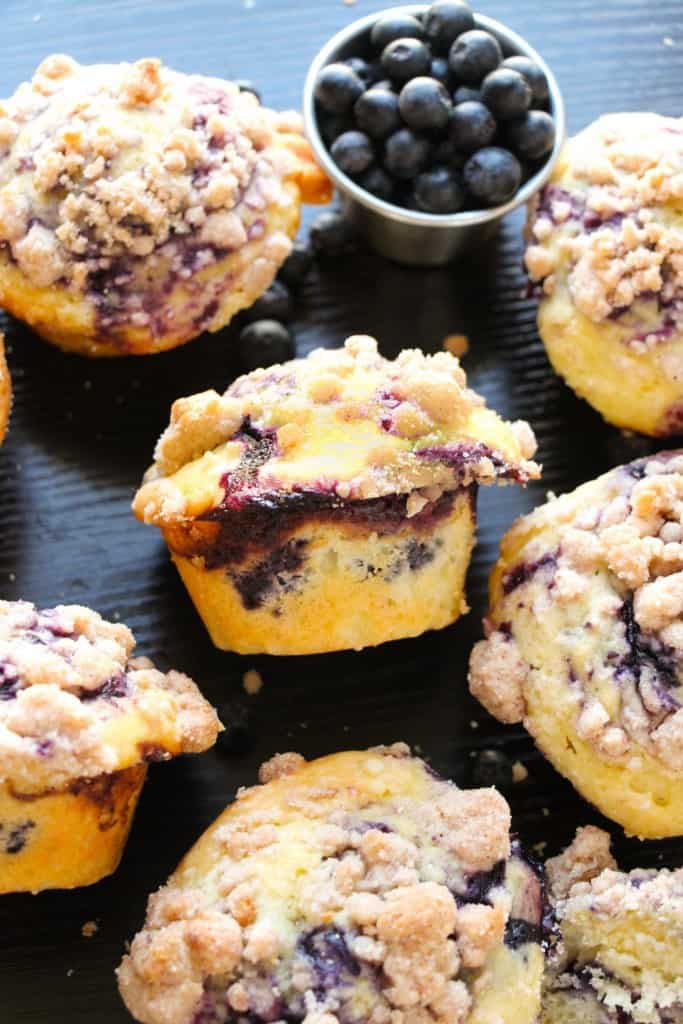 How to make blueberry muffins better?
A streusel topping! The texture and added sweet flavor it gives the muffins can't be beat.
And I do a blueberry swirl instead of whole blueberries in the batter. The blueberry swirl is almost like a blueberry jam. You boil blueberries and sugar together to create a loose jam like mixture. Then swirl it into the batter. It gives the muffins so much sweet blueberry flavor without having those soggy blueberry parts that sometimes come with blueberry muffins.
Is it better to use fresh or frozen blueberries for a blueberry muffin recipe?
I like using fresh blueberries. But you could use frozen blueberries if you need to since this recipe uses a blueberry swirl in the batter.
What is the secret to getting a dome top on muffins?
You get a dome top if you bake muffins at 425 degrees instead of 350 degrees.
Blueberry muffin recipe with streusel topping
Does this blueberry muffin recipe freeze well?
Yes! Cool muffins completely. Then wrap each muffin in foil or freezer wrap and place in freezer bags. To reheat the muffins, remove the foil and microwave for 30 to 45 seconds.
Looking for other prep ahead breakfast recipes?
This is our favorite homemade granola recipe!
Or this granola is like a crumbled breakfast cookie!
These almond chocolate chip energy balls are awesome to prep ahead for the week.
Blueberry Muffin Recipe
My favorite Blueberry Muffins topped with a sweet streusel topping. Buttery soft, moist, and tender… the muffins are so easy to make and can't be beat!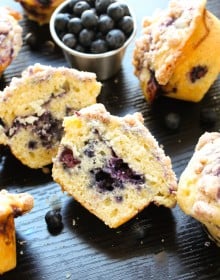 Ingredients:
For the blueberry swirl:
1 cup fresh blueberries (about 1 pint)
1 teaspoon sugar
For the muffins:
2 1/2 cups all-purpose flour
1 1/8 cups sugar
2 1/2 teaspoon baking powder
1 teaspoon salt
2 large eggs
4 Tablespoons unsalted butter, melted & cooled slightly
1/4 cup vegetable oil
1 cup milk
1 1/2 teaspoon vanilla
For the streusel topping:
1/2 cup all-purpose flour
1/3 cup granulated sugar
1/2 stick salted butter-melted
1/2 teaspoon cinnamon
Directions:
Preheat oven to 425 degrees. Spray a standard muffin tin with vegetable oil spray (or line with paper liners and spray).
For the blueberry swirl:
![i]**If you want to use whole blueberries in your muffin batter instead of a blueberry swirl, omit this step, toss whole blueberries with 1 additional Tablespoon of flour, and fold blueberries in after preparing batter.[/i]
Bring blueberries and 1 teaspoon of the sugar to a simmer in a small saucepan over medium heat. Cook, mashing the berries with a spoon several times and stirring frequently, until the berries have broken down and the mixture is thickened about 6 minutes. Transfer to a small bowl and cool to room temperature, 10-15 minutes.
For the muffins:
Whisk the flour, baking powder and salt together in a large bowl. Set aside.
In a medium bowl, whisk together 1-1/8 cups sugar and eggs until thick and well combined, about 45 seconds. Slowly whisk in the butter and oil until combined. Nest, whisk in the milk and vanilla until combined.
Using a rubber spatula, fold the egg mixture into the flour mixture until just moistened. The batter will be very lumpy with a few spots of dry flour; do not overmix. (If using whole blueberries, fold in now.)
Fill muffin cups 1/2 full with batter and top with a teaspoon or so of the cooked berry mixture. Use a toothpick to swirl. Divide the remaining batter between muffin cups. The batter should completely fill the cups and mound slightly. Divide the remaining cooked berry mixture between muffin cups. Use a toothpick to swirl.
Make the streusel topping:
To make the crumb topping in a small bowl, whisk together flour, sugar and cinnamon, add melted butter and stir with a fork until crumbly. Spoon streusel over muffins.
Bake until the muffin tops are golden and just firm, 17-18 minutes, rotating the muffin tin halfway through. Cool the muffins in the muffin tin for 5 minutes, then remove to a wire rack and cool 5 more minutes before serving. Yield: 12 muffins.