April 13, 2015
Homemade Best-Ever Blueberry Streusel Muffins
My favorite Blueberry Muffins topped with a sweet streusel topping. Buttery soft, moist, and tender… the muffins are so easy to make and can't be beat!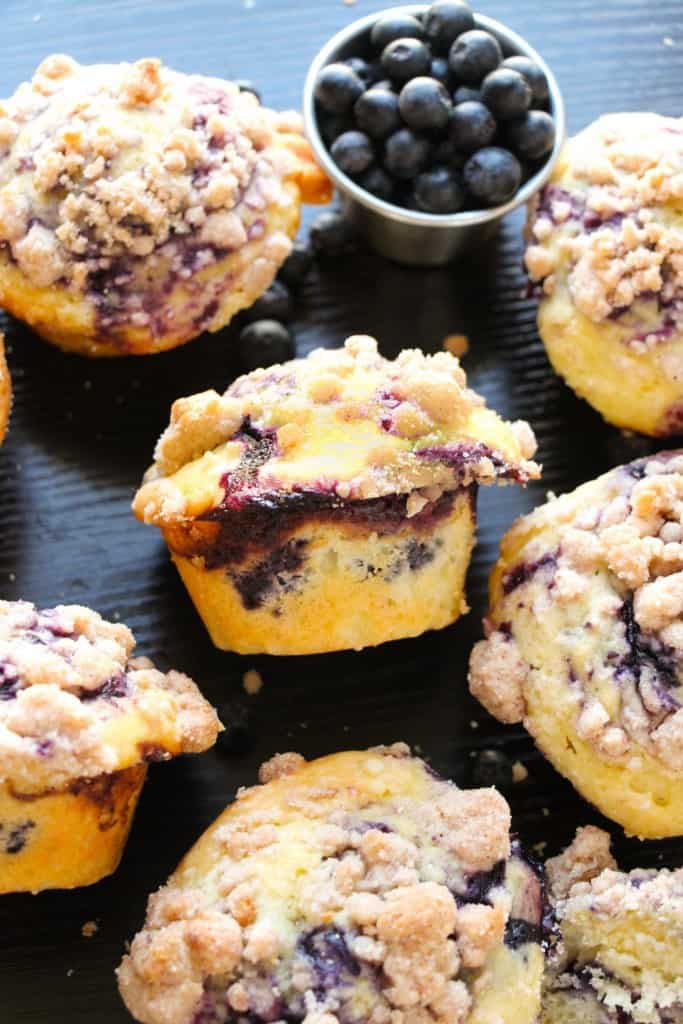 Gooooood morning… and happy Monday!! If you are like us, it's the first day back from Spring Break and all you want is to time travel a week back in time. We were fortunate enough to get to spend spring break in California this year. Every time I visit California I question why I don't live here. It's SO beautiful. And the food is to die for. Like seriously a foodie's dream. I can't wait to share with you all of our favorite foodie finds from the trip.
And lucky for you the foodie finds probably won't be stopping anytime soon because I am COMMITTED TO UC-BERKELEY for next year!! Ahhhh… it's SO crazy saying/writing that. I can't believe all the pieces of the puzzle have come together in perfect symmetry… I am so beyond grateful to get the opportunity to be spending the next 4 years of my life there. Lucky for me, not only is it an amazing school, but it is surrounded by AMAZING food! My mom said it was like a food mecca… but seriously she is so right. Every kind of food you could ever imagine. All within walking distance.
Until then we put a post together… You can see what we were doing and eating on Instagram!!
Okay, now for these muffins… oh glorious muffins. Seriously some of the best muffins I have ever made; for 3 reasons:
1. They have a dome top – YAY for homemade muffin tops. The secret? These babies get baked at 425 degrees as opposed to 350 degrees.
2. The blueberries. In these muffins you have the option to have whole blueberries or a blueberry swirl. The blueberry swirl is for all those blueberry texture haters out there – it's almost like a blueberry jam that gets swirled into the muffin batter before baking. This way, you get the blueberry flavor without the intrusion of whole blueberries in your muffin.
If that's not your thing, you can totally just stick to the traditional whole blueberries. Or if you loooove blueberries… double the blueberry amount and do both!
**My secret to getting the blueberries to not sink to the bottom is giving them a light toss in about a tablespoon of flour before folding them in.
3. The muffin batter. This muffin batter is my go to muffin batter for now on. It's so incredibly tender, soft, moist, buttery, and flavorful. GAH. I love it!!
4. The crumb topping. I'm not sure why I need to explain this component because who doesn't love a crumb topping?!
Have I convinced you to make these glorious muffins yet?? Your family will love you if you do. 😉
If you give these muffins a try, we'd love to know! Leave a comment or tag your picture #layersofhappinessblog on Instagram! When we see everyone enjoying our recipes it always makes our day. Enjoy!
Homemade Best-Ever Blueberry Streusel Muffins
My favorite Blueberry Muffins topped with a sweet streusel topping. Buttery soft, moist, and tender… the muffins are so easy to make and can't be beat!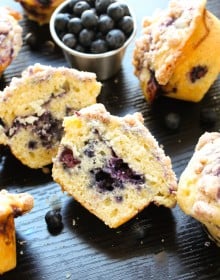 Ingredients:
For the blueberry swirl:
1 cup fresh blueberries (about 1 pint)
1 teaspoon sugar
For the muffins:
2 1/2 cups all-purpose flour
1 1/8 cups sugar
2 1/2 teaspoon baking powder
1 teaspoon salt
2 large eggs
4 Tablespoons unsalted butter, melted & cooled slightly
1/4 cup vegetable oil
1 cup milk
1 1/2 teaspoon vanilla
For the streusel topping:
1/2 cup all-purpose flour
1/3 cup granulated sugar
1/2 stick salted butter-melted
1/2 teaspoon cinnamon
Directions:
Preheat oven to 425 degrees. Spray a standard muffin tin with vegetable oil spray (or line with paper liners and spray).
For the blueberry swirl:
![i]**If you want to use whole blueberries in your muffin batter instead of a blueberry swirl, omit this step, toss whole blueberries with 1 additional Tablespoon of flour, and fold blueberries in after preparing batter.[/i]
Bring blueberries and 1 teaspoon of the sugar to a simmer in a small saucepan over medium heat. Cook, mashing the berries with a spoon several times and stirring frequently, until the berries have broken down and the mixture is thickened about 6 minutes. Transfer to a small bowl and cool to room temperature, 10-15 minutes.
For the muffins:
Whisk the flour, baking powder and salt together in a large bowl. Set aside.
In a medium bowl, whisk together 1-1/8 cups sugar and eggs until thick and well combined, about 45 seconds. Slowly whisk in the butter and oil until combined. Nest, whisk in the milk and vanilla until combined.
Using a rubber spatula, fold the egg mixture into the flour mixture until just moistened. The batter will be very lumpy with a few spots of dry flour; do not overmix. (If using whole blueberries, fold in now.)
Fill muffin cups 1/2 full with batter and top with a teaspoon or so of the cooked berry mixture. Use a toothpick to swirl. Divide the remaining batter between muffin cups. The batter should completely fill the cups and mound slightly. Divide the remaining cooked berry mixture between muffin cups. Use a toothpick to swirl.
Make the streusel topping:
To make the crumb topping in a small bowl, whisk together flour, sugar and cinnamon, add melted butter and stir with a fork until crumbly. Spoon streusel over muffins.
Bake until the muffin tops are golden and just firm, 17-18 minutes, rotating the muffin tin halfway through. Cool the muffins in the muffin tin for 5 minutes, then remove to a wire rack and cool 5 more minutes before serving. Yield: 12 muffins.
 PIN THIS RECIPE >>>