May 9, 2015
Perfect Baked Potato
Perfect Baked Potato – crispy skin on the outside and a fluffy inside… aka the only way to make a baked potato! The perfect side dish!

This is the only way to ever make a baked potato again! So crispy on the outside and soft and fluffy on the inside!
Should potatoes be wrapped in foil to bake?
No! Wrapping in aluminum foil traps the steam the potatoes release in the foil. Which means the potatoes will steam and result in a soggy, soft skin rather than a crispy skin.
How to get a crispy crust on the outside of a potato?
The key is to bake the potato at 400 degrees unwrapped on a baking sheet!
The other thing that helps the potatoes achieve a crispy skin is rubbing the potatoes with an olive oil and salt mixture. I add herbs into the salt mixture for extra flavor. But you can just do salt if you prefer.
Is 450 too hot for this perfect baked potato?
I wouldn't bake it at 450 degrees. That high of a temperature will result in the outside cooking too fast and leave you with a layer of burnt potato by the time the potato is cooked through.
Should you poke holes in potatoes before baking?
Yes! This helps the steam release from the potato. It also prevents the potato from exploding in your oven.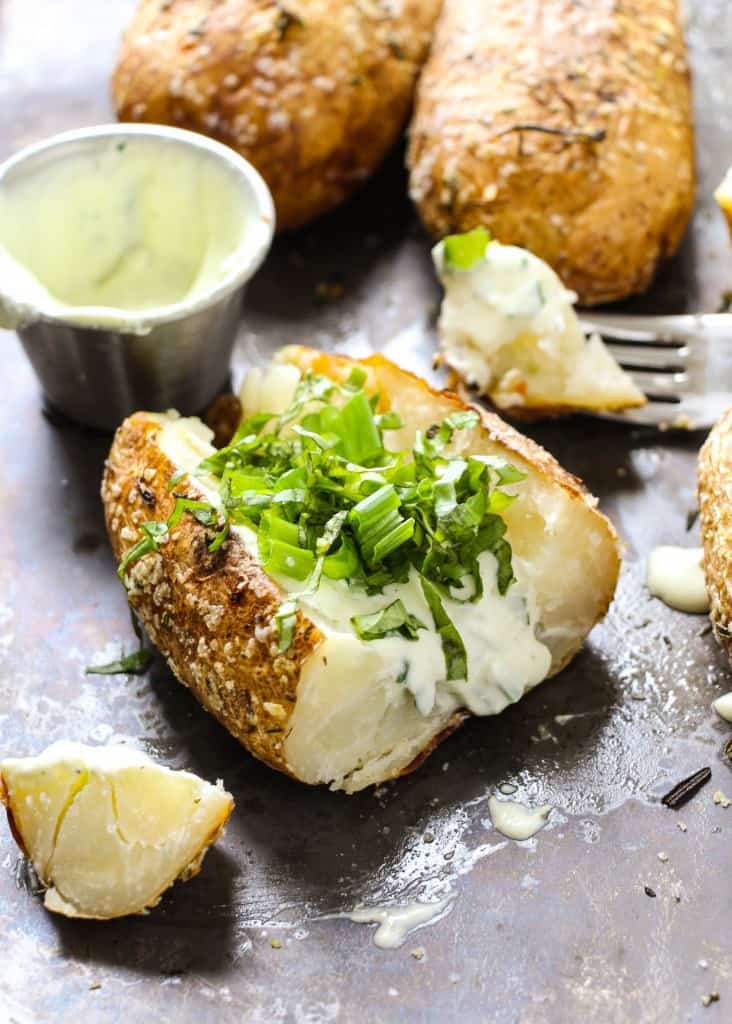 What to serve with this perfect baked potato?
The options are endless…
Cajun salmon
Oysters
Crabs
Shrimp or any seafood
Sloppy Joes
Burgers
Roasted chicken
BBQ ribs
Steak
Crab cakes
Perfect Baked Potato
Crispy skin on the outside and a fluffy inside… aka the only way to make a baked potato! The perfect side dish!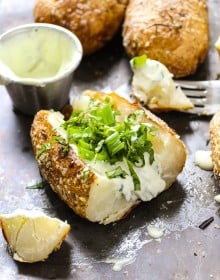 Ingredients:
For the potatoes:
1 Tablespoon fresh rosemary, chopped
1 Tablespoon thyme leaves
1 Tablespoon fresh parsley, chopped
Grated zest of 1 large lemon (use juice in whipped feta)
1/2 teaspoon salt
4 large baking potatoes
olive oil
For the whipped feta (optional)
8 oz feta
8 oz whipped cream cheese
1/4 cup fresh parsley, roughly chopped
1/4 cup sliced green onions
1 lemon, juiced
2 garlic cloves
3 Tablespoons olive oil
1 Tablespoon honey
1 Tablespoon red wine vinegar
2-3 dashes hot sauce (optional)
1/2 cup basil, thinly sliced
1/4 cup thinly sliced chives
Directions:
To make potatoes:
Preheat the oven to 400 degrees. Line a sheet pan with aluminum foil.
Add rosemary, thyme, parsley, lemon zest, and salt in the bowl of a mini food processor and pulse until finely chopped, but not pureed. transfer mixture to a shallow bowl or plate. (I use a pie dish)
Wash and dry potatoes, and pierce them all over with a fork or a sharp knife. Rub potatoes with olive oil and roll in herb salt mixture. Transfer to prepared baking sheet and bake for 60-70 minutes until tender.
While potatoes are baking, make whipped feta:
Add feta cheese to a blender or food processor and pulse until feta is broken into small crumbs. Add the cream cheese and blend on low for 3-4 minutes until cheese are very smooth and combined.
Add parsley, green onions, lemon, garlic cloves, olive oil, honey, red wine vinegar, and hot sauce – blend until smooth. It's okay if there are flecks of herbs.
Remove potatoes from oven, slit the tip of each potato, squeeze the ends together to open the potato, and top with a generous scoop of whipped feta. Sprinkle with basil and chives and serve hot.