May 9, 2015
Herby Baked Potatoes with Whipped Feta
Simple simple, perfectly baked herby potatoes topped with a creamy, dreamy, tangy whipped feta sauce. These potatoes are out of this world!
A baked potato with a crust so yummy and crispy that you actually want to eat it is the best. I call these restaurant-style baked potatoes because every time I try to get a crispy crust with the potatoes I bake at home…. it never works out! #firstworldprobs
I recently started trying harder to perfect my potato baking technique and I think I have finally done it! That recipe is coming soon, but along the way on my quest for the perfect baked potato I came up with these "herby baked potatoes" and they are sooo yummy. Probably equally as yummy as the crispy crusty restaurant-style baked potatoes.
The potatoes get smothered in olive oil, rolled in a herby/salt mixture, poked a few times with a knife, and baked on a sheet pan to flavorful perfection.
THEN…. I used my leftover herbs to make the most amazing whipped feta that goes on top. If you are like me, and you have never tried/made whipped feta – WHAT ARE YOU WAITING FOR?? Seriously I am almost sad I never knew about it before now. It's SO good. And it was literally made for baked potatoes.
I mean what could possibly be better than creamy feta?! Possibly only feta whipped with cream cheese, parsley, green onions, lemon juice, garlic, red wine vinegar, and basil!! Creamy, dreamy, deliciousness.
The salty-ness from the feta allows the whipped feta to act as the salt and cheese – all-in-one.
And did I mention that it's made in the blender/food processor?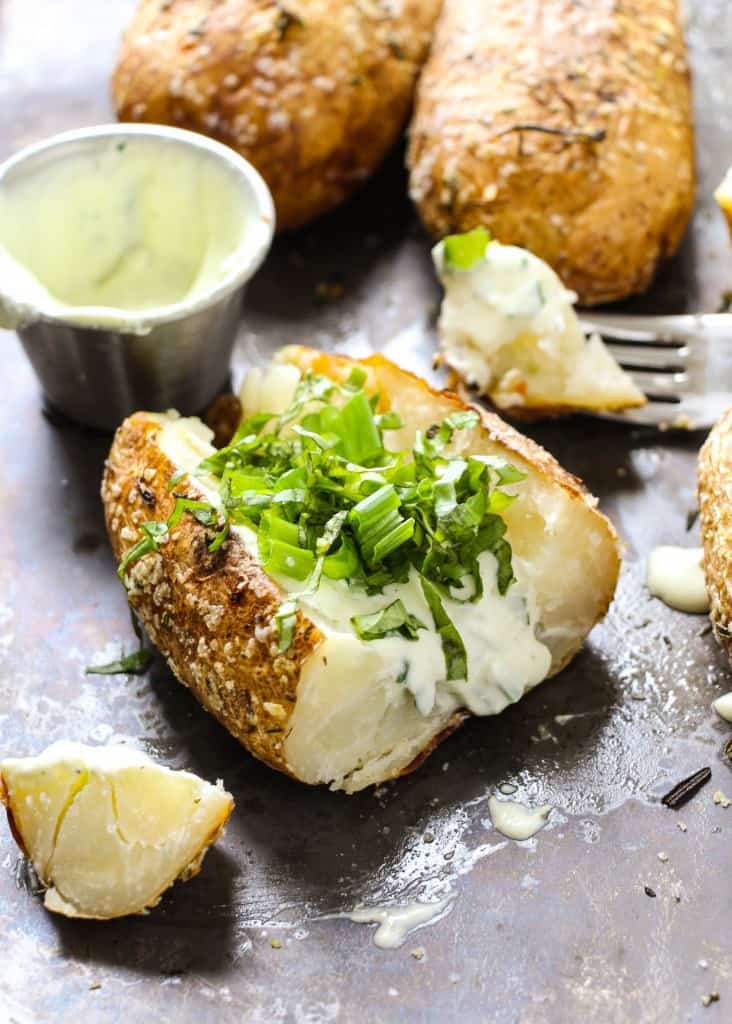 This is a super simple and fool-proof side dish or if you serve it with a side salad it could totally be the star of one rockin' meatless meal.
Herby Baked Potatoes with Whipped Feta
Simple simple, perfectly baked herby potatoes topped with a creamy, dreamy, tangy whipped feta sauce. These potatoes are out of this world!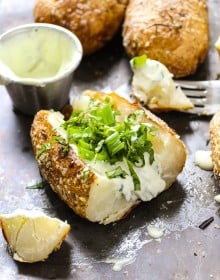 Ingredients:
For the potatoes:
1 Tablespoon fresh rosemary, chopped
1 Tablespoon thyme leaves
1 Tablespoon fresh parsley, chopped
Grated zest of 1 large lemon (use juice in whipped feta)
1/2 teaspoon salt
4 large baking potatoes
olive oil
For the whipped feta:
8 oz feta
8 oz whipped cream cheese
1/4 cup fresh parsley, roughly chopped
1/4 cup sliced green onions
1 lemon, juiced
2 garlic cloves
3 Tablespoons olive oil
1 Tablespoon honey
1 Tablespoon red wine vinegar
2-3 dashes hot sauce (optional)
1/2 cup basil, thinly sliced
1/4 cup thinly sliced chives
Directions:
To make potatoes:
Preheat the oven to 400 degrees. Line a sheet pan with aluminum foil.
Add rosemary, thyme, parsley, lemon zest, and salt in the bowl of a mini food processor and pulse until finely chopped, but not pureed. transfer mixture to a shallow bowl or plate. (I use a pie dish)
Wash and dry potatoes, and pierce them all over with a fork or a sharp knife. Rub potatoes with olive oil and roll in herb salt mixture. Transfer to prepared baking sheet and bake for 60-70 minutes until tender.
While potatoes are baking, make whipped feta:
Add feta cheese to a blender or food processor and pulse until feta is broken into small crumbs. Add the cream cheese and blend on low for 3-4 minutes until cheese are very smooth and combined.
Add parsley, green onions, lemon, garlic cloves, olive oil, honey, red wine vinegar, and hot sauce – blend until smooth. It's okay if there are flecks of herbs.
Remove potatoes from oven, slit the tip of each potato, squeeze the ends together to open the potato, and top with a generous scoop of whipped feta. Sprinkle with basil and chives and serve hot.