May 15, 2015
Greek Chopped Salad
Greek Chopped Salad – made with cucumbers, cherry tomatoes, red onions, peppadew peppers, bell peppers, feta, and chickpeas.
What is the difference between a Greek chopped salad and a Mediterranean chopped salad?
They are basically the same thing. Both are made with cucumbers, tomatoes, peppers, red onion, feta cheese and olives. Then tossed with an olive oil and red wine vinegar vinaigrette.
Recipe modifications:
You can use olives if you like them.
I love peppdaew peppers. I originally discovered them because Panera puts them on the Mediterranean sandwich. They have so much flavor. I have a recipe for that Panera sandwich if you are looking for something to use up the rest of your peppers. You can also find peppadew peppers on the olive bar in your grocery store if you don't want to buy a whole jar.
You could top the salad with crushed pita chips. Or add some lettuce and grilled chicken to bulk up the meal a little. It would also be great served with some salmon.
How do you keep Greek salad from getting soggy?
The best way to keep this salad from getting soggy is to remove the seeds from the cucumbers and tomatoes. The prevents there from being any excess liquid.
However, this salad doesn't really get too soggy since there isn't any lettuce in the recipe. So you could definitely make it ahead of time.
Greek Chopped Salad
Made with cucumbers, cherry tomatoes, red onions, peppadew peppers, bell peppers, feta, and chickpeas.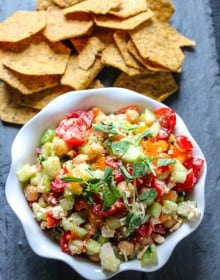 Ingredients:
3 Cucumbers (peeled, deseeded and chopped)
1/2 Red Onion (chopped)
2 Cups Cherry Tomatoes (cut in 1/2)
8 Peppadew peppers, (Chopped)
1 (15 ounce) Can drained Chickpeas (Garbanzo Beans) – Do NOT chop these
1 Yellow Pepper (Chopped)
For the dressing:
2 Tablespoon of Greek Seasoning (You can use Oregano if you can't find it but it should be very easy to find and you would use it for lots of things!)
1 Tablespoon Fresh chopped Basil
1 Lemon (Zest 2 teaspoons of lemon and then squeeze the juice from 1 lemon)
1 clove garlic
2 teaspoons of honey
5 Tablespoons olive oil
5 Tablespoons red wine vinegar
2 Tablespoons of Parmesan Cheese
kosher salt and freshly ground black pepper to taste
Directions:
Combine all salad ingredients except dressing.
In a separate bowl combine all dressing ingredients. Pour dressing over vegetables and refrigerate and marinate for 2-4 hours before serving.