October 18, 2016
Perfect Baked Sweet Potato Recipe – 30 Minutes in Oven
Perfect oven baked sweet potato recipe –  cut in half and then roasted for 30 minutes. This method is the fastest way to cook a whole sweet potato in the oven.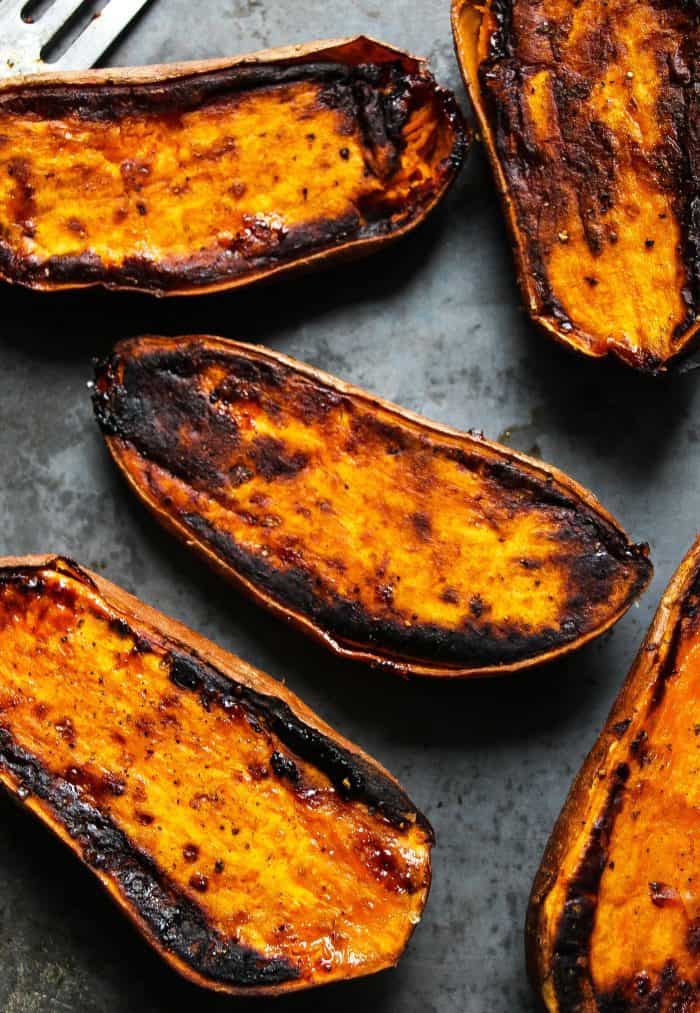 What oven temp to bake sweet potatoes?
400 degrees is my sweet spot. It gives it a nice golden crust. It's also a high enough temperature to keep the cooking moving along.
How long to bake sweet potato at 425 degrees in oven?
You only need to bake these for 30 minutes. Typically sweet potatoes take 60-90 minutes to bake in the oven. But you can make sweet potatoes in a fraction of the time if you cut the sweet potato in half. This is definitely the fastest way to bake a whole sweet potato.
Can you bake sweet potatoes in the air fryer?
You definitely can make sweet potatoes like this in the air fryer. Follow the same instructions except bake it at 375 degrees instead of 400 degrees. Bake for 25 minutes instead of 30 minutes.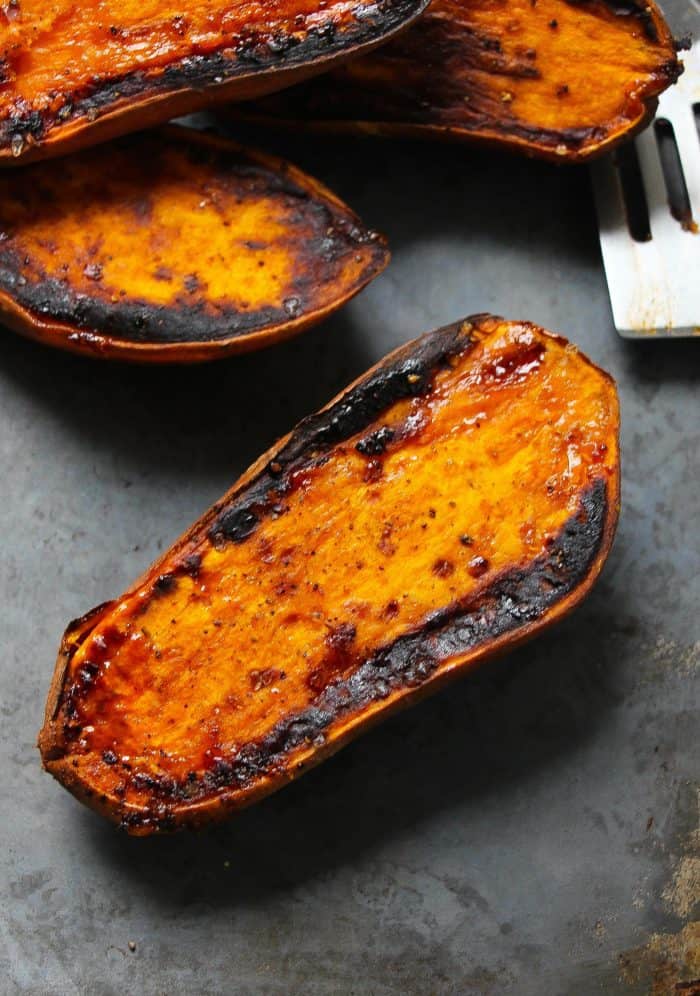 What to serve with this oven baked sweet potato recipe?
You could top the sweet potato with sour cream, green onions, bacon to make it a main dish.
I love serving sweet potatoes with this cajun orange glazed salmon. Or this apple bacon gorgonzola salad.
You could also serve these sweet potatoes with Trader Joe's BBQ pulled chicken on top! The flavor combo is SO good.
Watch the recipe video here:
Perfect Baked Sweet Potato
Sometimes you have the desire for a roasted sweet potato, but not the patience to wait an hour for it to bake.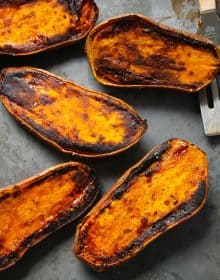 Ingredients:
4 medium sweet potatoes
2 Tablespoons olive oil
salt and pepper
Smoked paprika and garlic powder
Directions:
Preheat oven to 425 degrees F and line a large baking sheet with foil.
Rinse and scrub potatoes and cut in half length wise.
Rub the sweet potatoes on both sides with olive oil. Place the sweet potatoes middle side down on the prepared baking sheet.
Bake the sweet potatoes in the oven for 25-30 minutes, or until the sweet potatoes are fork tender.
Turn the sweet potatoes over and season with salt, pepper, smoked paprika, and garlic powder!
[this isn't a sponsored post, there are a few affiliate links above based on things I purchase on my own and love]