March 5, 2023
Gluten Free Rice Krispies
Gluten Free Rice Krispies – thick, gooey, perfect & the BEST EVER. The browned butter make them taste 100x better than the classic version.
This is not your grandma's recipe. It is SO MUCH BETTER.
What makes these gluten free rice krispies so delicious:
Browned butter. Trust me. I don't know what it is. But the browned butter gives the BEST flavor ever. It takes them from delicious to addicting perfection.
Extra marshmallows. Homemade version never have enough marshmallows. I love adding extra bag at the end. That way the marshmallows keep their shape and add some extra gooeyness.
Butterscotch chips. It's not an overwhelming flavor. But they complement the browned butter so well.
Why are my homemade rice krispie treats hard?
The heat is too high! It will take a little bit longer, but do brown the butter over medium heat, not high heat. And then turn the heat off when you add the marshmallows. So you will let the residual heat melt the marshmallows. That will keep them soft and chewy.
How far in advance can I make these?
These are a great make ahead treat! If needed, you can make them up to 3 days in advance.
Tip: If you're making these for a crowd, I cut them into bite size. So they are poppable!
Do they need to be refrigerated?
Nope! They are best when stored at room temperature.
Other easy gluten free sweet treat recipes:
Pretzel hugs! Use gluten free pretzels! These are my fav during Christmas time. But also great all year round!! My cowork brought these to a fall gathering and they were a hit.
And these cookies and cream pretzels! Use gluten free pretzels and gluten free oreos!
What the recipe video here:
Gluten Free Rice Krispies
Thick, gooey, perfect & the BEST EVER. The browned butter make them taste 100x better than the classic version.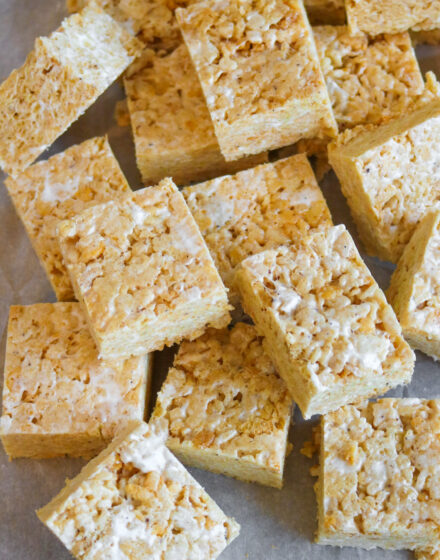 Ingredients:
1 1/2 sticks (3/4 cup) unsalted butter, sliced
2 1/2 (10-oz bags) mini marshmallows (about 15 cups), divided
1 (12-oz box) gluten free crispy rice cereal (about 10 cups, Use Aldi or Kroger Brand, Kellogs Rice Krispies is not gluten free!)
1/2 cup butterscotch chips
3/4 teaspoon salt
Directions:
Add butter to a large non-stick pot and cook over medium heat for 2-3 mins, stirring constantly, until butter turns golden brown and smells nutty.
Turn off heat and add 2 bags (12 cups) of marshmallows. Stir until smooth and marshmallows melt
Add the cereal, butterscotch chips, and salt to the pot. Stir continuously until cereal is evenly coated. (The butterscotch chips will melt!). Fold in the final 1/2 bag of marshmallows. Don't let them melt all the way into the batter. Some marshmallows should still be intact! (You can use the other half of the 3 bag if you prefer!)
Pour into a 10-inch x 15-inch baking sheet (or a 9×13 inch pan if you want them thicker). Place a piece of parchment paper on top & press hard to compress bars. Let cool & slice into bars. Refrigerate before cutting if you want super clean cuts.
[this isn't a sponsored post, there are a few affiliate links above based on things I purchase on my own and love]