December 18, 2022
Pretzel M&M Hugs
Pretzel M&M Hugs – these are the perfect easy treat if you want a make ahead holiday dessert, or something to bake with kids!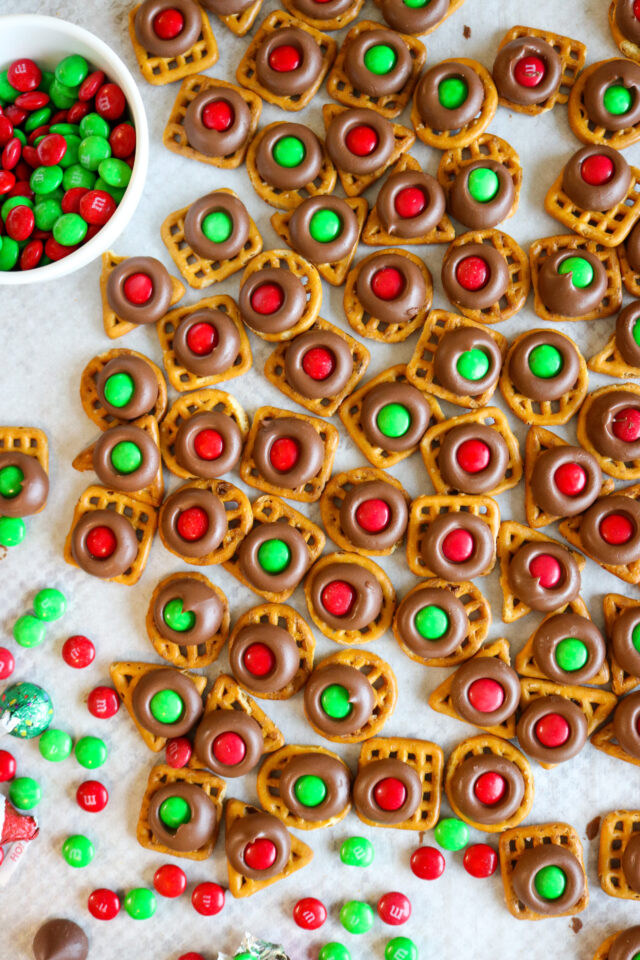 These are the first thing gone any holiday party
My co-worker has brought these to a work party.
My friend brought these to our Christmas party last year.
And I made them for our Christmas party this year.
At all three events… they were the first thing gone off the table. There's no better feeling than when the dish you brought is the first one gone.
I don't really know what the magic to these are. I'm guessing it's because they are poppable. So people can walk by and grab a few without actually committing to a ~whole~ cookie.
These are also great for baking with kids!
3 ingredients + no mixer + no flour + 5 minutes in the oven = basically foolproof for kids.
Can you make these pretzel M&M hugs ahead of time?
YES! You actually want to make these the day before. Because the chocolate kisses need time to cool.
Making these ahead of time is especially great for a party. But also a holiday cookie box. Because you can make these pretzel hugs and these 7 layer bar macaroons on one day. Then the next day you can make cut out sugar cookies and/or boxed brownies with powdered sugar on top. That way you only have one or two "fresh, day-of required" cookies. And it's not so overwhelming!
What the recipe video here:
Pretzel M&M Hugs
These are the perfect treat if you want an easy make ahead holiday dessert or something to bake with kids!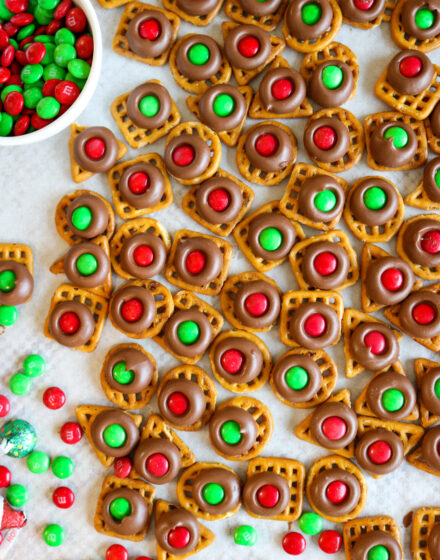 Ingredients:
120 pretzels (~ 1 bag, any kind works except butter snap pretzels)
120 Hershey's kisses (~ two-10 oz bags)
120 M&M's (~ one 11.4 oz bag)
Directions:
Preheat the oven to 200 degrees and line a large baking sheet with parchment paper.
Place the pretzels on the baking sheet in rows.
Place one unwrapped chocolate kiss on each pretzel.
Bake for 4-5 minutes, just until glistening. You don't want the chocolate melted all over the parchment!! If the M&M doesn't go in easy – put it back in the oven for 1 more minute. It's okay if one or 2 of the pretzels have an M&M in them.
Remove from the oven and press a M&M into the center of each chocolate kiss so it's spreads the chocolate.
Let cool completely and then store in an airtight container.
Nutritional Facts: 31 calories per serving
[this isn't a sponsored post, there are a few affiliate links above based on things I purchase on my own and love]