January 8, 2023
No Noodle Chicken Soup
No Noodle Chicken Soup – It tastes like chicken noodles soup without the pasta, more vegetables, & WAY more flavor! It's gluten free and low carb!
What gives no noodle chicken soup so much flavor?
The combination of ginger, garlic, apple cider vinegar, & turmeric gives it THE BEST flavor. Not to mention – that combo also has great health benefits. Like anti-inflamation, detoxing, and great for digestion.
But none of the flavors are overpowering. So don't worry if you don't love any of those ingredients.
Recipe modifications:
You can use whatever vegetables you like. And you can leave out the vegetables you don't like. You can also use fresh vegetables instead of frozen. But make sure you add any fresh vegetables at the beginning instead of at the end.
And if you want something to serve with this soup – this artisan bread would be GREAT with it.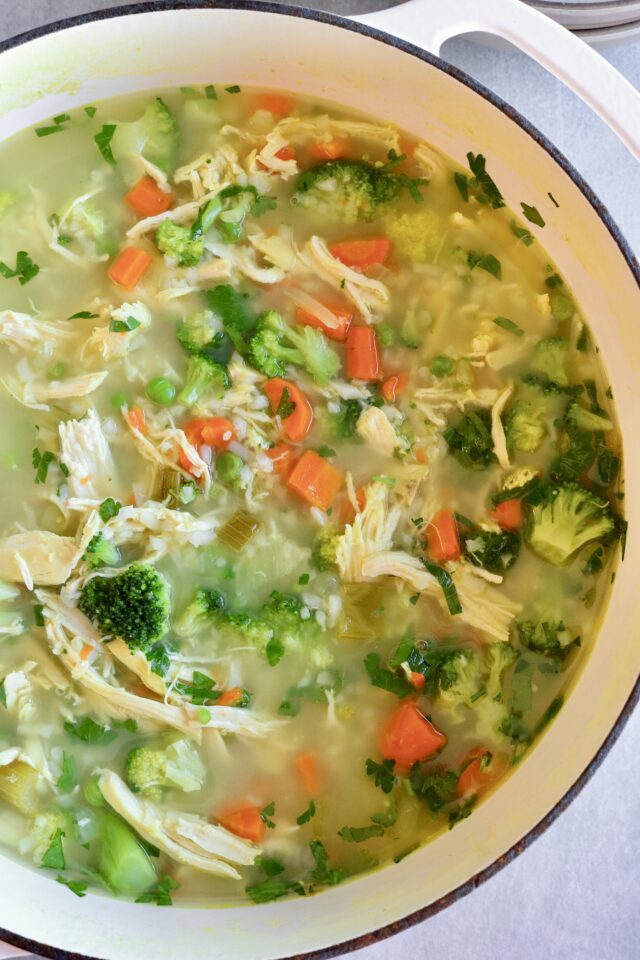 Can you freeze this soup?
Yes! I normally double this soup and freeze the leftovers in individual portions!
It makes the best lunch during the winter months. I take it out of the freezer and defrost as I need it.
But make sure you have a 12 quart pot or larger if you want to double the recipe! Because a double batch will make A LOT.
Watch the recipe video here:
No Noodle Chicken Soup
Tastes like chicken noodles soup without the pasta, more vegetables, & WAY more flavor!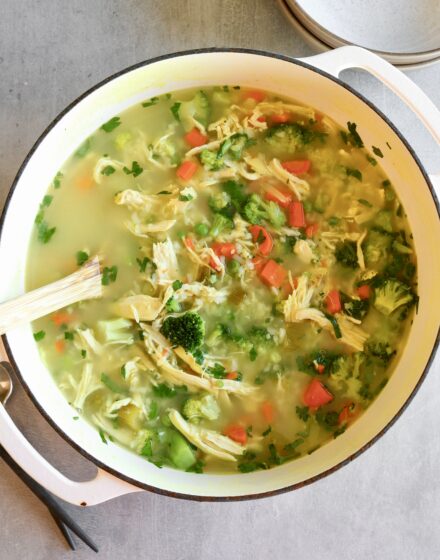 Ingredients:
1 large yellow onion, diced
1 (16 oz) bag baby carrots, thinly sliced (~3 cups)
2 celery stalks, halved lengthwise & thinly sliced
3 tablespoons fresh ginger, finely chopped (or 1 Tablespoon ginger paste)
5 garlic cloves, minced
1 Tablespoon olive oil
2 lbs boneless skinless chicken breast
8-10 cups chicken broth
2 chicken or beef bouillon cubes
2 tablespoon apple cider vinegar
1/4 teaspoon ground turmeric
3 teaspoons salt (more or less to taste)
1 (16 oz) bag frozen broccoli florets
1 (10 oz) bag frozen cauliflower rice
1 1/2 cups frozen peas (~ half a 16 oz bag)
2 cups spinach, roughly chopped (or crushed with your hands if you frozen the spinach in the bag)
1/2 bunch fresh parsley, finely chopped
Directions:
In a large pot over medium heat, add the olive oil, onions, carrots, celery, ginger, and garlic. Cook for 5-7 minutes, until the vegetables are slightly softened.
Add the chicken, broth, bouillon seasoning, apple cider vinegar, turmeric, and salt to the pot.
Turn heat to medium-low and cover. You want the temperature to raise slowly so the chicken is super tender. Cook for 40-50 minutes, until the chicken breasts are cooked through (165 degrees).
Transfer the chicken to a cutting board. Shred the chicken with 2 forks.
Add the shredded chicken, broccoli, peas, cauliflower rice, spinach, and parsley to the pot. Continue to simmer until the broccoli is thawed. Turn off the heat.
Use scissors to cut the broccoli into smaller pieces. Taste and add more salt if needed.
Nutritional Facts: 145 calories per serving
[this isn't a sponsored post, there are a few affiliate links above based on things I purchase on my own and love]