November 17, 2015
Loaded Baked Potatoes
Loaded Baked Potatoes – baked in the oven, cut in half, topped with a loaded bacon broccoli cheddar sauce! Ready in 30 minutes.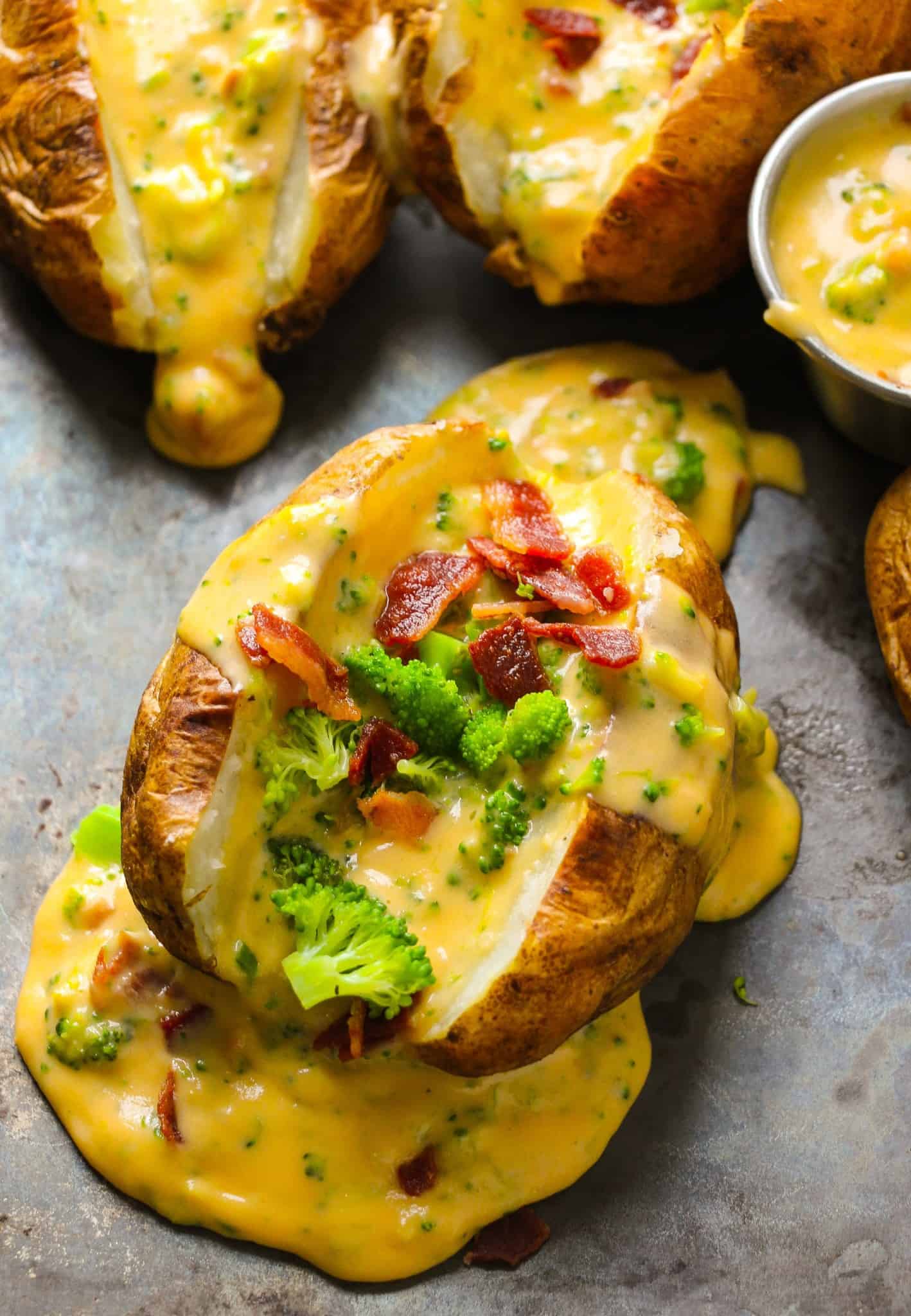 What do you put on top of a baked potato?
There are so many different things you can do with a baked potato.
But the classic way is to top the potato with butter, shredded cheese, bacon, sour cream, and chives.
This recipe takes the classic way up a level. In this recipe I made a cheese sauce and then mix in bacon and broccoli. It is the most glorious combination ever. Broccoli and cheese is already a match made in heaven. But add bacon and potatoes? Freaking incredible.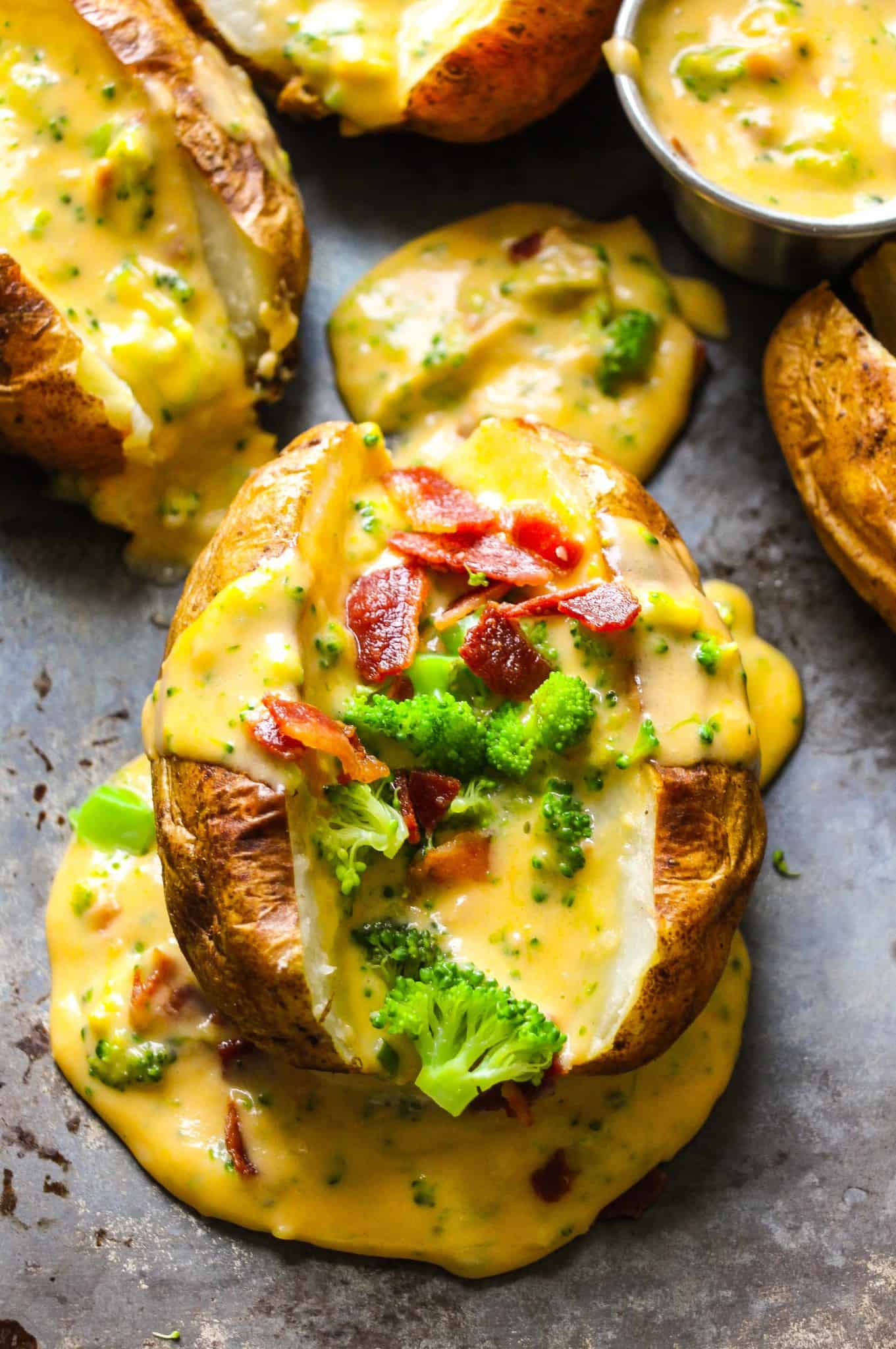 What goes with loaded baked potatoes?
These are hearty and filling enough to be served as the main dish.
But it would be great with these BBQ chip chicken nuggets. Or these spicy baked chicken tenders. Or this marinated steak or this salmon. Or these homemade chicken fingers.
If you're making these for a party – you could make the baked potatoes ahead of time. Wrap the potatoes in foil. Then make the cheese sauce and put it in a slow cooker on low to keep it warm.
Loaded Baked Potatoes
Baked in the oven, cut in half, topped with a loaded bacon broccoli cheddar sauce! Ready in 30 minutes.
Ingredients:
For the potatoes:
6 medium russet potatoes
2 Tablespoons olive oil
salt and pepper
For the loaded cheese sauce:
2 cups whole milk no substitutions
1/4 cup unsalted butter
1/4 cup all-purpose flour
2 cups sharp cheddar cheese shredded (not pre shredded)
2 Tablespoons hot sauce
1 teaspoon cayenne pepper
salt + pepper to taste
1 1/4 cups chopped steamed broccoli florets they should be chopped up into very small pieces and then measured
4 slices bacon cooked and crumbled
Directions:
To make the potatoes:
Preheat oven to 400 degrees F and line
a large baking sheet
with parchment paper.
Rinse and scrub potatoes and cut in half length wise. This helps speed up baking time.
Rub the potatoes on both sides with olive oil and sprinkle salt and pepper on both sides.
Bake for 25-30 minutes, or until potatoes are fork tender.
To make the cheese sauce:
In a
medium sauce pan
, heat the milk over medium heat until you see bubbles forming at the top.
Meanwhile, melt the butter in another saucepan over medium heat.
Sprinkle the flour over the top, stirring constantly until a thick paste forms, 1 to 2 minutes.
Slowly add the warm milk to the flour and butter paste in a steady stream, whisking constantly.
Continue cooking, whisking constantly until the mixture thickens, about 5 minutes. It should be thick but still pourable.
Add the cheese, whisking constantly until it is melted.
Add the hot sauce and cayenne.
Stir in the broccoli and bacon.
Taste, then add salt and pepper to taste.
Add more cayenne and/or hot sauce if preferred.
If the mixture is too thick, you can add a little bit more milk until desired consistency.
Spoon hot cheese sauce over baked potatoes and serve immediately.
[this isn't a sponsored post, there are a few affiliate links above based on things I purchase on my own and love]