October 27, 2015
Stuffed Pepper Soup
Stuffed pepper soup recipe – everything you love about a stuffed pepper in soup form! Made with tomato soup and in one pot. Super easy and comforting!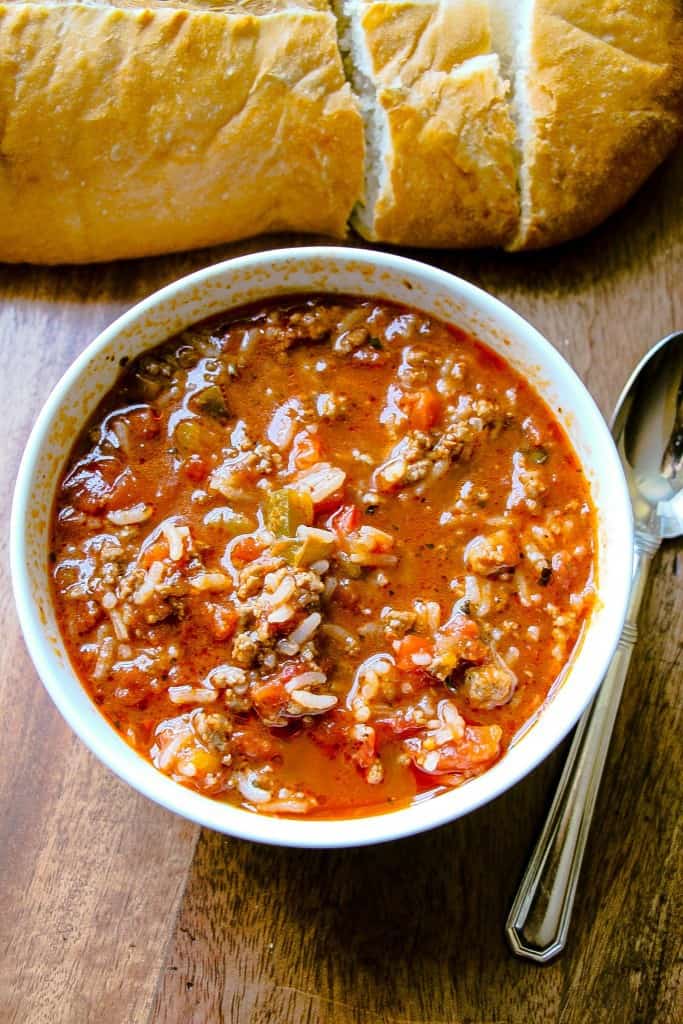 I don't know about you be we really love stuffed peppers around here. This soup recipe I think is actually easier than making stuffed peppers and leaves you with lots of leftovers for your lunch the remainder of the week. Double score!
What is a cubanelle pepper?
It's a light green pepper that has a really mild and sweet taste. Most grocery stores will have them near the jalapenos. But you can use a red bell pepper if you have trouble finding them.
Can you make the stuffed pepper soup ahead of time?
It makes for a great crockpot meal as well. To make it in the crockpot: brown the beef and transfer to slow cooker. Add everything except for the rice. Cook on low for 6-8 hours. Make the rice and mix into the slow cooker.
Can you freeze it?
Yes! You can mix the rice into your individual portions and freeze the soup without the rice. Or you can freeze the soup with the rice in it. Just reheat the soup on the microwave or on the stovetop.
What to serve with this stuffed pepper soup?
Our artisan bread would be soooo good for dunking in this soup.
Stuffed Pepper Soup
 Everything you love about a stuffed pepper in soup form! Made with tomato soup, easy-to-make, and super comforting.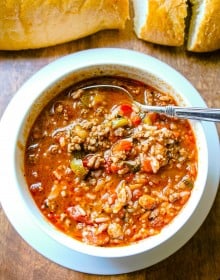 Ingredients:
2 Italian sausage links (sweet or spicy – I use sweet)
1 lb lean ground beef
1 small yellow onion chopped (1 cup)
1 small green bell pepper – cut in small pieces
1 small red bell pepper – cut in small pieces
1 small yellow bell pepper – cut in small pieces
3 cubanelle peppers (sweet peppers – you can find at any grocery store) – cut in small pieces
2 (14.5 oz) cans petite diced tomatoes
2 (23.2 oz) cans tomato soup
4 cups beef broth
1 jar of chunky pasta sauce (I used Classico Italian Sausage with Peppers & Onions)
1/4 cup fresh chopped basil
2 1/2 Tbsp chopped fresh parsley, plus more for garnish
1/4 tsp dried oregano
1 teaspoon minced garlic
1 Tablespoon worchester sauce
1 Tablespoon red pepper flakes
2 Tablespoons chili powder
1/3 cup Parmesan cheese
3 Tablespoons olive oil, divided
Salt and freshly ground black pepper
2 cup cooked white rice
Parmesan or mozzarella cheese, for garnish (optional)
Directions:
In a large pot heat 1 Tablespoon olive oil over medium heat and cook sausage and ground beef. Once the meat is cooked make sure it is thoroughly chopped up. Drain and set aside.
Heat remaining 2 Tablespoons olive oil and cook onions and peppers for about 5 minutes, then add garlic and saute 30 seconds longer. Pour in diced tomatoes, tomato sauce, tomato soup, beef broth, Parmesan cheese, all remaining spices and cooked meat. Season to taste with salt and pepper. Bring just to a light boil, then reduce heat to low, cover and simmer, stirring occasionally, 30 minutes.
While soup simmers, prepare rice according to directions listed on package. When the soup is done simmering stir in desired amount of cooked rice into soup. Serve warm topped with optional cheese and garnish with fresh parsley.
[this isn't a sponsored post, there are a few affiliate links above based on things I purchase on my own and love]