February 5, 2023
Pulled Pork Nachos with Queso
These pulled pork BBQ nachos with queso are over the top delicious. Made with leftover pulled pork. It's the easiest dinner in under 15 mins on a sheet pan!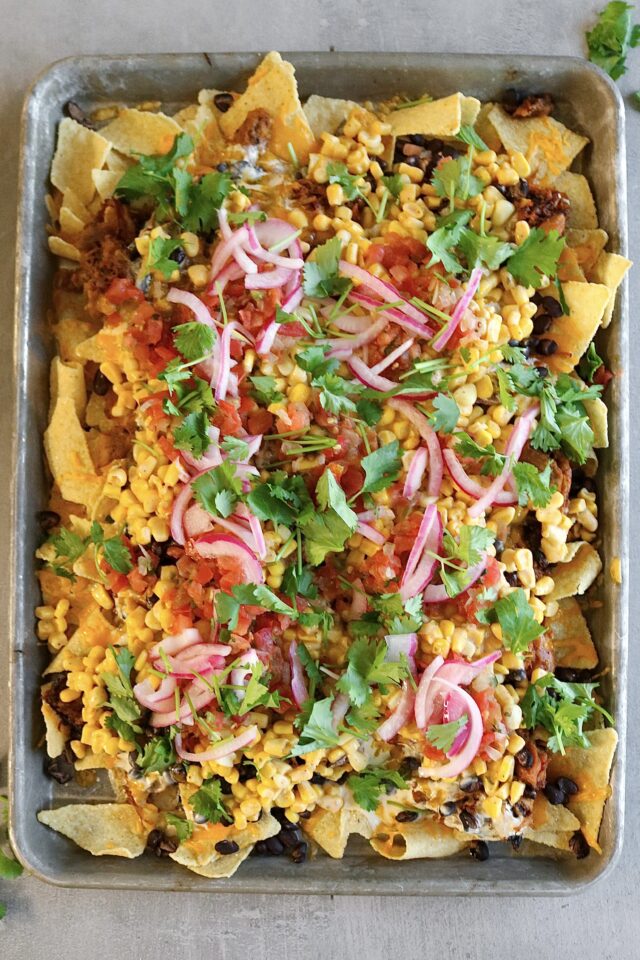 What toppings are good on pulled pork nachos?
We have been perfecting the perfect topping combination for these nachos. They have to be loaded with texture. The perfect level of saucy so you feel like you are eating chips and dip rather than chips and meat. And you need many layers of flavor.
So here's what you need for the absolute best pulled pork nachos…
It starts with the first layer that gets baked:
Tortilla chips. We like flat chips a lot more than scoops. Flat chips give you more surface areas of toppings on each chip.
Then layer on some shredded cheddar or monterey jack cheese.
And then the pulled pork. You could also use leftover shredded chicken and ditch the BBQ sauce.
Next is black beans.
Then warmed up queso cheese sauce. This is the most important component of the nachos. I put the queso on after all the other dry toppings because 1) it sauces up the dry toppings and 2) prevents the tortilla chips from getting soggy by having a few layers between the chips and queso.
Finish it off with some more cheese.
And you'll end up with this masterpiece: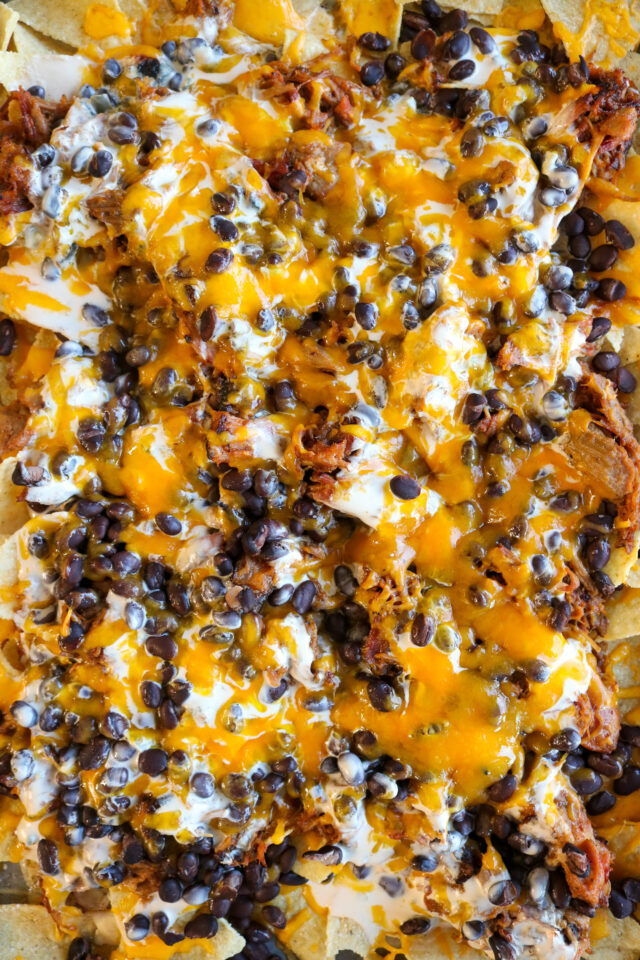 Once it comes out of the oven, you add all the cold toppings…
A creamy ranch corn. Yes we put a lot on there. And yes it's 100% necessary. It's so good.
Then pico de gallo.
Pickled onions.
And finally, some fresh cilantro.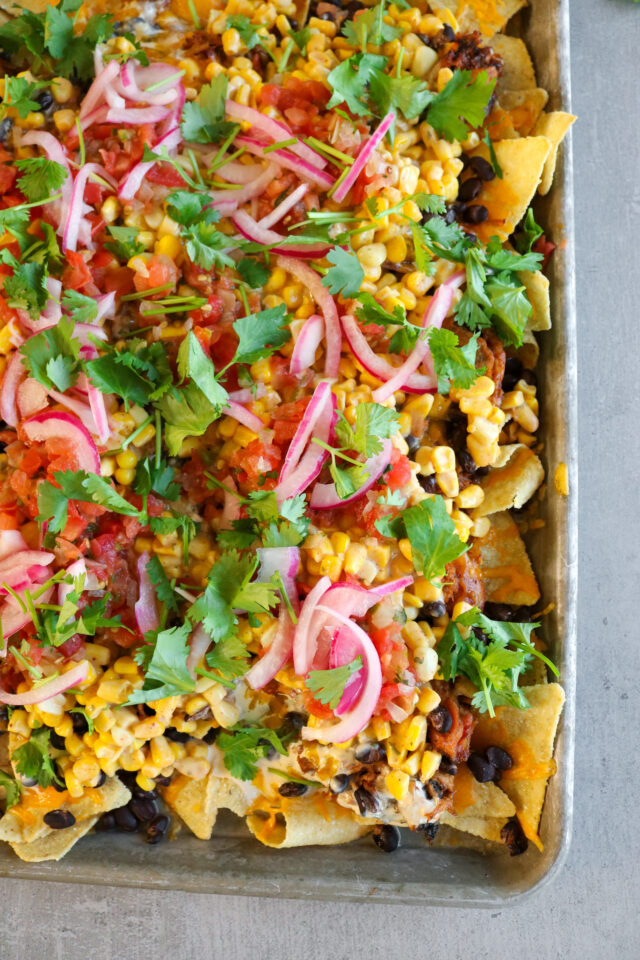 What do you eat with these nachos?
Some guacamole on the side would be amazing. Or make some Mexican rice!
We also love serving this as an appetizer or at parties. And maybe some wings. And chili.
Can you save leftovers?
Surprisingly yes, you can! You can save everything except the chips. I scoop all the toppings off the chips and put it in a plastic container. Then I reheat it all in the microwave the next day and eat it like a dip with some fresh chips.
Watch the recipe video here:
Pulled Pork Nachos with Queso
These pulled pork BBQ nachos with queso are over the top delicious. Made with leftover BBQ pulled pork. It's the easiest dinner in under 15 mins!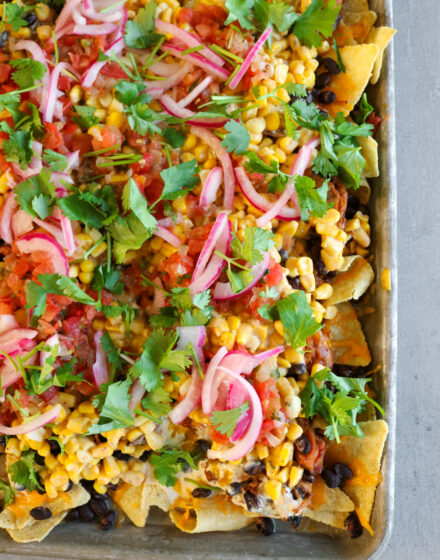 Ingredients:
CREAMY CORN:
2 (10 oz) packages frozen corn
6 Tablespoons light mayo
Juice of 2 limes (~ 1/4 cup)
1 tablespoon ranch seasoning (~1/2 packet)
1 1/2 teaspoons garlic powder
3/4 teaspoon chili powder
3/4 teaspoon cumin
NACHOS:
1/2 (11 oz) bag tortilla chips (I like the Trader joe's white corn)
1 (8 oz) block sharp cheddar cheese or monterey jack, shredded and divided
3-4 cups leftover bbq pulled pork (you can also do shredded chicken)
1/2 cup barbecue sauce
1 (15 oz) can black beans, drained and rinsed
1 1/3 cups jarred queso blanco (about 75% of a 15 oz jar)
1 (12 oz) container pico de gallo (I like Trader Joe's)
Pickled onions, optional
Chopped cilantro, for garnish
Directions:
CREAMY CORN:
Mix all ingredients in a medium bowl. Set aside.
NACHOS:
Preheat the oven to 350 degrees. Line a baking sheet with parchment paper.
Spread the tortilla chips on a baking sheet in an even single layer.
Sprinkle half of the cheddar on the chips.
Microwave the pork and toss with 1/4 cup of barbecue sauce.
Top the chips with pulled pork and black beans.
Heat the queso up in the microwave so that it's pourable. Pour over nachos. Top with remaining shredded cheese.
Bake for 10 minutes, or until the cheese is melty and everything is warm.
Remove from the oven. Top with the creamy corn, pico de gallo, pickled onions, and cilantro. Squeeze over extra bbq sauce if desired.